Q: If you could go back and relive a moment with the Seahawks, which moment would you choose?
A: I would go back to the day I got drafted. On draft day, I was at home in Alabama when I got the phone call and I flew right out after that. I've been here ever since, 22 years later. I remember thinking that it was awesome to be able to go somewhere that I've never been. To be a number six draft pick was really awesome.
Q: What teammate do you miss playing with the most?
A: My whole offensive line from 2005. Robbie Tobeck, Steve Hutchinson, Chris Gray, Shawn Locklear, Floyd Womack. I just miss that whole squad.
Q: Who have you stayed in touch with the most within the Seahawks organization?
A: Robbie Tobeck, Matt Hasselbeck, and Steve Hutchinson. We're all in a group chat together so we're always talking there. We talk about anything, anything that's going on, we just talk. If someone is coming into town, we connect. We stay in touch.
Q: Of all of the awards and recognitions over the years, is there one that you are proud of the most?
A: I'll have to go with being in the Hall of Fame. I think that speaks for itself. It was fun and it was stressful because it's really nothing you can control. You did everything on the field, so now, you're relying on voters. For me to get that call and be on the first ballot was pretty cool. I got to share it with my son, so that was pretty cool. Being able to play with one team my entire career was pretty awesome too.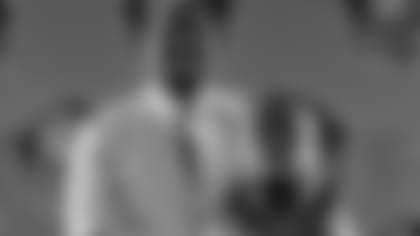 Q: What is the best piece of advice you would give to a rookie?
A: Get in the books. Learn. Get to know the administrative help too because they are definitely there to help you. A lot of the time, you kind of separate those football staff and administrative staff, but if you get to know those people, the PR people, then it'll make for a better and successful career.
Q: How did you get interested in shooting photography?
A: The opportunity presented itself. I always take a lot of photos of my kids and I wanted to see another vantage point. I had an opportunity to take some pictures at a Sounders game. It was really fun learning the camera and not just picking it up and taking pictures. It's been fun. Once you're retired, you get an opportunity to do things you never thought you'd be able to do.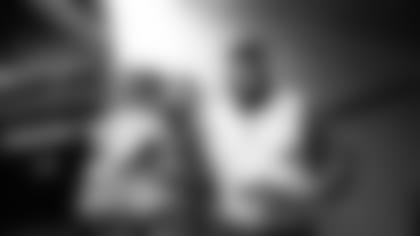 Q: What inspired you to create your clothing line Best to Ever Do it?
A: I wanted to do something when I was playing, but you get so focused. I just wanted to start something on my own, something that I wanted to build on my own. I just wanted to try to amplify myself. Many people have said 'now that you're done playing, you can try to kind of live your life. That's what I want to do.' I want to inspire people to be the best at whatever they're doing in life. It was tough coming up with ideas, but I think at that time, I was done playing so I had the opportunity to kind of come up. I thought of the name "Best to Ever Do It" and then came out with my brand. Year three of it now, still learning. It's a great chance for me to see if it grows. I think just like playing ball, you start out young and then you see the growth of it and that's what makes it fun.
Q: What is your favorite way to spend time with your family?
A: I love watching TV and being able to have quality time with my family. I think a lot of times, people forget that. I tell my kids all of the time when we're just sitting around the house, I say 'these are moments you can't get back.' They're teenagers now, so we all have our own things going on. Whenever we get a chance to just sit around and talk, that's what I enjoy the most.
Q: Is life after football what you expected it would be like?
A: I think, for me personally, I did everything I needed to do while I was playing. I'm more of a homer. I was never searching for the cameras or attention. For me, it was easy once it was over because I enjoy being at home. That made it easier from that standpoint. Now, it's easy because I'm blessed to be able to do what I want to do. I'm in control. That's what makes it fun. I'd say that if guys knew what they want to do, and they can do it when they want to, that makes for a fun retirement.