1. His favorite part about 2019 was finally having his own place.
Getting my first apartment on my own was a really cool part of this year. I got to design it how I wanted and fill it with things that I like. I really like how it turned out.
2. If he was on Survivor, Seahawks wide receiver John Ursua would be his teammate.
I would have to go with John Ursua because if you haven't seen him, he looks like a nature man and he'd know what to do. He looks like he knows some stuff. He'd be a good teammate for that.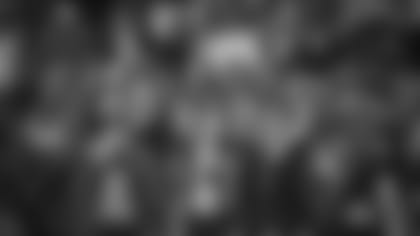 3. Your next video game just might be created by Travis.
If I wasn't playing football, I'd probably want to do something with video games. I don't know if I'd want to do something with the design part or the creating part of it. I don't really know, but I think that would be fun.
4. He wouldn't be who he is today without his mom.
My mom definitely influenced me the most in my life. Seeing her work ethic really helped me with mine.
5. His favorite opponent this year is a two-way tie: Rams and 49ers.
I would say that it's really between the Rams and the 49ers because both of those games were really exciting. They're great competitors, too, and they're in our division so it was more intense.
6. The work he put into his apartment was his way of making Seattle a home away from home.
I've put a lot of work into my apartment it to make it feel like a place I can call home and relax. I've put some personal touches in there, too.
7. If he could suit up on game day with any athlete of all time, he would suit up with Ray Lewis.
Ray Lewis is a legend and would be a lot of fun to play with. That's be really cool. He's also a University of Miami alum.
8. Video games and anime is his perfect combination for a relaxing night at home.
I love playing video games. It's a good way to relax after practice. That, and watching anime. I've always liked watching anime.
9. He doesn't have one go-to artist he listens to on gameday, he has a lot.
I listen to a lot of artists on gameday. I got Lil Uzi on there, Travis Scott and Young Thug. I even got The Weeknd on my playlist.
10. His New Year's resolution is simple: keep playing football.
I just want to keep playing football. I love it.
11. He can almost quote word-for-word the movie 300.
It's one of my favorite movies. I could probably quote most of it. "This is Sparta!"
12. His collection of swords has only grown since coming to Seattle.
I have a really cool sword collection. I expanded my collection and now, in Seattle, I have seven swords. It started about three years ago when I was still in Miami. I bought it for myself. It was an anime style sword. I have a bunch of those from Bleach and Naruto. Right now, I have a rack that has six of them. Under my TV, I have a five-foot, eight-inch sword on display.