Q: At what point did you fall in love with football? When did you decide you wanted to play professionally?
A: I almost quit football my freshman year of high school, which was when I started playing. I told my coach that I was done playing because I didn't like getting hit. He encouraged me to stick with it. He told me that it could lead to a scholarship get my schooling paid for, which inspired me. I then came back my sophomore year and achieved success and a little success was all it took for me to gain confidence. I knew I wanted to play professionally my junior year in college. We had a great season my junior year following a not-so-great sophomore year. I was part of a great backfield that included Terrell Davis and Garrison Hearst who finished third in Heisman votes, which made me feel like I could make this same impact at the next level.
Q: What was the most challenging moment/game of your career?
A: I'm not sure I can pick just one. I would say the game where I was most nervous and anxious was the NFC Divisional playoff game against the Redskins in 2006. Shaun (Alexander) got knocked out of the game. In the first quarter, the league MVP, and now I'm thinking, "uh oh, we're in a fight for our lives. It's the playoffs and our best player is no longer in the game." I felt nervous, but confident at the same time because I knew we had enough guys on our team to make plays on both sides of the ball and special teams as well. We overcame that, but I think the entire Pacific Northwest took a huge gasp when he went down.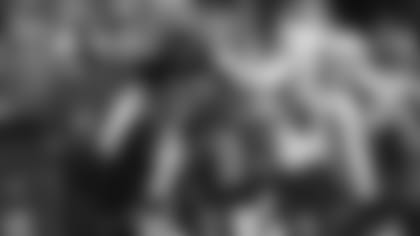 Q: If you could re-play any game in your career, what game would it be?
A: Super Bowl XL. We made so many mistakes in that game. I think if we played that same Pittsburgh Steelers team with our 2005 team 10 times, we would beat them nine times. It was right there for us. We just couldn't get a break. Every time we made a push we would get a flag or something to stop our momentum. We had the players to do it but for whatever reason, we just couldn't get over the hump. It was challenging. I replay that game in my head a lot of times. It would've been nice to have that accomplishment for all of us. To come up short was just disappointing.
Q: Who was the biggest trash talker you ever competed against?
A: It would have to be between John Randle and Shannon Sharpe. I would probably have to say John Randle because we were on opposite sides. He wouldn't necessarily talk trash directly to me. It was more towards our offensive line. That was his thing, to try to get in guys' heads and get them to think of something other than football. He was really, really good at it. A Hall of Fame player. Anytime I watched him it was entertaining, so I was glad when he came to play with us for a couple of years. It was nice to have him on our side.
Q: What were some of the biggest differences between playing in the Kingdome vs CentruryLink Field?
A: Number one was the surface. In the Kingdome we played on Astroturf which was absolutely terrible. It was motivation to not get tackled because if you did, you would lose some skin for sure. I still have turf burns on my arms that are visible. I also feel like it may have been louder in the Kingdome just because that sound didn't have any place to go. Don't get me wrong, CenturyLink Field is loud, one of the loudest, if not the loudest in the entire NFL, but that Kingdome really started the noise trend back in the 80s and made it hard for people to play and hear, before I even started playing.
Q: How did it feel to win the Steve Largent Award five times? (No other player has won it more than twice)
A: It means a lot. I really appreciate my teammates for that. Every year that award is voted on by your teammates. I think it speaks a lot to how much people respect me. When I retired, I was the longest tenured veteran on that team by a long shot and finished second in total games played in franchise history, so I really take it as a sign of respect and admiration from my teammates. Personally, I was a little embarrassed just because there were others who were deserving of that award and doing great things in the community and as a teammate. So, I definitely saw it as a sign of respect and admiration from my teammates.
Q: What teammate do you miss playing with the most?
A: I played so long with so many different players, but I miss the core group of guys that played together for a long time - like Matt Hasselbeck, Robbie Tobeck, Walter Jones, and Shaun Alexander. Shaun and I were in the same backfield for about eight seasons, Walter came in at 1997, and Matt in 2001. Chris Gray and Robbie Tobeck came in around that same time as well. When you spend that many years with guys you really start to feel like family. Those are my brothers and we'll be brothers for life. I really miss them all.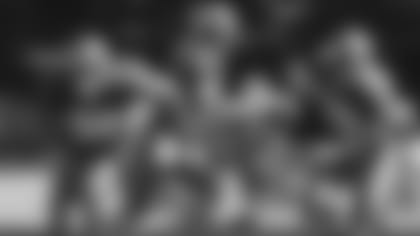 Q: When you decided to retire, who helped you through the process the most?
A: It was different just because I had a neck injury that ended my career. To be honest it was the medical staff, those were the guys I spent most of my time with, had conversations with, and it was good to have guys who I feel like really cared about me and my health. The team training staff was there for me and helped me through that time.
Q: Who have you kept in touch with the most from the Seahawks organization?
A: I've stayed in touch with a lot of people just from living in the Seattle area, living in the state of Washington, and having a foundation. I still engage with a lot guys like Robbie Tobeck, Jordan Babineaux, Sean Locklear, Marcus Trufant, and Walter Jones. All of those guys are still around. We connect several times throughout the year at Legends events with the team, or at each other's fundraisers. It's good to be able to stay connected with those guys.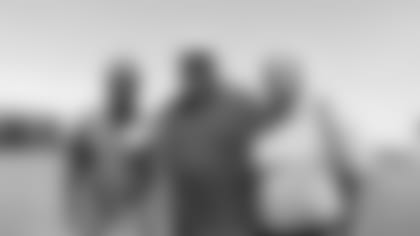 Q: What are some things you enjoy doing the most since retiring?
A: I enjoy time with my family. I moved to Pullman, Wa., in 2015 when my wife got hired as a professor at Washington State University. Since that time, I've enjoyed helping coach my boys and spending a lot of time with them and their various sports activities. I still have my foundation (Mack Strong Team-Works Foundation) that's based in Seattle, and we have expanded to Pullman. I spend a lot of time with that, traveling around, meeting new people, and speaking. After that, there isn't much time left, but I enjoy my church family and close friends, we stay connected on a regular basis.