Q: What was your most difficult adjustment as a rookie?
A: My biggest adjustment was moving from the East coast to the West coast as a rookie. My first time coming west was for a day trip to San Diego, which was around the time of the NFL Combine. The whole adjustment of moving East to West was difficult for me because I had never been that far away from home and my family.
Q: What was your favorite way to create a turnover?
A: I loved forcing a fumble, because you're actually taking the ball from your opponent's hands. Whether I was ripping it out, or hitting it out, that was the 'enforcer way' and my favorite way.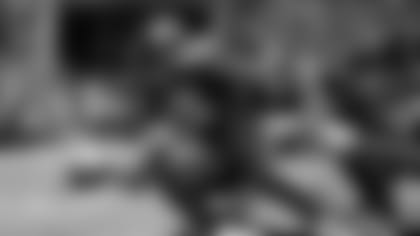 Q: Who did you model your game after, and how did it impact your playing style?
A: I modeled several guys, but it all started with Sean Taylor. Once I saw a guy that was 6-3 or 6-4 around the same size as me play that position, I knew that I could, too. I knew that even if I couldn't play the position the way he did, I would be able to do it my way. That's what gave me the confidence and drive to not only play safety, but excel at it. I wanted to show that I could play that position at that size. There were other greats that I loved to watch as well; Brian Dawkins, Ronnie Lott, Kenny Easley just to name a few. Those guys were enforcers as well during their time.
Q: What made you choose to wear No. 31?
A: Actually, it was the only number left. I was a fifth-round draft pick and didn't really come in with a lot of noise, so I was kind of just given that number. I believe in making something out of nothing. I was never really into the whole number thing and was always basically given a number.
Q: What was your favorite hit or tackle that you have delivered?
A: I honestly have too many favorites. I would have to choose the one against the Arizona Cardinals in Arizona. There was a pulling tackle coming at me and I had to set the edge. I buckled him when I blew up the block, and I also made the tackle on that play. I was always aware of my abilities but that hit sprung me to a whole different level. He joined our team a year later and we talked about that hit briefly. All I remember was him saying, 'Man, you leveled me.' It was all within respect for the game.
Q: What has being away from football taught you the most about yourself?
A: It taught me a lot. The thing about playing football and being in that game and culture, I've noticed that it's full speed. Everything is now, full speed, everything is on high demand, and instant gratification. In the real world, it isn't like that. Businesses take time to grow, plants take time to grow. Things take a little more time, and you have to learn to have that patience. So, being away from the game has really taught me to be a lot more patient.
Q: When did you develop a passion for fashion? What made you want to launch "The Chancellor Collection" shoe line?
A: Growing up I always wanted to dress a certain way and wear certain things, but I couldn't afford it and had to make do with what I had. When I got to the NFL my shoe collection got so crazy that I had to turn one of my rooms into a closet. Shoes have always been the focal point of my outfit. Once I stepped away from the game I partnered up with the right company and brought my vision to fruition. Maybe if the opportunity presents itself, I'll expand on fashion and clothes, but for now, I'm just going as far as I can with the shoes.
Q: How has marriage and fatherhood changed your perspective on the future and life in general?
A: Marriage has helped me realize that you can't do anything alone. I believe everyone needs a partner and someone to confide in. Someone to always be in your corner. Fatherhood has showed me that you really have to be mindful of the things you do, say, and put in this universe because your children will follow your footsteps.
Q: If you could go back to high school, is there anything you would want to change or do over?
A: I really wouldn't change anything at all. However, if I was forced to change something, I would have continued playing quarterback in college. I think I would've continued to play that position and hopefully be drafted as a quarterback. I received my scholarship to college after playing quarterback in high school.
Q: If you could deliver one message to all the 12s, what would that message be?
A: I would just tell them thank you. Thank you for believing in me and embracing me during my time as a strong safety for the Seattle Seahawks. I would also thank them for a lot of my off the field work, such as my foundation work. 12s are just such great supporters of the team. The energy they brought to games was remarkable, not to mention the amount of false starts they create each game. The 12s are everything.