Seattle Seahawks tight end Will Dissly always had hopes to play in the NFL growing up, but did you know Dissly's childhood also put him among the boy scout's elite as he earned the highly coveted ranking of Eagle Scout? Or that Will Dissly's first job was helping a former coach build fences during the heat of Montana summers?
Check out this list of 12 things you (probably) don't know about the second-year tight end:
1. Playing with Doug Baldwin was the highlight of his rookie year.
"My favorite memory was being able to play with Doug. It was really cool to be able to take the field with him."
2. He is a big fan of country music.
"The first concert I ever went to was Kenny Chesney and Jason Aldean here at CenturyLink Field. They're so good."
3. His two older brothers, Nick and Russell, were significant role models for him when he was growing up.
"Both of my brothers were my heroes growing up. Just being a younger brother, I'd always look up to them and want to be like them."
4. He needs a little more work on his golf game.
"I play golf quite a bit, I'm just not very good. I'm getting better. Paxton Lynch and I play at Fairwood in Renton and at Snoqualmie Ridge. It's awesome."
5. Officially, his first job was helping out a childhood coach in the heat of the Montana summer.
"I built fences in the summer for my coach. I poured concrete and built fences."
6. When he's not on the field, Dissly spends his time learning to play guitar.
"I like playing guitar. I started my junior year of college because I wanted something better to do than watch Netflix."
7. Even as a kid, Dissly had dreams of playing professional football.
"I always wanted to play in the NFL, ever since I was young. I knew I wanted it."
8. Coach Jeff Cho made Dissly the football player he is today.
"He was my D-line coach at the University of Washington. He really solidified my passion for the game. I embraced and learned how to bring energy to every day the way he did. Those are two things that he taught me."
9. Dissly is part of the 1% of boy scouts that earn the rank of being an Eagle Scout.
"I am an Eagle Scout. I got it a week before my 18th birthday. It was cool to get finished. Only one percent of all boy scouts accomplish that, so it was really cool to get it done."
10. He would step into Patrick Kane's shoes and live his life for the day if he had the opportunity to.
"My brother played hockey, so I always kind of wanted to be a professional hockey player too. It would be kind of fun to live that lifestyle. Or Alex Ovechkin, after he won the Stanley Cup. I think it would be kind of fun to experience that."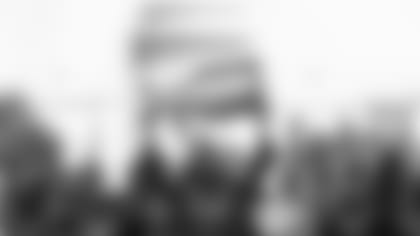 11.  Dissly is a glass half full kind of guy.
"I live by the motto 'today is a great day to have a great day.' It's a great outlook to have."
12.  This year, Dissly is looking forward to playing against former Husky teammate and current Cincinnati Bengals tight end Drew Sample.
"He's a tight end too, so that's going to be a lot of fun to see him again."