With rookie minicamp kicking off this weekend, the Seahawks signed 25 undrafted free agents on Friday.
The Seahawks also signed six of their 10 picks from last month's draft: receiver Jaxon Smith-Njigba, nose tackle Cameron Young, defensive end Mike Morris, center Olu Oluwatimi, safety Jerrick Reed II and running back Kenny McIntosh.
The list of free agents includes a quarterback, Holton Ahlers, giving the Seahawks three on the roster along with veterans Geno Smith and Drew Lock. Ahlers joins the Seahawks after a career at East Carolina that saw him set nearly every passing record at the school as a four-year starter. The Northwest is well represented with one player from Washington, linebacker Cam Bright, one from Oregon State, receiver Tyjon Lindsey, two from Montana State, cornerback James Campbell and safety Ty Okada, one from Montana, linebacker Patrick O'Connell. The list of UDFA signings also includes a long snapper, Penn State's Chris Stoll, a noteworthy addition seeing as the Seahawks didn't have a long snapper on the roster prior to signing Stoll.
Here is the full list of undrafted free agent signings:
Holton Ahlers, QB, East Carolina
MJ Anderson, DE, Iowa State
Michael Ayers, LB, Ashland
Jake Bobo, WR, UCLA
Lance Boykin, CB, Costal Carolina
Cam Bright, LB, Washington
Arquon Bush, CB, Cincinnati
James Campbell, CB, Montana State
Robert Cooper, NT, Florida State
Noah Gindorff, TE, North Dakota State
John Hall, WR, Northwood
Griffin Hebert, TE, Louisiana Tech
C.J. Johnson, WR, East Carolina
Matt Landers, WR, Arkansas
Tyjon Lindsey, WR, Oregon State
Patrick O'Connell, LB, Montana
Ty Okada, S, Montana State
Morrell Osling III, S, UCLA
Kendall Randolph, G, Alabama
Chris Smith, RB, Louisiana-Lafayette
Chris Stoll, LS, Penn State
Jonathan Sutherland, S, Penn State
Jacob Sykes, DE, UCLA
Jonah Tavai, NT, San Diego State
Christian Young, S, Arizona
This year's undrafted free agent class is bigger than most due in part to the Seahawks having more open roster spots during the offseason. The Seahawks had only 52 players on the roster prior to the draft, in which they selected 10 players. Seattle signed two more free agents this month, receiver Easop Winston Jr. and running back Bryant Koback, and now with the signing of those 25 undrafted rookies, the Seahawks have filled 89 spots on their 90-man roster.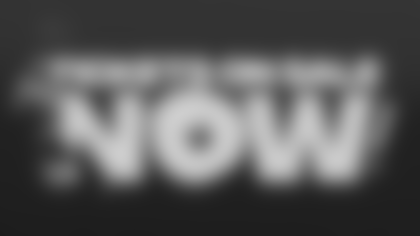 2023 Tickets On Sale Now!
Secure your tickets today to experience the best gameday in the NFL!
Here are bios on this year's UDFA class:
QB Holton Ahlers
COLLEGE: Four-year starter at quarterback (50 of 55 games). Four-time team captain (2019-22). Five-time letterman (2018-22). Set 10 ECU records to go along with six American Athletic Conference and two Birmingham Bowl new standards. Named Birmingham Bowl, Hula Bowl and NFLPA Bowl Most Valuable Player honors. Owns one 500-yard, six 400-yard and 18 300-yard passing outings. Threw at least one touchdown pass in 42 of 55 games. Completed 1,127-of-1,857 passes (60.7 percent) for 13,927 yards. Threw 97 touchdowns to 37 interceptions. Of his 97 aerial scores, 76 came in league play. Rushed 469 times for 1,446 yards (3.1 ypr) with 25 scores. Ranks second all-time in ECU history in rushing yards by a quarterback. Completed career standing among the all-time FBS leaders in total yards (seventh) and passing yards (11th). Ran and passed for a touchdown in the same game on 15 occasions. As a starter, compiled 15,071 total yards – an average of 301.4 yards per game. Ran for multiple touchdowns in a game three times. In 55 career contests, led the Pirates in rushing 11 times. 524 of 1,127 completions went for 10 or more yards (203 for 20-plus). Seventy-five of 97 passing touchdowns went for 10 or more yards. Threw multiple touchdowns in a game 28 times in his career. Threw for 300-plus yards in a game 18 times in his career. Three-time Wuerffel Trophy Watch List Candidate. Semifinalist for the 2022 Jason Witten Collegiate Man of the Year Award.
PERSONAL: Full name is Holton Maddux Ahlers. Son of Morgan and Jill Ahlers. Born in Greenville, N.C. Has three older brothers. Enjoys fishing and playing all sports. Established numerous Greenville Little League records, including most single-season home runs at age 12. Persevered through personal losses, which included grandmother, best friend and two teammates, during high school career. Graduated with bachelor's in communication (Dec. 2021). Earned ECU Dean's List honors for classroom excellence (2018 spring semester) before actually participating in high school commencement exercises. Followed with ECU Honor Roll accolades in the fall ('18, '19) and spring ('19, '20) semesters before regaining Dean's List status for both semesters during the 2020-21 academic year. Four-time AAC All-Academic Team selection. Last name is pronounced AYE-lurrs.
DE MJ Anderson
COLLEGE: Played in all 12 games, making five starts. Finished with 37 tackles and tied for second on the team with 3.5 sacks. Tallied 9.0 tackles for a loss. Had one fumble recovery and one quarterback hurry. Had his first career sack as a Cyclone against Kansas. Finished with five tackles, including three for a loss, against Oklahoma State. Posted a season-high eight tackles against TCU. Recovered a fumble against Ohio. Began his college career at the University of Minnesota where he played in 15 games there. Redshirted in 2019 and competed in the 2020, 2021 seasons. Saw action in 10 games in 2021, registering seven tackles and a sack. Also had two pass breakups and two QB hurries. Had two pass breakups and two tackles at Nebraska.
PERSONAL: Son of Vashell and Michael Anderson. Was a business major. Originally chose Minnesota over offers from Arkansas, Michigan State and Nebraska among others. Listed as a three-star recruit by 247Sports and Rivals. Ranked as the 34th-best strong-side defensive end in his class and the 8th-best player in Missouri by 247Sports. Helped team to a state championship as a senior, recording 62 tackles, 21 TFL, 11.0 sacks and two forced fumbles. Honored as a first team all-state selection and the defensive player of the year in Class 6 as a senior. Missed junior season due to injury.
LB Michael Ayers
COLLEGE: Had breakout season in first action as an inside linebacker in 2021. Landed first-team 2021 Division 2 Conference Commissioners Association (D2CCA) All-Super Region 1 honors, was named Great Midwest Athletic Conference Defensive Player of the Year, and was first-team All-Great Midwest. Nominated for the 2021 Cliff Harris Award, presented to the nation's top small college defensive player. Finished first on team in total tackles (100), solo tackles (52), assists (48), tackles for loss (12) and forced fumbles (two) and added three sacks and a fumble recovery. In the last six games of the season, Ayers racked up 72 total stops, 10.5 for loss and two sacks. Played in all 11 games and started nine as the Eagles' whip in 2019. Recorded 27 total tackles (17 solo), 2.5 for loss. Added a half-sack and an interception for 14 yards. Served as starting whip for most of the 2018 season, making 23 total tackles. Also recorded 3.5 tackles for loss, two sacks and a forced fumble.
PERSONAL: Son of Michael Ayers. As a senior in high school, led the team in both tackles and interceptions. Earned first-team All-Ohio, two all-district and two all-city honors. A three-time city-champion wrestler. Earned four varsity letters each in football and track and three in wrestling.
WR Jake Bobo
COLLEGE: Began his college career at Duke where he appeared in 43 games and made 24 starts in his career for the Blue Devils. Enrolled at UCLA in January of 2022 after graduating from Duke and participated in 2022 spring ball. Started all 13 games in 2022 and led the Bruin team with 57 catches during the season (19th on the UCLA single-season list) and had 817 receiving yards which rates 17th on the all-time UCLA single-season list in that category. Named honorable mention All-Pac-12 by the league coaches and second-team all-conference by Pro Football Focus. Named a first-team selection to the 2022 CSC Academic All-America football team. Selected to the 2022 College Sports Communicators (CSC) Academic All-District team. Earned a spot on the Spring 2022 Athletic Director's Honor Roll. Named to the 2022 Pac-12 Fall Academic Honor Roll. Started all 11 games for Duke in 2021. Was an Academic All-ACC selection. Honored as a CoSIDA Academic All-District choice. Recipient of the Clarkston Hines Award, an honor presented to Duke's top receiver.
PERSONAL: Majored in economics at Duke. Son of Casey and Mike Bobo. Father earned three letters (1989-91) in football at Dartmouth College and served as team captain in 1991. Mother played ice hockey at Dartmouth. Grandfather, Keith Bobo, lettered three seasons (1971-73) in football at SMU and was a 12th-round selection of the Dallas Cowboys in the 1974 NFL Draft. Lettered four years at Belmont Hill School under coach Chris Butler. Three-star prospect according to ESPN.com, Rivals.com and 247Sports.com. Consensus top-six prospect in Massachusetts according to 247Sports.com (No. 4), Rivals.com (No. 4) and ESPN.com (No. 6). Three-time first team All-Independent School League (ISL) selection. As a senior, caught 34 passes for 514 yards and five TDs. In junior season, totaled 31 receptions for 632 yards and 10 TDs. During junior year, helped Belmont Hill to a 7-2 record including a 41-24 win over Wilbraham & Monson Academy in the Kevin Fleming Bowl to capture the New England Prep School championship. Also earned Boston Herald All-Scholastic honors following junior season. As a sophomore, caught 30 passes for 652 yards and five TDs. Also lettered in basketball and track and field, earning All-ISL honors in both sports.
CB Lance Boykin
COLLEGE: Started his college career at Old Dominion University where he played in 22 games in two seasons with the Monarchs. Transferred to Coastal Carolina University, playing in 24 or 26 games over two seasons. Named a second team All-Sun Belt selection in 2022. Earned a spot on the 2022 Phil Steele Sun Belt Conference All-Conference third team. Intercepted three passes and made 85 total tackles in two seasons with the Chanticleers.
PERSONAL: Rated a two-star recruit at cornerback by 247 Sports in the class of 2018. Totaled 99 tackles and 14 interceptions in his career at High Point Christian Academy. Rushed for 1,560 yards and 16 touchdowns on offense in his high school career.
LB Cam Bright
COLLEGE: Started all 13 games in 2022 at the University of Washington and started in 20 out of 51 games in his four years at the University of Pittsburgh. Voted a captain for 2022. Finished the year third on the team with 60 total tackles. Played four seasons over five years at Pitt, redshirting the 2017 season before playing 2018-21. Earned his bachelor's degree in communications. Helped lead the Panthers to an 11-3 overall record, the ACC Championship, and a berth in the Peach Bowl as a senior in 2021, playing in 14 games and starting eight. Notched 58 tackles, including 6.5 for a loss and 3.5 sacks in 2021. Over his career, played 51 games for Pitt, compiling 182 total tackles, 20.5 of them for a loss. Played in all 11 games in 2020, posting 53 tackles, 8.5 for loss. Played in 13 games, starting three, and made 62 tackles and nine TFLs in 2019. Competed in all 14 games as a redshirt freshman in 2018.
PERSONAL: Led the state with 16.5 sacks as a senior in 2016 at Park Crossing High in Alabama. Recorded 131 tackles and 23 TFLs as a senior. Earned Alabama Sports Writers Association All-Class 6A and Montgomery Advertiser All-Metro. Helped lead the Thunderbirds to a 13-1 record and the 6A state semifinals. As a junior, attended North Ridgeville (Ohio) High near Cleveland, where he led the team in rushing with 665 yards and 11 touchdowns on 102 carries. Played for coach Smitty Grider at Park Crossing.
CB Arquon Bush
COLLEGE: Played in 49 games, starting 36 of them over a five-year career for the Bearcats. Recorded nine interceptions over his college career to rank seventh in school history, with a career high of three in 2021. Finished with the sixth most passes defensed in Cincinnati history with a total of 31. Tied a school record with three career blocked kicks. Made 115 tackles and four tackles for a loss during his college career. Started at nickelback in 11 of 13 games for the Bearcats defense that led the nation in pass efficiency defense (103.37) and reached the College Football Playoff Semi-Finals in 2021-22.
PERSONAL: Two-way standout prepped for Coach Jeff Rotsky at Euclid HS in Cleveland. Earned a three-star ranking from 247Sports.com and ESPN.com. Listed as the top cornerback in Ohio by 247. Helped lead the Panthers to a 9-3 mark and a playoff appearance in 2017. Named Second-Team Northeast Ohio Lakes District and earned a spot on the News Herald All-Star Team. Had 17 tackles, nine pass break ups, two forced fumbles and an interception as a senior. Tallied 160 yards receiving with a pair of scores. As a junior, earned OHSAA First-Team All-Ohio, First-Team All-Greater Cleveland Conference and was a Cleveland.com All-Star. Panthers finished 7-4 and made the playoffs for a second straight year. Compiled 52 tackles, 13 passes defended and five interceptions. Averaged 22 yards per punt return and scored five times. Chose UC over reported offers from Kentucky, Michigan State, Purdue and Rutgers.
CB James Campbell
COLLEGE: Capped his Bobcat career by starting all 14 games for MSU's Big Sky Championship team. His two career interceptions came in consecutive games against UC Davis and Idaho State. Forced a fumble against Idaho State. Five tackles each against UNC and in the playoff game against Weber State. Moved to cornerback from receiver in 2021. Played in 10 games, missing the UNC, Cal Poly, Idaho State, UM, and UT Martin games. Logged season high six tackles in the opener and four at Sam Houston. Broke up two passes (Drake, Sam Houston). Was a reserve receiver in 2019 and made important special teams contributions. Overcame injuries in 2018 to become a dynamic kick teams player before an injury ended his season after six games. Had six tackles, best on the team to that point and still second-best among special teams players.
PERSONAL: A dual major in business/liberal arts. Born James Campbell in Palatka, FL. One of six children of James and Lisa Campbell, and LeNora Campbell. High School First team all-state and two-time all-county selection. Putnam County Offensive Player of the Year as a senior, when he threw for 1,275 yards and ran for 620 more. Recorded 25 total touchdowns. Three-year honor student who was also a two-time team captain.
NT Robert Cooper
COLLEGE: Played in 57 games from 2018-22, starting 41 of them. Recorded 123 tackles, including 13 for a loss in five seasons with the Seminoles. Started all 13 games and registered 19 tackles in 2022, including 1.0 for loss. Named an honorable-mention All-ACC. Earned team's Bobby Bowden Leadership Award in 2022. Appeared in all 12 games with 10 starts in 2021. Recorded 39 tackles, including 4.5 for loss with 0.5 sack, three quarterback hurries, and one pass breakup. Honorable mention All-ACC for the 2021 season. Awarded Jimmy Rogers Jr. Most Valuable Lineman Award for his Sun Bowl performance in the 2019 season.
PERSONAL: One of FSU's first commitments for the class of 2018. Consensus four-star prospect rated No. 4 nationally among defensive tackles and No. 13 overall in Georgia by 247 Sports and No. 5 at his position and 16th in state by Rivals. Ranked 91st in ESPN300. Honored as an Under-Armour All-American. Registered 42 tackles, including 8.0 for loss with 2.0 sacks while battling injuries as a senior. Collected 54 tackles, including 16.0 for loss with 4.0 sacks, and six quarterback hurries while helping the Comets advance to second round of 7A state playoffs. Named first-team all-state by Atlanta Journal Constitution and Georgia Sportswriters Association. Selected Florida State over Alabama and Georgia after receiving multiple scholarship offers.
TE Noah Gindorff
COLLEGE: Played in 53 career games at tight end for the Bison, catching 44 passes for 522 yards and 12 touchdowns. Made the MVFC Honor Roll in each of his six years at school (2017-2022). Recipient of three Missouri Valley Football Conference academic awards, the Presidents Council Academic Award, Commissioner's Academic Excellence Award, and the MVFC Honor Roll in 2022. Selected to both the All-MVFC Second Team and the MVFC All-Academic team in the 2020-21 season.
PERSONAL: Graduated from NDSU in December 2021 with a bachelor's degree in accounting...Son of Michael and Wendy Gindorff...Father was inducted into the Concordia Cobbers Athletic Hall of Fame in 2014 and was a free agent signee of the Buccaneers and Vikings. 2017 graduate of Crosby-Ironton High School. Four-year starter and two-time captain. Played quarterback, tight end, defensive line, linebacker, safety, kicker and holder. All-conference sophomore and junior years. All-district and all-state as a senior. 2016 team MVP, district Offensive Player of the Year and area Player of the Year. Passed for 2,822 yards and 28 TDs while rushing for 3,318 yards and 43 TDs in his career. Also caught seven passes for 193 yards and two scores. Racked up 317 tackles with 10.5 sacks, five forced fumbles and eight interceptions on defense. Set school records for all-purpose yards in a season (2,348) and career (6,333), single-season touchdowns (23), and holds the top two single-game rushing totals with 265 and 263 yards.
WR John Hall
COLLEGE: Caught 64 passes for 1,104 yards and 12 touchdowns in 36 career games for Northwood University. Recorded career highs in receptions (19), yards (457), yards per game (76.2), and touchdowns (6) in his senior season, despite only playing in six games due to injury. Became the first Northwood University player to sign with an NFL team as an UDFA since Glenn Winston in 2014.
PERSONAL: Majored in Accounting. Claimed All-Metro East honors at Macomb high School. Named Third Team All-County in basketball and voted First Team All-Defense in basketball.
TE Griffin Hebert
COLLEGE: Recorded 99 receptions, 1,532 yards, and 14 touchdowns in 56 games playing tight end and wide receiver for the Bulldogs. Made the C-USA Commissioner's Honor Roll in 2018, 2019, 2020, 2021, and 2022. Established career highs in receptions (30), yards (537), and touchdowns (6) in 2019.
PERSONAL: Graduated from St. Thomas More High School in 2017. Earned a total of six letters in both football and basketball. Led St. Thomas More to its first state title in history in 2016. Named All-Acadiana and All-District as both a junior and senior. Eclipsed 1,000 receiving yards with 24 touchdowns in his career.
WR C.J. Johnson
COLLEGE: Four-year letterwinner who started 38 of 46 career games. Two-time All-American Athletic Conference selection (2019, 2022). Hauled down 175 career passes for 2,849 yards (16.3 ypr). Scored 21 career touchdowns. Set the ECU single-game receiving yards record against Cincinnati in 2019 (12 for 283 yards). Tied ECU and AAC single-game record with four touchdown grabs against South Florida (2022). His 197 yards against the Bulls ranks 10th on the Pirates single-game charts. Stands fifth on ECU's all-time receiving yards (2,849) and touchdown receptions (21) charts. Ranks sixth all-time in receptions at East Carolina (175). Owns seven career 100-yard receiving games (4/2019, 3/2022). Hauled down multiple TD passes in a game three times (TEM '19, USF '20, USF '22). Recorded at least one reception in 43 of 46 career games (multiple 37 times). 106 of 175 receptions went for 10 or more yards (47 for 20-plus). Targeted 2095 times making 175 grabs. Became the eighth player in program history to post 1,000 or more receiving yards in a season (1,016 in 2022). Earned Second-Team All-AAC (league coaches and Phil Steele Magazine) honors in 2022. Selected as a Freshman All-America by the Football Writers Association of America (FWAA), while also earning inclusion on Pro Football Focus' All-Freshman Team. Additionally, was a two-time All-AAC choice (first-team/Phil Steele, honorable mention/coaches) in 2019. Two-time Biletnikoff Watch List selection (2020, 2022).
PERSONAL: Played key role guiding the D.H. Conley Vikings to a 39-13 four-year record, which included a 22-2 conference mark. A two-time Associated Press All-State selection (2017, 2018) who earned four letters as a two-way player for coach Nate Conner at D.H. Conley High School. Caught 239 passes for 5,198 yards (108.3 ypg) with 79 touchdowns during entirety of prep career. Additionally, rushed 50 times for 713 yards (14.3 ypc) with 17 TDs. In all, scored 98 touchdowns (79 receiving, 17 rushing, one fumble return, one interception return) and four two-point conversions for 592 points (12.3 ppg) in 48 career games. On the defensive side of the ball, credited with 47 tackles (42 solo) and a pair of interceptions.
WR Matt Landers
COLLEGE: Played three seasons at the University of Georgia before transferring to the University of Toledo where he played one season. Finished his college career with the University of Arkansas, catching 47 passes for a team high of 901 yards and eight touchdowns in his first and only season with the program in 2022. His 901 receiving yards puts him eighth all-time in a single season at Arkansas and his eight TDs matches the sixth-most ever by a Razorback in a single year. Recorded four 100-yard games during the season, placing him in a tie for fourth in a single season at Arkansas. Made 20 receptions for 514 yards and five touchdowns in 12 games played at Toledo in 2021. Saw action in 25 games across three seasons at Georgia, including 12 games in 2019.
PERSONAL: PrepStar Magazine three-star prospect, All-Southeast Region. 247Sports.com three-star, #97 ranked WR nationally, and #89 overall prospect in Florida. Had 40 receptions for 719 yards and seven touchdowns as a senior at St. Petersburg High School. In his junior year at Admiral Farragut Academy, amassed 1,038 yards and 15 touchdowns, both team highs. Team went 10-2 and reached the 2015 FHSAA Class 2A Regional Finals. Earned Tampa Bay Times 2015 All-Tampa Bay First Team Offense and Sun Sentinel 2015 Florida All-State Class 2A First Team Offense honors.
WR Tyjon Lindsey
COLLEGE: Saw action in 16 games for Nebraska before transferring to Oregon State in 2018. Played four seasons at Oregon state, totaling 75 receptions, 917 yards, and nine touchdowns. Carried the ball 25 times for 184 yards (7.4 ypc) and three touchdowns for the Beavers. Finished second on the team with 30 catches resulting in 317 yards and a touchdown in his final season in college.
PERSONAL: Starred at Bishop Gorman High School in Las Vegas, helping the program to a 44-0 record over a three-year stretch from 2014-16. The school won the 4A state title in Lindsey's senior year, going 15-0 overall and winning the championship 84-8. In 2015, Lindsey, then a junior, made 45 catches for 1,117 yards and 14 touchdowns. He added 237 punt return yards and one interception with two pass deflections. In 2014, as a sophomore, he caught 34 passes for 884 yards and 15 touchdowns. Selected first-team All-Nevada both seasons, and, after his junior year, was named first-team All-Southwest. Recognized as the top player in the state of Nevada by both ESPN and 247Sports coming out of Bishop Gorman. Rivals.com and 247Sports both had him rated as one of the top 10 receivers in the country; 247Sports had him as the No. 50 player overall nationally regardless of position.
LB Patrick O'Connell
COLLEGE: Completed a storied career at the University of Montana, finishing with a career total of 242 tackles, 45 tackles for loss, 28.5 sacks, two interceptions, five forced fumbles, and four fumble recoveries. His 28.5 sacks rank sixth in school history and his 45 tackles for loss are the fourth most in the program's history. Given the team's defensive MVP award in 2022 after making 73 tackles, 14 tackles for loss, and eight sacks. Named second-team All-America by STATS and Phil Steele following his senior season. Also, presented with the team's Tony Barbour Award, given annually to the player "who best exemplifies outstanding practice habits and makes an unselfish contribution to the betterment of the Grizzly Football Team. Was named the 2022 Big Sky Preseason Defensive Player of the Year after his 2021 season where he made 105 tackles, 21.5 tackles for loss, and a team leading 14 sacks. Awarded first team All-Big Sky honors at linebacker after the 2021 and 2022 seasons.
PERSONAL: Played in five state title games (three football, one baseball, and one basketball) in high school. Won the 2014 state football championship and was a member of the 2017 basketball state championship team. Football and basketball team captain as a senior and three-time baseball team captain. Selected to Montana-North Dakota and Montana East West all-star football games. First team all-state linebacker and fullback and the Montana Defense most valuable player. Posted 135 tackles with two interceptions, 18 tackles for loss, and four sacks as a senior. First team all-conference football player as a senior in 2016 and second team selection as a junior. Three-sport athlete who hit .484 with 60 RBIs and 76 hit. First team all-state baseball player. All-conference first team selection in baseball as a junior and senior.
SS Ty Okada
COLLEGE: Earned Second Team All-Big Sky honors in two consecutive seasons (2021, 2022). Started all 14 games in 2022, finishing third on the team with 72 total tackles (45 solo), including six for a loss, and three sacks. Recorded a team high nine pass breakups. Named the team captain and Joe Tiller Coaches Choice Defensive MVP. Set career highs in tackles with 78 and interceptions with two in 2021. Awarded the College Sports Madness Big Sky Player of the Week for his performance against UNC (10 tackles, two for a loss, one interception) in 2021.
PERSONAL: A standout athlete at East Ridge High, where he was District Offensive Player of the Year as a senior quarterback. Also all-conference in baseball and wrestling.
FS Morrell Osling III
COLLEGE: Played in a total of 40 games over a five-year stretch at UCLA, playing both safety and cornerback. Started all 13 games at safety for the Bruins in 2022, earning second team All-Pac-12 honors by the Associated Press. Finished second on the team in tackles with 89 in his senior season. Ended his college career with 156 total tackles, four tackles for loss, three sacks, one interception, and 10 passes defensed.
PERSONAL: Listed as a three-star recruit by both Scout.com and Rivals.com. Rated as the No. 18 cornerback prospect in the West by Scout.com. No. 144 prospect on the Scout.com West 150 List. No. 88 on the Scout.com California 100 List. Rivals.com No. 80 recruit on the California 100 List. PrepStar All-West selection. Also lettered in track, where he was a nationally ranked triple jumper. 2016 state high school triple jump champion. First-team All-CIF in track and field.
G Kendall Randolph
COLLEGE: Showcased his versatility at the University of Alabama, playing 53 career games at guard, tackle, and tight end. Started 14 games at tight end, including six games for the 2020-21 College Football Playoff National Champions. Played a combined 313 snaps at tackle and tight end in 2020. Recorded ten knockdown blocks in his final season in Tuscaloosa, Alabama.
PERSONAL: A highly regarded offensive line candidate from North Alabama. Ranked as a unanimous four-star recruit by all major recruiting outlets. Rated as one of the top-10 players in Alabama in the 2017 recruiting cycle. Member of the PrepStar Top 300 All-America Team. Participated in the U.S. Army All-American Bowl. Played in the 2016 Alabama-Mississippi All-Star Game. Earned first-team honors, being named to the Alabama Sports Writers Association (ASWA) Class 7A All-State Team.
RB Chris Smith
COLLEGE: Served as a dynamic running back and kick returner over his five years at ULL. Finished his college career with 373 carries for 2,167 yards (5.8 ypc) and 16 rushing touchdowns to go along with 52 receptions for 410 yards and three touchdowns. Led the 13-1 Ragin' Cajuns in rushing with a career high of 855 yards in 2021. Ran for the fifth most yards in a single game in school history with 238 yards in a win against Arkansas State in 2021. Earned First Team All-Sun Belt Conference honors as a return specialist in 2020. Named a First Team All-American return specialist by Pro Football Focus and 247Sports/CBS Sports, while earning Second Team All-America honors from the Football Writers Association of America. Boasted 23 kick returns for 617 yards and two touchdowns in 2020. His yardage total led the Sun Belt and ranked fourth nationally, while he was the only player in the conference and one of only four in the nation with two kick-return scores.
PERSONAL: Played high school ball at Nanih Waiya High School. Named 2016 Mr. Football. Played in the Mississippi vs. Alabama All-Star Game.
LS Chris Stoll
COLLEGE: Played in 48 games as Penn State's long snapper. Named the winner of the Patrick Mannelly Award, given to the nation's top long snapper in 2022. Earned the Big Ten Sportsmanship Award. Former run-on and earned a scholarship during preseason camp in 2021.
PERSONAL: A three-time letterman for head coach Ryan Wiggins at St. Francis DeSales High School. Helped the Stallions to a 31-9 record in his career. Two-time Prokicker.com All-America long snapper selection as a junior and senior.
SS Jonathan Sutherland
COLLEGE: Competed in 58 career games, totaling 137 tackles, eight tackles for loss, 1.5 sacks, one interception, six passes defensed, one forced fumble, and one fumble recovery. Earned Academic All-Big Ten honors in three consecutive years (2020-2022). Semifinalist for the William V. Campbell Trophy in 2022. Voted a team captain in 2022 and joined Sean Clifford as the only four-time captains in team history. Blocked two punts against Idaho (08/31/2019), marking the first time Penn State blocked two punts in a game since 2000 vs. Louisiana Tech. Two blocked punts in a game is tied for the fourth-most in FBS history.
PERSONAL: Two-time letterman for head coach Panos Voulgaris at Episcopal High School in Virginia. Named team captain as a senior in 2016. Helped lead the Maroon to an 8-1 mark and the outright Interstate Athletic Conference Championship in 2016. Guided Episcopal to the IAC crown in 2015 with a 7-1-1 record. Earned all-state first-team honors as a junior and a senior. Selected first-team USA Today All-State as a senior. Selected as the 2016 Interstate Athletic Conference Defensive Player of the Year. Garnered first-team All-IAC accolades as a junior and a senior. Named second-team All-Met by The Washington Post as a senior. Participated in Nike's The Opening Regional in Washington D.C. Rated a four-star recruit by ESPN, Rivals and Scout, and a three-star prospect by 247Sports.
DE Jacob Sykes
COLLEGE: Began his college career at Harvard University where he played four seasons before transferring to UCLA for one season. Appeared in all 13 games, including six starts, for the Bruins in 2022. Finished his lone season in L.A. with 29 tackles, 1.5 tackles for loss, and one sack. Awarded First-Team All-Ivy League honors and named to the Phil Steele All-Ivy League First Team after playing 10 games in 2021. In three years at Harvard, he made 69 tackles, 14.5 tackles for loss, and 9.5 sacks. Was a 2021 FCS ADA Academic All-Star Team selection.
PERSONAL: Four-year letterwinner and starter for Rockhurst High School. Team captain as a senior. First freshman in school history to start a varsity football game. Voted team MVP in 2017-2018. Collected two all-district, one first-team all-state selection. Three-year track, two-year basketball letterwinner. Two-year track captain. Won State History competition and competed at the Nationals. Qualified and attended two State Math Competitions in multiple categories. Member of National Honor Society.
NT Jonah Tavai
COLLEGE: Spent one year at El Camino College, where he was a second-team all-league pick and an honorable-mention All-American before transferring to San Diego State. Anchored the Aztec defense for four seasons, racking up 24 sacks to rank third in program history. Was named a first-team All-American by both Pro Football Focus and Bleacher Report, a second-team pick by both the Associated Press and USA Today, and an honorable-mention selection by Phil Steele Magazine and College Football Network in 2022. Honored as a first-team all-Mountain West selection by the league's head coaches and media. Landed on the all-conference first team by Pro Football Focus, Phil Steele Magazine, and College Football Network. Voted a team captain by his teammates. Awarded the Polynesian College Football Player of the Year Award as a senior. Named a first-team All-America selection by The Action Network in 2021. Was named an honorable-mention all-Mountain West selection by the league's coaches and media. Also was named to the Pro Football Focus Mountain West Team of the Year at defensive interior (first team). Finished his career with 147 tackles, 36 tackles for loss, 24 sacks, and two forced fumbles in 48 games.
PERSONAL: Was a three-year letter winner at Mira Costa High School, but played four years, starting as a 13-year-old freshman. Three-time first-team all-league pick. Also was the league's MVP and defensive MVP. Was a two-time all-area honoree and an all-CIF selection. Ranked as top 25 high school rugby player for two years. Competed on the track and field team as a thrower.
SS Christian Young
COLLEGE: Appeared in 48 games, starting 32 of them over a five-year career at the University of Arizona. Started all 12 games at safety during his 5th season with the Wildcats. Made career-high 76 tackles including a career-high 47 solo tackles (29 assists). Recorded career-high 6.5 tackles for loss and 0.5 sacks alongside two pass breakups and one fumble recovery in 2022. Finished his college career with 182 total tackles, nine tackles for loss, 11 passes defensed, two forced fumbles, and three fumble recoveries.
PERSONAL: Graduated in 2018 from Foster High School in Richmond, Texas. Earned letters in football, basketball and track and field. Voted team captain and MVP as a senior. Two-time all-conference and All-City selection. Two-time all-district and all-region selection. Totaled 152 tackles, eight interceptions, 18 pass breakups, four tackles-for-loss, and three forced fumbles in his career. Was also recruited to run track by Texas State. Consensus three-star recruit.
Seahawks rookies rolled into the Virginia Mason Athletic Center for physicals, equipment fitting and more in anticipation of this weekend's Rookie Minicamp.