The Seahawks made official on Tuesday the re-signing of tight end Luke Willson and guard Mike Iupati, a pair of players who had big roles on offense in 2019.
Willson, a fifth-round pick in the 2013 draft, spent his first five seasons in Seattle before signing with the Lions in 2018. After one year in Detroit, and after spending training camp with the Raiders last year, Willson returned to Seattle early in the 2019 season after the Seahawks traded fellow tight end Nick Vannett to Pittsburgh.
Willson appeared in eight games last season, starting seven, and caught eight passes for 79 yards. When discussing the team's depth at tight end during the NFL Scouting Combine, general manager John Schneider said, "We'd love to have Luke back as well."
Willson, a big part of Seattle's offense on two Super Bowl teams, has 110 career receptions for 1,295 and 11 touchdowns, and was on the receiving end of the most famous 2-point conversions in franchise history, a catch that played a big role in Seattle's NFC championship game victory over Green Bay. But Willson is beloved in Seattle not only for his on-field play, but for being one of the most unique characters in recent franchise history.
From launching the short shorts "movement" along with Jordan Roos to leading the way on Techno Thursday to espousing the occasional conspiracy theory—don't get him started on the moon landing—Willson is a true original, and one who will now continue his career in the city he has called home for almost his entire NFL career.
When the Seahawks brought Willson back last season, Seahawks coach Pete Carroll called him "just a lifeblood, energy guy in the program as well as a really good ballplayer."
Willson is the second tight end signing for the Seahawks this offseason, with former Panthers Pro-Bowler Greg Olsen joining the team in February following his release from Carolina. The Seahawks also will bring back restricted free agent Jacob Hollister, who signed his restricted free agent tender this afternoon.
In re-signing Iupati, the Seahawks continued an offseason trend of bolstering their offensive line. The team's starting left guard last season, Iupati, a former Pro-Bowler, is the sixth offensive lineman signed this offseason.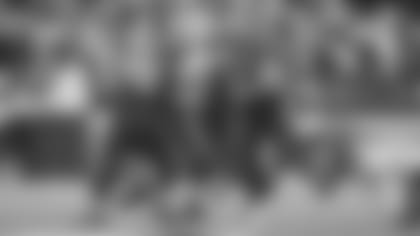 Iupati, a 2010 first-round pick who was a four-time Pro-Bowler with the 49ers, joined the Seahawks last season as a free agent and started 15 games. He worked with Seahawks offensive line coach Mike Solari during his best seasons in San Francisco, and was a Pro-Bowl alternate last year.
Prior to retaining Iupati, the Seahawks added four linemen in free agency—tackles Brandon Shell and Cedric Ogbuehi, center B.J. Finney and guard Chance Warmack—and re-signed guard Kahlil McKenzie, who spent last season on their practice squad.
In addition to those two free-agent signings, Hollister signed his restricted free agent tender, while guard Jordan Roos signed his exclusive rights free agent tender. Hollister, who was acquired last year in a trade with New England, began the 2019 season on the practice squad, but eventually emerged as a big contributor, leading Seattle's tight ends in receptions (41) and receiving yards (349). Roos, who first joined the Seahawks as an undrafted rookie free agent in 2017, appeared in seven games on special teams duty.