Only four days after signing with Seattle, Adrian Peterson is set to make his Seahawks debut in Sunday's game against the 49ers.
Peterson, a future Hall of Fame running back who is in his 15th season, only practiced two days with his new team, but made a strong first impression.
"Adrian had a good week," Seahawks coach Pete Carroll said Friday. "It's probably hard for people on the outside to understand the impact a guy with his kind of background can make. At a time where we're battling to try to win a game and get going, he jumped in here and had a remarkable influence on the week. With three guys banged up at the spot, we'll see how it goes on the weekend. He had a really productive week for us, and it was fun having him here.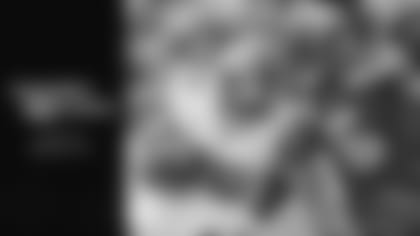 Listen To The Seahawks Insiders Podcast
Hosted by sideline reporter Jen Mueller and Seahawks Senior Digital Media Reporter John Boyle, the Seahawks Insiders podcast takes an in-depth look at each week's Seahawks game and analyzes the previous week's matchup. Available on Spotify, Apple Podcasts, and wherever else you get your podcasts.
"It's a rare opportunity for our guys to see somebody like that, that has that kind of background, but stands for so much more than just the numbers and the stats and all of that," Carroll said. "He's been a remarkable competitor forever. It was so obvious. It was really a boost for a bunch of guys, the young guys in particular. He's serious about playing. He's not just here for show. He's here to come here and try to help us win a game."
Peterson, who won the MVP award in 2012 and is a seven-time Pro-Bowler and four time first-team All-Pro, gives the Seahawks needed depth a position hit hard by injuries. In addition to starter Chris Carson being out for the season with a neck injury, the Seahawks have three running backs—Rashaad Penny, Alex Collins and Travis Homer—listed as questionable for Sunday's game, leaving DeeJay Dallas as the only fully healthy back on the 53-man roster.
And even though the 36-year-old Peterson, who appeared in three games for the Titans last month, is well past the age when most running backs see their careers come to an end, he comes to Seattle believing "I still can compete at a high level."
"I don't really feel like I showed too much in Tennessee, but before I got released, I was feeling like my legs were back under me," he said. "I felt like going to the Patriots week, that was the week I was going to blossom. Unfortunately, I got released. I feel like there's a lot I can add to the run game and inspire these young guys as well. Make those guys work harder when they see me out there pretty much going full speed during a walkthrough 14 years in, that'll make them kind of pick up their tempo a little more as well. I feel like I'll be able to add to the running back room and help get this running game going."
Peterson will revert to the practice squad on Monday, and is eligible to be elevated one more time before the Seahawks would have to add him to the 53-man roster in order for him to play.
Seahawks players, dancers, and staff will wear custom designed cleats and shoes supporting causes they feel passionate about during Week 13 vs. the San Francisco 49ers on December 5.