Thursday's night's game was, in Seahawks coach Pete Carroll's words, a "classic opportunity" for his team.
With the NFC West-leading 49ers in town, the Seahawks had a chance not just to win a game in prime time, but to get back on track and bolster their playoff chances. But instead of getting that much-needed win, the Seahawks were undone by a few very costly mistakes on both sides of the ball, and were stymied by the league's top defense, and the end result was a 21-13 49ers win that allowed them to clinch an NFC West title at Lumen Field.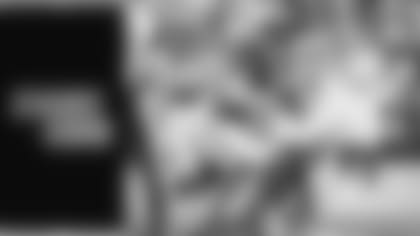 Re-live Each Game With The Seahawks Rewind Podcast
Re-live every Seahawks game this season with game highlights, player and coach postgame interviews, and a whole lot more. Available on Spotify, Apple Podcasts, and wherever else you get your podcasts.
"This was a classic opportunity in the division with the team that's leading, and here, Thursday, all that stuff," Carroll said. "Everything was really there for us to have a great night. They're a really good team and they're doing really good stuff and been really consistent. They got a bunch of wins in a row and all that. So it was going to be a fantastic win for us, and we just hung in there with an opportunity to get it done."
The 49ers won for a lot of reasons, not the least of which was a great performance by their defense, as well as a few big plays on offense, including two long touchdown passes to tight end George Kittle, but what arguably made the biggest difference was a sequence late in the second quarter during which Quandre Diggs dropped what looked like a sure interception, one that would have given the Seahawks the ball ad midfield at worst, and possibly deep in 49ers territory depending on the return. Instead the 49ers punted, giving the Seahawks the ball at the 19-yard line with a chance to take a lead or at least cut into what was at the time a 7-3 lead. But on Seattle's ensuing drive, Travis Homer fumbled after a catch and run that would have given the Seahawks a first down, and the loose ball was returned to the 6-yard line, setting up a touchdown and a 14-3 lead just before halftime.
"We had an enormous swing at the end of the half," Carroll said. "It was 7-3, about at the two-minute warning, we have a chance at a pick at midfield at least, and then the fumble gets them right down on the 5-yard line. So, they were able to take advantage of those opportunities and did a nice job. I give them credit. I've been crediting them all week, because I really think a lot of Kyle (Shanahan) and the job that he does and that team, so that's why it would've been a really great opportunity to get them, but it didn't happen."
Diggs, who has 15 interceptions since joining the Seahawks midway through the 2019 season, made no excuses for the missed interception, and knows that could have been a game-changing play had he made it.
"I didn't catch it," He said. "That's as simple as it is. I'll take that. That's on me. There have been a couple of those that I wish I could have back this year that I normally don't drop, but it happened. I have no choice but to move on. But I take credit for it. I dropped it. I had a nice break on the ball. I should have just used my hands. That's one of those ones where I will be frustrated thinking about until next week when I get another opp. At the end of the day, there are other plays out there that we got to have. I do think that was a big momentum shift, though, me not catching that ball. I'll be better. That's all I can do. I'll take it. That's on me. I dropped it. I'm not going to shy away from who I am. I've made enough plays in this league where I know when it's on me and I know when it's not. That play is on me, so we'll go from there."
The night wasn't all bad for the Seahawks—though they did have a couple of significant injuries—most notably because the defense showed some progress against one of the league's best rushing attacks. The big plays, most notably the two touchdown passes to Kittle, were crucial and can't be written off, but other than a few big plays, the defense looked a lot better than it has in recent weeks, especially against the run, something that's all the more noteworthy given that starting nose tackle Al Woods missed the game with an Achilles injury, and his backup, Bryan Mone, left in the first quarter with a significant knee injury, leading to players like Poona Ford and Myles Adams having to play out of position.
"I thought we did some things better on this night on defense and we hung in there," Carroll said. "The way I look at it, we did a lot of things better than we've been doing, so we made a big improvement, but it just didn't come out to be a good win. I told these guys in there that I really love this team and I like what they bring and how they go about their work and the attitude, the mentality. I wanted so much for this week to be a reward, that they could really take something out of it and help us take the next step. I had it all planned. Had it all figured out, what I was going to say to them, and it just didn't happen. So maybe next week. See what happens."
When it comes to what happens next, the Seahawks know they don't have much margin for error left if they're going to earn a Wild Card berth. At 7-7, the Seahawks are chasing Washington and New York, a pair of 7-5-1 teams who face each other on Sunday, in the NFC standings, and the red-hot Lions are right on the Seahawks' heels at 6-7 heading into the weekend.
"We got a lot of work to do, a lot of stuff to get done here," Carroll said. "With where we picture the season ending up, is a place that we're going to be really proud of if we can pull it off. It ain't going to be easy. It's going to be hard. That doesn't mean we can't do it. We should've done it tonight; we didn't get it done. Should have done it last week; had a chance. These opportunities slip away and the season doesn't end like you hope. We got an attitude about doing something here. We are not done."
Quarterback Geno Smith mentioned a sense of urgency after the game, noting the Seahawks have "got to win" starting with their Christmas Eve matchup in Kansas City, and said the team is "is a little bit shocked" after losing four of their last five dating back to a Week 10 loss in Munich.
"We didn't expect to come out after the bye and lose these games," Smith said. "Everyone is a little bit shocked. Again, there is no panic. No one is putting their heads down or quitting. That's one thing, we're not going to do. We are never going to back down, quit, give up. In fact, we're going to work harder. We are going to practice harder. Everyone is going to study harder and get this thing right."
Diggs noted the teams is at something of a crossroads, with a chance to finish strong and get into the playoffs, or to miss out and wonder what could have been for a team that at one point led the NFC West with a 6-3 record following a four-game winning streak in which they won every game by double-digit margins.
"We're at that point where we either go up or we go down," Diggs said. "We're kind of at one of those crossroads where you got three games left, and how do you want to finish? Do you want to finish and head to the playoffs, or do you want to finish and go home? That's kind of what it is. We know we got to get better, and I know this team, there won't be any divide on this team. We just got great players, great leadership, and for us, we know what we got to do to win games."
And to Diggs' point about a lack of divide, for as disappointed as players are after another loss, what the Seahawks won't do is start to point fingers at each other or stop fighting when things get tough.
"I have belief in everyone in here that everyone is going to come out fighting week in and week out," said defensive end Quinton Jefferson. "Even today, a lot of things went wrong, but the guys still played very hard. When you put that film on, you see everyone playing hard and that's all that we can do. It's frustrating, but that's the NFL. The margin of victory is slim. We can't keep coming out here and shoot ourselves in the foot, blowing coverages, and missing fits. We can't do that. We can't win. We already knew that this game was going to be a dog fight. Everybody knew that. These next few games are really going to show who we are as an identity. We can fold and start making trips to Cabo, or we can fight and hopefully get a chance to play in the playoffs because I want to play in the playoffs. Every year that I've been in the NFL, I've played in the playoffs. I want to go back. We are going to see what the fight is like in this locker room."
Check out some of the best action shots from Week 15 vs. the San Francisco 49ers at Lumen Field on December 15, 2022. Game action photos are presented by Washington's Lottery.