Featuring postgame quotes from the following: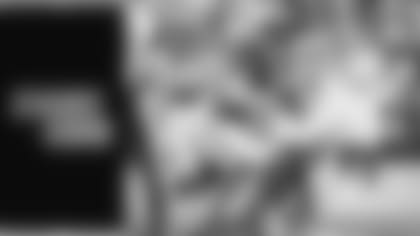 Re-live Each Game With The Seahawks Rewind Podcast
Re-live every Seahawks game this season with game highlights, player and coach postgame interviews, and a whole lot more. Available on Spotify, Apple Podcasts, and wherever else you get your podcasts.
PETE CARROLL: (In progress) This was a classic opportunity in the division with the team that's leading, you know, and here, Thursday, and all that stuff. Everything was really there for us to have a great night. They're a really good team and they're doing really good stuff and been really consistent. They got a bunch of wins in a row and all that. So it was going to be a fantastic win for us, and we just hung in there with an opportunity to get it done. We had an enormous swing at the end of the half. It was 7-3, about at the two-minute warning, we have a chance at a pick at midfield at least, and then the fumble gets them right on -- you know, down on the five yard line. So, they were able to take advantage of those opportunities and did a nice job. I give them credit. I've been crediting them all week, because I really think a lot of Kyle and the job that he does and that team, so that's why it would've been a really great opportunity to get them. But it didn't happen, you know, and so I thought we did some things better on this night on defense and we hung in there. We had a couple -- they had the great double screen play, old play in the league. We haven't seen in a long time, but it worked great. Then we busted a coverage on the other touchdown. It was a gimme for them. Really wasn't a hard play at all. We just made a big mistake. So the way I look at it, we did a lot of things better than we've been doing so we made a big improvement, but it just didn't come out to be a good win. I told these guys in there that I really love this team and I like what they bring and how they go about their work and the attitude, the mentality. I wanted so much for this week to be a reward, that they could really take something out of it and help us take the next step. I had it all planned. Had it all figured out, what I was going to say to them, and it just didn't happen. So maybe next week. See what happens. We had a couple injuries that were significant. Bryan Mone hurt his knee tonight. We can't say everything, but it's a significant knee injury. And Tyler Lockett broke a bone in his hand. Index finger, right in here, you know. It's legit and all that. We got to figure out what's the right way to go. I can't even fathom that, playing without Tyler. Got a chance to hang with them, just to try to express what it's like to be working with a guy like this for so long and such an incredible player. He's not in tremendous pain. Just got a broken hand. No need to feel sorry for him. But he's such a magnificent football player and a member of a team and member of a community in our area and fans. We're going to miss the heck out of him, whatever he misses. You just don't think of Tyler having to suffer through stuff. He should just be having fun and playing the game the way he loves to do it and keep thrilling us like he does. Just add it to the night. Thanks for letting me talk about that.
Q. How do you feel about the way that Myles Adams and a few of those guys stepped in?
PETE CARROLL: Yeah, I wouldn't have known that we would be able to play that consistent up front without Al and B-Mo. Those guys are monsters in there for us, and we really felt like that was going to be an important part of it. Everybody did well. The outside backers did a nice job and they all had to make plays. I don't know what the numbers were, but for sure Poona, you know, and Myles had to do a bunch and L.J., and so it was -- they had to play all night. That's a tough duty on a Thursday night, even more so.
Q. Did something happen to Jordyn Brooks as well?
PETE CARROLL: Yeah, he has got a sore neck. I'm not sure exactly what that is. I don't have that on the report yet. We took him out because of that.
Q. It was late in the last drive there for Lockett?
PETE CARROLL: For Lockett? Yeah, I think he was catching a slant route or something.
Q. Between Mone and Woods not able to go, what did that do to you?
PETE CARROLL: I mean, I would not have thought against this team that runs the ball so well that we could have held up. Other than the last thing that busted out when we were trying to jump on the barbed wire there and make a stop. We screwed it up, but that was a good game of playing run defense. And then an early breakout run and couple other things. Of course they're going to get those somewhere in there, but I thought we played well. I would not have thought we could so that without those guys. Those guys are significant parts of holding up the inside and the interior of the defense.
Q. What worked without those two?
PETE CARROLL: Guys played really strict and really disciplined and really committed together. That was really connected tonight. This is a team that has a lot of scheme and concepts and things like that, and they go out and pick at you. We were able to make the adjustments and hang with them and the players did a beautiful job, coaches did a really good job tonight to give us that opportunity.
Q. That second quarter sequence you mentioned, that's tough any week, but against a defense like the 49ers...
PETE CARROLL: Yeah, I mean, we really felt like we gave them 14 points in the game, you know. They may have earned it another way. I don't want to take anything away from their win. Nice win for them. To come up here and get us up here, that's a big deal. But that was, yeah, an enormous opportunity. We could have had the ball at midfield at least with two minutes to go and we start the drive there. Who is to say -- I don't know how much Diggsy could have brought the ball back too. I don't know what he would've done with it. So we just missed that opportunity. Even more, they get the ball because we fumble on the next sequence and they're on the five yard line. That's bad football.
Q. You mentioned that there was some stuff that you guys did build on that you liked in this one despite the outcome. What are some of those things that you want to build on against Kansas City?
PETE CARROLL: Yeah, well, we want to play a lot better on defense than we've been playing the last couple weeks, and in the running game in particular. I didn't get the third down numbers. I don't know what happened, but we started pretty well. We might have had a pretty good night on defense; offensively we didn't. So it really was the running game and third downs we were trying to get better at on the defensive side, and on offense we needed to get more balance in the running became and we kept slugging it out. We didn't get enough of them. There were some sparks in there against a tremendous front. And then third downs there, too, as well. We did not do well on third down in the first half of the game. That's why we didn't have any points.
Q. Ryan Neal has been on the injury report for a few weeks.
PETE CARROLL: He played through it tonight. I mean, if you watched him late in the game, he was hurting. So I'm sorry your question would be?
Q. What has he shown you?
PETE CARROLL: Yeah, he's shown us the grit of a Seahawk. He's exactly the heart of it and how we want it to be. He represents in everything that he does what we stand for and what we believe in and how tough he is and how willing he is to go for it. He said, I can play, I'm playing, and he couldn't run all week long. But he made it and he played a good game. Hopefully these three days will really help him.
Q. How did you feel Ken looked getting back into things?
PETE CARROLL: I thought he looked good. I need to see the film, all the particular runs, but it's great having him out there. He's just so explosive. He's a really dynamic football player and we need him out there.
Q. What's the message for the team with Kansas City looming?
PETE CARROLL: We got a lot of work to do, a lot of stuff to get done here. With where we picture the season ending up, is a place that we're going to be really proud of if we can pull it off. It ain't going to be easy. It's going to be hard. That doesn't mean we can't do it. We should've done it tonight; we didn't get it done. Should have done it last week; had a chance. These opportunities slip away and the season doesn't end like you hope. We got an attitude about doing something here. We are not done.
Q. What did you think of the way Geno held up?
PETE CARROLL: Yeah, it was a good rush obviously. They are a fantastic rush team, but he did hang in there. He got frustrated like we have seen him at times, but he came right back to it and went right down the field and executed like crazy. I said -- I think I said, you got ten or twelve plays in to you kick ass and do things right and execute down the stretch? Absolutely. And then he went right back out there and he came right back to balance. It's a beautiful message that he sent, that he can get upset, frustrated, things aren't working right, and he let's it out and then he comes right back to balance. Beautiful illustration of that.
Q. First time you've seen that frustration?
PETE CARROLL: No -- maybe that frustrated, yeah. But he's been -- I've been around him a long time now. I've seen him get upset before.
Q. He gets taken down at your sideline out of bounds; did you get an explanation?
PETE CARROLL: Yeah, he wound up on the yellow line. The end of the tackle he hits the yellow line. That is outside of the white. Yeah, he said that the tackle started in bounds. We worked so hard to protect our quarterbacks. It's just one of those calls. No big deal.
Q. Does that set the standard though when a tackle begins in bounds?
PETE CARROLL: That's how they can explain their way out of -- when we're bantering about it. That's a good word, bantering.
Q. You mentioned talking to Tyler. How is he handling that?
PETE CARROLL: Amazingly. I mean, in amazing fashion. He's concerned and trying to get back in two weeks. He says, I think I can get back in two weeks.
Q. (Regarding DK Metcalf.)
PETE CARROLL: No, he's freaking competing like an elite performer with the highest of expectations, and every once in a while he may make a mistake in that level that he plays at. He could do a little bit better. Yeah, he could do a little bit better. We just got finished talking about that. But I don't want him to be anything but what he is and who he is. He's a fricking warrior on the football field. He wants to walk that edge and live there in the game, I'm all for it. He's just got to not screw it up and get penalized on it. He did and made mistakes out there and they got him. But you should see the smile on his face. But he didn't get thrown out. Made it through the rest of the game. So if you don't like a guy that plays like that, okay, you're not on our side. I love the way he played.
Q. Does it seem realistic based on what you know that Lockett could come back at some point this season?
PETE CARROLL: I'll tell you this -- I'll just shoot from the hip a little bit here. There is a couple different ways that they can do the surgery. One of the ways gives him a chance to be back. Remember Rashaad Penny I think it was. Had an injury similar, very similar. So they've already floated that thought and they are going to talk about all the options and we are going to love him up and take care of him.
Q. Is he going to have surgery or is that still to be determined?
PETE CARROLL: I don't know that -- he'll eventually get to that. He's not really fired up about surgery on anything. But that's -- those are the -- I mean, he's got a spiral crack in his first metatarsal. Metacarpal, right?
Q. Is Eskridge anywhere close to being ready?
PETE CARROLL: Yes, he is. From what I heard late this week, he's coming back around might have a shot to help us out.
Q. What's the early indication on Bryan's knee?
PETE CARROLL: Yes. He had a legitimate knee injury. Yeah, it's an ACL injury.
Q. What was the biggest reason you guys fell short today?
PETE CARROLL: Well, this was going to be a really close football game. Would've been right down to the nub. We gave them a touchdown, and then the other one, I give them total credit for the play design they came up with, the fake double screen delayed to the tight end. That was a beautiful play are. It is an old play. Don't see it very much in the league anymore. But great execution. Give them that one. Then we gave them the other one. Gave them the ball on the five yard line. It was going to be a great old fashioned rock 'em, sock 'em ballgame, but the mistakes separate that. We had a couple mistakes and they were the beneficiaries and they get a great win.
Q. How tough was it trying to get things going against those guys today?
GENO SMITH: Yeah, I mean, they're a great defense. You know, it was tough out there, but I feel like everyone on our side played with tons of effort. You see guys fighting the entire game all the way to the finish. We expected it to be a tough game and it was. I think that game was a lot closer than the score showed. Obviously there are no moral victories or anything like that, but I was proud of how we fought tonight. I really think there are a lot of positives going forward. Obviously the loss isn't what we want, but we got to step it up and look at the things that we did well and try to improve on the things that we didn't.
Q. What frustrated you tonight?
GENO SMITH: Well, I feel like obviously losing is the most frustrating part. I hate losing. It truly sucks, and I know how hard the guys work inside the locker room, the time everyone puts in the hours. It's very unfortunate that we didn't get it done tonight. I think our fans deserve it, our city deserves it. I don't know if I have all the right words, but, man, I just hate losing. I got to figure it out.
Q. During the game what frustrated you? Seemed to be more frustrated than normal.
Q. Their the rush obviously is really good. Did you have to -- a lot more kind of shorter, quicker passes tonight it seemed like, or...
GENO SMITH: You know, I was just out there taking what they gave me and really just trying to do the right thing on every single play. Obviously they do have a great pass rush, great front seven, great guys on the back end. It felt like a championship game and we didn't get it done. We were close. We had our opportunities, but just didn't get it done.
Q. Did you talk to Tyler after the game at all? How is he doing?
GENO SMITH: Didn't talk to Tyler. I kind of just heard the news, but didn't get a chance to talk to him. So I will soon.
Q. Did you get banged up a little bit? Looks like you were walking gingerly in between the third and fourth quarter.
GENO SMITH: Yeah, I just kind of fell awkwardly. Just a football game. Stuff like that happens. I mean, everyone is out there playing hard. I'm pretty sure everyone has something going on, but God is in my corner and fortunately wasn't anything too bad.
Q. Three games left now. What do you feel like you need to do to turn it around down the stretch?
GENO SMITH: Pick up the sense of urgency. Continue to fight hard like we've been doing. Continue to study hard. Hit the weights. You know, practice hard. Stay locked in it together. Now is not the time to separate, and I don't see that happening for this team. Really just locking in together. We got to make the most of these three games.
Q. What is the message for the team with Kansas City on the horizon?
GENO SMITH: Got to win. Got to figure out a way to win. Doesn't matter. We're going to a tough environment. Should be a lot of fun. A lot of young guys be will there for the first time, so they can expect it to be a lot of fun. But really execution. You know, one play at a time. Bring your best self, the best execution possible. One play at a time all the way to the finish.
Q. How would you describe the mood in the locker room right now?
GENO SMITH: I think everyone is a little bit shocked. We didn't expect to come out after the bye and lose these games. Everyone is a little bit shocked. Again, there is no panic. No one is putting their heads down or quitting. That's one thing, we're not going to do. We are never going to back down, quit, give up. In fact, we're going to work harder. We are going to practice harder. Everyone is going to study harder and get this thing right.
Q. Pete was impressed with how you put that frustration behind and you went back out there and like turned that into some positive energy. That hard to do?
GENO SMITH: No, not at all. Man, I'm out there playing as hard as I can. I get frustrated at times. I'm human. Because I want to win. It's never a negative thing. My frustration is never negative. It's because I see the positives. I see the greatness in us and I want us to get to that point, reach our full potential. That's all it is. Every time I step on that field I got complete faith in the guys around me, complete faith in the coaches, and complete faith in myself, and I was proud of how we finished. It just wasn't enough.
Q. Were you surprised there wasn't a flag when you got taken down out of bounds on your sideline?
GENO SMITH: I don't look for flags. I grew up playing basketball. You couldn't call fouls back in the day, so I don't look for flags. It just is what it is. If they call it, they call it.
Q. What was working on the touchdown drive that wasn't there on other drives?
GENO SMITH: I think the same things. I think the touchdown drive we just finished better. There was a sense of urgency. We've been great in two-minute the entire season, but we just weren't able to stay quite connected throughout the entire game. I think we had our opportunities, and then for whatever reason we shot ourselves in the foot as we got closer to the end zone. But very positive to see us finish that drive and give ourselves a chance.
Q. It's annual question for us, would you like to be? No-huddle, up tempo more?
GENO SMITH: No. I don't think we need to change anything. I think we have a really good offense. I think we've shown that over the course of the season. Obviously we haven't done enough to win these games, but we just need to work harder and be better.
Q. Without Tyler what kind of challenge do you think that will be?
GENO SMITH: I think it'll present us a great challenge. He's one of the better receivers in the league. He is a leader on this team, leader this offense, and he's a guy that we rely on, that I rely on. So we have guys that are willing to step up. You know, I look forward to seeing those guys step up in their new roles, but you can never replace a guy like Tyler. He's done it for so long. He brings something to the game that not many guys can. You know, I'm just pulling for him to get back as soon as possible.
Q. Geno, there was some improvement despite the loss. What did you notice out there that worked better...
GENO SMITH: You know, I think our run game got going a little bit. Having Ken back helped that out. I think we got some explosive plays here and there. Not enough, but we had a few explosives tonight, and that's a great defense. Hats off to San Fran. They made it tough on us. But you can see that we're close. We're really close, and so we got to stay positive and just keep working.
Q. Staying on the San Francisco defense, how do you feel that the rookies got into the game? They're no longer rookies, but the tackles, the offensive line as it went along.
GENO SMITH: I thought the protection was solid. You know, obviously they're not going to win every single battle, but I thought they were solid throughout the game. They gave me time to go through my reads. Any time you can complete that many passes, obviously it starts with the protection. So I thought those guys did a great job all night of battling against a really good front seven, maybe one of the best in the league. Really comes down to, like I said, us just executing better. When it comes down to Abe and Charles, I don't flinch. I know they got me.
Q. Pete said he asked you if you had 12 or 13 plays left in you. How important is it for you to come back and say, yes and be a leader for the rest of your team?
GENO SMITH: Oh, they know that. That's just -- I mean, look at my career, right? You know, that speaks for itself. I'm always going to battle. Always going to fight. Never going to quit. I don't know how to. I know Pete might have asked me that, but he was just trying to see if I was all right. He knows that I am.
Q. What was the issue on the on first and second down today?
GENO SMITH: I have to go watch the film, but I really just think it all comes down to execution. That's the real thing. When all 11 don't execute, maybe one guy gets beat here and there, it can mess up a play. It just comes down to us staying connected and really just finding ways to win and win in our one-on-one battles.
Q. Did you feel like the defense was playing you guy honest today or...
GENO SMITH: They mixed it up. We had one opportunity in press. We threw a go-ball out to DK and I think it was offensive pass interference. I didn't see the play. I don't know what happened. But teams don't press as much. We got speed. Everyone knows we got speed, so guys aren't going to just come up and press us. They are going to make us walk it down the field and make it hard on us. We can expect that. They are going to mix it up. It's the NFL. They can call any defense. We just got to be on it and do what we do.
Q. Not all turnovers are created equal. How much tougher is it to try to bounce back, like the sequence at the end of the first half where you guys have all the momentum seemingly and instantly it's gone?
GENO SMITH: Yeah, you know, we gave them one. Giving a team like that the ball on the one yard line; can't have it. So we have all had our share of mistakes. No one is placing blame on anyone. It was one play. We had more opportunities in the game, and we just didn't get it done. But obviously turnovers -- and I've been a culprit a few times -- but turnovers has got us, so we got to clean it up.
Free Safety Quandre Diggs
(On whether he was looking up-field on the missed interception) "No, I wasn't. I didn't catch it. That's as simple as it is. I'll take that. That's on me. There have been a couple of those that I wish I could have back this year that I normally don't drop. But it happened. I have no choice but to move on. But I take credit for it. I dropped it. I had a nice break on the ball. I should have just used my hands. That's one of those ones where I will be frustrated thinking about until next week when I get another opp. At the end of the day, there are other plays out there that we got to have. I do think that was a big momentum shift, though, me not catching that ball. I'll be better. That's all I can do. I'll take it. That's on me. I dropped it. I'm not going to shy away from who I am. I've made enough plays in this league where I know when it's on me and I know when it's not. That play is on me, so we'll go from there."
(On whether there are some things the defense can build on) "I mean, sure, but at the end of the day, we lost. We got to keep getting better. I don't think we've got a turnover in the last two weeks. I'm part of that. We got to be better. Still, 21 points is more points than we feel like we should have gave up. We're responsible for that."
(On whether he had spoken with Tyler Lockett about his injury) "I literally just finished doing my own stuff in the back, and then I found out about Tyler. It sucks. Especially a guy like that gives it his all. The things that he does for the organization, that he does for this team, he's one of the vocal leaders. He's a captain for a reason. He's done it for a long time. He's somebody that I have a hell of a lot of respect for. I'll be there for him, of course. He was there for me when I was down bad, less than a year ago. We just have our brotherhood. Whatever I can do for him, and any advice I have for him from my experience with my broken hand, I'll do the same thing. We'll go from there. I'll be here for him all weekend. I'm going to need him just as much as he's going to need me. We'll be in it together."
(On what he saw on the double fake touchdown to Kittle) "I'll have to look at it. I was in the half, so I looked out at one, to see what number one was doing, and then I kind of saw Kittle releasing, so I just tried to make a play to go back and get over there. But, I'll have to look at it. I didn't even get a chance to really look at it, because we were going through other stuff. When I get a chance, I'll definitely look at it. I don't even know where he was aligned, honestly. I literally just took a look at my guy, where one was going, and looked back and Kittle was releasing and was open and I just tried to get him, but he was able to run away."
(On where he feels the team is at after losing four of five) "We're at that point where we either go up or we go down. We're kind of at one of those crossroads where you got three games left, and how do you want to finish. Do you want to finish and head to the playoffs, or do you want to finish and go home. That's kind of what it is. We know we got to get better, and I know this team, there won't be any divide on this team. We just got great players, great leadership, and for us, we know what we got to do to win games."
(On whether there has been a shift in the mood in the locker room) "I think it's always tough when you lose, especially when we were on a hot stretch there for a little bit. It's definitely a different feeling, but it's not acceptable. It's not that we accept it, we just got to get better. Just because you feel like you're getting better during the week, that doesn't necessarily guarantee you're going to win a game. We got to get better. We got to get better fast. We got three weeks left."
(On Ryan Neal playing while hurt) "It's a toughness. Me and Ryan, we look at each other and we just feel like we can't leave each other out to dry, no matter what we're going through. We just like, for us, we owe it to each other to be out there every snap and every play. He's always checking on me and I'm always checking on him the friendship and the bond that me and him have. We've been doing this thing together for the last three years, a lot. He's somebody that I know that I'm going to get everything I can get out of him and he knows the same way around. I apply that, because when I can look next to me and I can see him next to me, it just kind of puts me at ease and lets me know, you're job is a little bit easier. Twenty-Six is going to be in there and twenty-six is going to give it his all. You just got to keep grinding. We have a couple of extra days were hopefully me and him can both get right."
(On Tanner Muse stepping in for Jordyn Brooks) "Tanner has always been ready to play. You guys see him on special teams, the way he runs down. He's very, very smart. He's always answering questions in meetings, so it's not like he gets his opp and he's not ready to go. He got his opp, and he's ready to go. He's out there making close calls and relaying calls and things like that. So, it was cool to see him out there and you hate that J.B. is out, but I got a lot of respect for Tanner. He's just come into this thing and he's worked. He knows his job. When it's his time, he'll be ready to go."
(On whether he is playing through an injury himself) "I think we are all playing with something. Everybody is playing with something right now. When you have a short week, it's definitely tough to get through some things and keep it pushing. We've all been playing with things all year. It's one of those things where a short week really increasing the odds of those things bothering you on a Thursday."
(On how the team is feeling after the loss) "It feels bad. Losing four out of five is tough, especially with two or three of them at home. It's tough to win. We have the crowd out here supporting us like they do, but we are not showing up in front of them and we are letting everyone down. We can't get a win. It's depressing, it sucks."
(On if the two touchdowns to George Kittle were the deciding factor) "Yeah, I think one of them was a trick, fake to (George) Kittle. The other one was a bust. It was a big play of course, but it was just a bust by us. Those two big plays, the touchdowns hurt us. We were playing good defense throughout the whole game, but we let two mistakes get away from us and those ended up being the reason we lost."
(On what the conversations with teammates have been like) "It's just talking to each other, figuring out what is going on."
Defensive Tackle Myles Adams
(On what allowed the defense to slow down the 49ers rushing attack) "After last week, I personally feel like we just had the same mentality to go out, put our hands on people, and just play our technique the best way we know how to. Stopping the run, you have to take pride in it, and I think we did a really good job of that collectively as a defensive line unit."
(On what Brock Purdy did that showed his confidence) "He was pretty efficient in the pocket. We were able to get him to move around a little bit, but I think this was his third start and he was pretty poised back there. He was able to get some balls off, I was able to get a tip on one of them, but he's a solid player. We were just trying to get to him and make the most of our opportunities."
(On what he saw from Cody Barton when Jordyn Brooks left the game with an injury) "Cody (Barton) stepped in, that's like a pairing. Jordyn (Brooks) goes down, Cody stepped up, and that's nothing new."
Defensive End Shelby Harris
(On what the biggest issue on defense was) "Actually, I feel like we played pretty well on defense. I feel like we, for the most part, stopped the run game from big plays, except for that last play. Obviously, the explosive passes were a problem. That was an issue for us in this game. There is always something that you can get better at, but if you don't come out with a win, you can always work on something to get better, no matter what the performance was."
(On what needs to change over the final three games) "We need to win, change the L's to W's. Here's the thing, it's all about minimizing the mistakes and when you make mistakes, we have to minimize the repercussions of those mistakes. That's really the biggest thing, we have to cut down on the mistakes. We do little stuff that kills us, and we have to cut down on those as a team."
Offensive Tackle Abraham Lucas
(On the run game) "A lot of people seem to think that every run play should be 10 yards and that would be great, but the way football works is that you keep chipping away at it. If you get three yards, three, six, nine, right? Then you get five yards, that's eight yards, and then need two more yards, so you can get another three yards. It's not that I think there is an inability to run the ball, I just think that it is a matter of consistency at times more than anything. We can do it, we have the guys to do it, so it's just a matter of being consistent."
(On how he feels about how the offensive line is playing) "I mean, there is always stuff to improve on. I'm the type of guy where I never think I personally play well, so that's kind of the mentality that I take. I can't speak for the rest of the unit, you would have to ask the other four guys. I think we are continuing to improve and continuing to do what we can. 
(On how the team feels about where they are at) "We lost and when you lose, you don't feel well in any aspect. It's not even getting back to what we were doing, but just continuing to move forward to new things that will help us win. I think that will be the biggest thing for us."
Offensive Tackle Charles Cross
(On the positives about what Kenneth Walker III brought to the offense today) "He brought a great explosive to the run game. He made some big plays for us. It was good to have him back."
(On where his battle with Nick Bosa ranks with all the pass rushers he has faced so far this season) "He's definitely in the top. He's a great player. He was always trained to finish. I was trained to finish too."
(On how he will maximize the next few days of rest) "Take care of my body, reset and get ready for next week."
(On losing Jordyn Brooks to injury during the game) "Especially when he's a good friend of yours, and to have him go down, it doesn't seem to be something crazy. I expect him to be back. It's not fun when you deal with that kind of stuff. 
(On what was better about the run defense today) "I felt we were coming downhill for the most part. Thinking back on that, I can only think of two big runs that they had, the one at the end, and the one in the first quarter. For the most part, we were coming uphill, guys were in their fits, and at the end of the game, you hate to see that one break out."
(On what the defense could have done differently in that touchdown pass to George Kittle in the first quarter) "That's a tough one. A fake jailbreak left, a fake jailbreak right, and then just late down the middle, that's tough. I don't know. We have to look at the tape."
(On if there are any goals that the run offense tries to achieve each week) "There's not really a set number. We just try to be efficient when we run the ball."
(On the difficulty of functioning on third and long caused from the problems on performing on early downs) "We have to stay ahead of the sticks. When we get plus yards on first and second down, and stay ahead of everything, it makes third downs easier for to the offense and to keep the defense honest. When it's third and long or whatever, they know what it is. I mean we know what it is because we have to execute. It makes it easier to gain yards on the early downs to make third downs easier."
(On what needs to happen to the offense going forward as they close out the season) "Just show them what we got. We never know what can happen throughout the weeks. We have to stay positive, motivated, and look at the bigger picture of finding ways to win. No matter what the situation is, you go out there to win. You are playing for this team, playing for the fans, playing for the name on your back. We still have to go out there and compete and give everything that we got."
Defensive End Quinton Jefferson
(On where this team is at mentally) "I have belief in everyone in here that everyone is going to come out fighting week in and week out. Even today, a lot of things went wrong, but the guys still played very hard. When you put that film on, you see everyone playing hard and that's all that we can do. It's frustrating, but that's the NFL. The margin of victory is slim. We can't keep coming out here and shoot ourselves in the foot, blowing coverages, and missing fits. We can't do that. We can't win. We already knew that this game was going to be a dog fight. Everybody knew that. These next few games are really going to show who we are as an identity. We can fold and start making trips to Cabo, or we can fight and hopefully get a chance to play in the playoffs because I want to play in the playoffs. Every year that I've been in the NFL, I've played in the playoffs. I want to go back. We are going to see what the fight is like in this locker room."
(On what he thinks the fight is going to be like in the locker room as the season winds down) "I know that these guys are going to respond. I'll look at everyone in their face in this locker room and I know that they will come fight. I know for sure that I will come fight and that's what I expect. So, we are going to see."
(On how significant was the loss of Bryan Mone in the game) "It was very significant and it hurts. I love (Bryan) Mone. I was here when he was a rookie. He's such a great guy, plays his butt off, and I'm sick for him. Hopefully, he has a speedy recovery."
Check out some of the best action shots from Week 15 vs. the San Francisco 49ers at Lumen Field on December 15, 2022. Game action photos are presented by Washington's Lottery.