In the buildup to the 2022 season, one theme that has emerged when it comes to the Seahawks is that expectations within the organization don't really align with external expectations.
And the Seahawks are just fine with that.
"I think a lot of people outside of this building have a lot to say, but the only thing that matters is us," receiver DK Metcalf said. "Because we practice with each other, we have to deal with each other on a daily basis. A lot of people are going to be surprised by what we do this year."
Or as defensive tackle and co-captain Al Woods bluntly put it, "I don't give a (expletive) about none of that. All I've got to say is, everybody tune in and you'll see."
Seahawks coach Pete Carroll doesn't concern himself with outside expectations, but even so, it's impossible not to be aware of what's being said about his team. With Russell Wilson being traded in the offseason and Bobby Wagner getting released shortly after, most people outside of the organization saw those moves as harbingers of a painful rebuild taking place, one that would inevitably start with a losing 2022 campaign.
"I don't feel like that at all," Carroll said. "I don't feel like any part of any of that is what's true, other than the fact that's what people think. I'm not in that business; I'm in the business of helping these guys get ready to play."
Carroll can't help but think he's preparing his team for another winning season, because for two decades of coaching at USC and in Seattle, he has known almost nothing but success. After a 6-6 start at USC in 2001, the Trojans posted eight straight winning seasons under Carroll, including seven consecutive seasons with 11 or more wins. Carroll's Seahawks went 7-9 each of his and John Schneider's first two seasons running the team, but after that the Seahawks had nine straight winning seasons, eight of which included 10-plus wins and playoff berths prior to last season's 7-10 finish. That's 15 double-digit win seasons and 17 seasons with a winning record over the past two decades, so no, Carroll doesn't really have it in him to expect anything other than success.
"With all of the work that we do, and all of the mentality and the culture and the environment that we're in, we've been averaging 10 wins a year for the last 20-something years," he said. "You think I could think anything different than that? I don't. I don't see any reason my expectation should change at all. I don't care what anybody says."
The culture Carroll mentions, the one he and Schneider have built in Seattle over the past 12 seasons, is perhaps the biggest reason why people inside the organization have so much belief in the team even if others might look at who left in the offseason and write the Seahawks off. Yes, quantifying the value of a special culture is difficult if not impossible, and yes, depending on how cynical you are, it might sound a little cheesy, but when the winning continues for two decades at two different levels of football, and with players constantly leaving, how else do you explain so much sustained success?
"I dunno, maybe we're really lucky," Carroll quipped. "But I think there's something about the consistency that goes back to caring for guys to help them be closer to their best."
"A Relationship-Based Organization"
So what exactly is the culture that Carroll and Schneider have created in Seattle that has led to so much sustained success? It starts with how people are treated, and more specifically, with focusing on the humanity of players rather that viewing them as cogs in a football machine.
"We're a relationship-based organization," Carroll said. "It's all based on dealing with people and seeing them for who they are, trying to help them feel really comfortable in our environment. It's being conscious of really individualized evaluations and assessment, and caring—it has a tremendous amount to do with caring. We realize if we care for people and look after them, like you look after your children, then you're going to give them their best chance to be as good as they can be.
"It's based on relationships, but it's really understanding how valuable it is to truly care for people, then making the environment as good as you can for them to challenge them as much as you can, having the highest of expectations for them, and going wherever you've got to go. Because if you really love somebody, you'll do whatever it takes to protect them, that's basically where it goes."
And again, quantifying the value in that is all but impossible, but just about anyone who has spent significant time playing for the Carroll and Schneider-led Seahawks agrees that players tend to give a little more on Sunday if they feel appreciated and cared for every other day of the week.
"I genuinely believe Pete and John when they talk about how they lead with relationships first," said Seahawks Legend Doug Baldwin. "I'm learning that on the business side of things. The same lessons in sports translate over to business. It's all about the team. The team is made up of human beings, of these individuals, these people who have different wants and desires and different quirks and all the different things, different personalities, and you try to mesh them together. But the only way that you know how to mesh them together and to get the most out of people is to build relationships with them. I think that's what John and Pete do a really, really good job of.
"I think what I'm grateful for from Pete and John is just that they always had a positive mentality. No matter how hard it was, no matter how challenging it was, they always believed that there was going to be a solution or a better situation that would come about."
A few years removed from an eight-year career that saw him establish himself as one of the best receivers in franchise history, Baldwin acknowledges that he now has a different level of appreciation for how Schneider and Carroll run an organization than he did when he was in the midst of his career.
"It's just a different perspective, but I always appreciated their positivity and them leading with relationships," Baldwin said. "I think that translated to all of us feeling free to be ourselves and creating a culture where we were all honest with each other, real with each other, and you know enjoyed going to work because it was people who enjoyed going to work with you."
Of course, the ultimate goal in the NFL is to win, so as great as a positive culture might be, it wouldn't mean much if it didn't lead to results, but for players who have spent years in Seattle or who are new to the program, it's evident that the on-field product benefits from the culture Carroll and Schneider have created.
"Think about it this way, when you are genuinely connected to the person who is next to you, that's an internal motivator, an intrinsic motivation for you to go the extra inch, the extra mile for that person and for that organization," Baldwin said. "If it's just surface level relationships and you just don't have that. It's not quantifiable, but it's the essence and the emotion and the vibe. That is essentially what it comes down to—when you have that connection with people, you would go the extra length for them. That's not only on the football field, but that was also off the field when you're generating relationships. All of it cultivates into a positive direction for success."
Said receiver Marquise Goodwin, who is in his first season with Seattle after spending time with five teams over the past nine years, "The unwavering level of respect that everybody has for each other in the building, you can't discredit that, I think it goes a long way… There's a lot of positives and it allows you to be positive, think positively, come into yourself more, and you're able to open up and be yourself.
"If you can be who you want to be, when you are behind closed doors, if you can be that same person out in the open, it'll help you be better overall. Obviously, it elevates your game."
Even players who perhaps have good reason to hold a grudge against Carroll and Schneider can, in time, appreciate what those two have built in Seattle. Take, for example, Richard Sherman, who was released in a salary-cap related move after the 2017 season while still recovering from an Achilles injury. If anyone has a right to hold a grudge, it's a player who was released with years and money still left on his contract not long after suffering a serious injury playing for that team. And yet there Sherman was the past couple of weeks, spending time at Seahawks walkthroughs and practices dispensing advice to young defensive backs, particularly rookie corner Tariq Woolen, who like Sherman was in 2011, is a tall, long-limbed former receiver trying to make his way in the NFL at a relatively new position.
"Pete just allows a culture of being yourself, of not being anxious for things outside of the game," Sherman said after Friday's practice. "I mean, some environments you're walking on eggshells because you you're going to get yelled at for how you freaking eat breakfast or where you sit in meetings, or meetings are stressful and it's quiet. It's just so much tension in the building. (Carroll and Schneider) make sure there's no tension inside the building. So everything you're doing, everybody's optimistic. The coaches are coaching in a positive way. So the only stress and anxiety you have, which is natural, is competition. I'm competing for a job. I want to be the best, and that's a healthy anxiety. But they take away the outside pressure."
One reason why Carroll and Schneider hit it off from Day 1 is that they came to Seattle with similar philosophies when it came to winning with young talent, even if at the time they were working in different levels of football. As an executive in Green Bay, Schneider was part of a front office known for fielding one of the youngest teams in the league while constantly turning the roster over. As a college head coach, Carroll had no choice but to figure out how to win consistently without the benefit of continuity, even at a position like quarterback. Once Paul Allen and Tod Leiweke brought Carroll and Schneider together, they realized that they not only saw eye-to-eye when it came to building winning teams, but also when it came to how they wanted to treat people.
"Pete's culture is not a culture of just beating people down," Schneider said. "It's trying to instill confidence in them and build them up. When people who haven't been around Pete ask me, 'What would be your number one takeaway that you didn't know before working with him?' I would say just his ability to instill confidence in people. He just has a very positive attitude, but he can instill confidence in people in a really quick manner."
Perhaps no player has benefited more from Carroll's culture of positive support more than quarterback Geno Smith, who came to Seattle as a longtime backup, but who will open this season as Seattle's starter. Throughout Smith's three seasons as Wilson's backup, Carroll constantly talked about how much confidence the Seahawks had in Smith, about how much belief they had in him to get the job done, particularly last season when Wilson missed time with a finger injury. That confidence showed up in Smith throughout training camp and the preseason as he won the starting job.
"That gave me that extra boost in confidence that you need," Smith said of the way Carroll builds players up. "When you have a coach assuring that he has confidence in you, that trickles down to the team, which allows the entire team to have that confidence. And for yourself, it just clears your mind. If there's any doubt, it allows you to clear that out and just focus on coach's words. The positive way that he speaks, it just gives you that confidence. You want to run through a wall for a guy like that, you really do. Coach does a great job at that."
"I didn't understand what culture was until then."
Carroll's time between being fired by the New England Patriots and taking over the job at USC is when he solidified his philosophy and, as he has put it on numerous occasions, got his act together as a coach.
Carroll recognized that for a head coach to be successful, he needs to know his stuff from a football standpoint, understanding scheme and Xs and Os, but that he also needs to understand the leadership side of the job. The best leader in the world won't succeed as a head coach if he doesn't understand the game, but just as critically, the best offensive or defensive coordinator in football won't last as a head coach if he can't handle everything else that comes with the job.
Or as Carroll succinctly puts it, "You need to have scheme, and you also need to have your (stuff) together. Without those all coordinated, you're going to falter… How you figure out whether a guy's got his (stuff) together, that's the challenge."
Obviously what Carroll was doing at USC in terms of building a program was working very, very well—he had the scheme, a mix of the defensive principles learned under Monte Kiffin that helped him become a top defensive coordinator in the NFL, and of Bill Walsh's West Coast offense; and he definitely had his "stuff" together. Yet it wasn't until he was a few years into his tenure in Seattle that Carroll really began defining and understanding the value of the culture he was aiming to create with the Seahawks.
"I figured it out after," he said. "I followed instincts along the way to structure it the way that felt the best and made the most sense to me, and then way after the fact, I looked back and said, 'Oh (shoot), look what happened, look what we've been doing.' It took some revelations to get there, from outside in. I had people I was communicating with that helped me see. Since then, we work at trying to be really consistent at it, because now we know this is the way we operate and how we function and how it's valuable to us."
One of those defining conversations for Carroll came when US Army General Robert B. Brown visited the team in 2012. Stationed at Joint Base Lewis-McChord at the time, General Brown paid a visit to the Seahawks and told Carroll about the experience he had had with US Army Ranger candidates who didn't make it through training. Recognizing how few people were successfully making it through the training, Brown decided to try assigning mentors to students who would help guide them through the process, and the result was nearly double the number of students completing Ranger school.
"It hit me that when they were with us, they did really well when we were looking after them," Carroll said.
It took some time, but Carroll connected that conversation with General Brown not just with his experience at USC, but in what he had seen in his first few years in Seattle when more and more young players thrived in Seattle even if they weren't high draft picks, or if they didn't enjoy the same success if they moved onto other teams.
"That's what connected it for me and made sense of it," Carroll said. "When they were with us, we were helping them. (Shoot), we got something, we're on to it. It was about five years in (in Seattle) before I put all of that together. I didn't understand what culture was, really, until then. I knew what I was doing, I knew the environment I was structuring here, but I really didn't know the intent of it. I didn't understand it clearly.
"We've studied culture enough to know that you want people to feel comfortable, so what can you do to make that happen? What are you willing to do? A lot of coaches aren't willing to do that, they're not trying to make them feel comfortable, they're trying to almost go the other way. They're trying to keep them on their toes; I don't see it that way."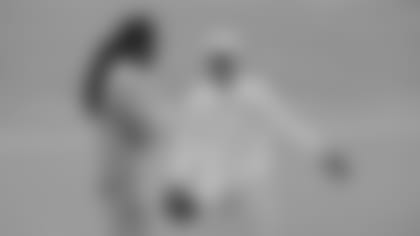 "We're looking for the atypical guys."
While Carroll and Schneider's relationship-based culture may sound awfully positive in an industry as cutthroat and competitive as the NFL, the willingness to encourage and support individuality shouldn't be confused with a lack of discipline or with an easy-going environment.
After all, everything starts with Carroll's "always compete" philosophy, and players and coaches are literally competing in just about everything they do, whether it be a drill in practice or a free-throw shooting contest in a team meeting or a training camp outing to a bowling alley or to Top Golf.
And to make sure the Seahawks are bringing the right type of competitors into the program, Carroll and his coaches developed a "competitor scale" early in his Seattle tenure that they use to evaluate the type of competitor they're considering signing or selecting in the draft.
At the bottom is a zero rating, which means that player isn't going to be a part of the team, and at the top is No. 7, a "dominant competitor." That's a rating Carroll says has been assigned to just a handful of players, including Kam Chancellor, who he called "a beautiful seven."
"It's a mentality," Carroll said of evaluating players' competitiveness. "It's the attitude that a guy has that he has to prove something. He's got something to prove that's deeper than, 'I'm excited to play football.' It has nothing to do with football; football is just the vehicle for a guy like Doug (Baldwin), a guy like Richard (Sherman). Those guys are just (expletive) tormented to be great. They were really extreme cases, but that's what they're looking for. That means that they're internally motivated, they're internally driven. The guys who are externally driven, they love playing football, they went to big schools, they're proud to be a football player, that's a totally different mentality. That's typical. We're looking for the atypical guys."
Heading into Carroll's fourth season in Seattle, he discovered better language and better methods to define the type of competitor he is looking for thanks to an assist from a psychologist he had never met, Dr. Angela Duckworth. While multitasking in his office one day—Carroll is always multitasking—he had Duckworth's 2013 Ted Talk titled "Grit: The power of passion and perseverance" on one of the multitude of screens in his office. Towards the end of her Ted Talk, Duckworth talked about "how little we know, how little science knows about building (grit). Every day, parents and teachers ask me, 'how do I build grit in kids? What do I do to teach kids a solid work ethic? How do I keep them motivated in the long haul. The honest answer is, I don't know."
That line stopped Carroll dead in his tracks. In his mind, his teams had been incubators for grit for years, even if he didn't have the language for it before Duckworth came into his life. Carroll got Duckworth on the phone that day, had her in Seattle talking to his team later that offseason, and the two have formed a friendship and partnership that has lasted almost a decade.
"My best way to define a competitor now is the great passion that they have," Carroll said. "The willingness to keep on pushing, which is the perseverance part of it, which takes me right to Dr. Duckworth and grit. Those are better words for me to use now. It's that chip on the shoulder, that's the attitude thing. That's what we're looking for, and it has nothing to do with what kind of player you are, it doesn't have anything to do with your ability. We try to separate that, because we want to know the makeup of the person. It goes right back to the relationship-based program."
In addition to the high-profile examples like Sherman and Baldwin, Carroll also sees great example in grit in players who defied expectations to even make it in the NFL. Penny Hart, for example, looks on paper like he has no business being on an NFL roster, not at 5-foot-8, 180 pounds and undrafted out of Georgia State University, and especially not after running a 4.63-second 40-yard dash at his Pro Day. And yet, Hart has suited up for 30 games over the past two seasons, including all 17 last year, and he once again made the 53-man roster ahead of receivers with better measurables or college credentials.
"A great example of grit in the program is Penny Hart," Carroll said. "He's the real deal. He is a great competitor. He doesn't have the size or weight or speed, but he's got everything else. He keeps coming back."
Over time Duckworth's studies have shown her that grit does seem to be a trait that can be developed, something she's seen in Seahawks teams, among other places.
"I'm often asked, how do you actually develop grit, practically speaking," Duckworth said after a recent visit to training camp. "And the best advice is to join a gritty culture. If you want to be more passionate and persevering for long-term goals, go find a place where that is what they live, breathe, eat and sleep. Pete is an intentional coach, and I think he understands that, to a great extent, culture is who you become. Obviously, every player comes here with their own character, their own history, but I do think that the culture of the place you are in shapes how you act and feel that day. I think culture happens whether it's accidental or intentional; Pete's chosen to make it intentional."
On her first visit to the Virginia Mason Athletic Center in 2013, Duckworth thought she was going to be a fly-on-the-wall observer, but instead Carroll informed her she would be addressing the entire team. She was nervous at first, but a brief pep talk got Duckworth ready to talk in a team meeting.
"He basically coached me for five minutes, I was like, 'I could run through a wall after that,'" she said.
So will it all work out in 2022 and beyond? Will the combination of culture and grit, along with a roster featuring both young, up-and-coming players as well as established veterans who are among the best in the NFL at their respective positions, be enough to keep the Seahawks in the playoff hunt even after moving on from two franchise icons? Carroll and company are betting on it, believing that a much-improved defense, explosive running game, elite pass-catching talent and strong special teams play are more than enough to succeed if Smith keeps running the offense as efficiently as he has throughout camp.
"It's the makeup of the character of the team," Carroll said when asked about his positive outlook on the team. "It's the special players spread throughout the roster that give us the leadership, and it's having enough guys that should allow us to maintain the standard. They'll dictate that the standard stays there. We've got plenty of firepower, we've got plenty of athletes, so to me, the pressure is on the head coach to make sure you get your (stuff) together and pull it all to the front, because we have what we need. I don't mind saying that, I've got to do a great job with this."