Happy Blue Friday, 12s. Here's a look at what's out there today, December 18, about your Seattle Seahawks.
Picks And Predictions For Week 15 Matchup Against Washington Football Team
Kickoff is set for 10:00 a.m. on Sunday at FedExField in Landover, Md. The game will air live on FOX, and KIRO Radio 97.3 FM will carry the game on radio. Here's what some local and national media members are predicting for this weekend:
ESPN's Brady Henderson and John Keim each like the Seahawks to win a close one. Henderson has the Hawks winning 23-17, and he made this bold prediction: "Wilson will complete at least 75% of his passes. He has hit that mark four times this season, including last weekend as the Seahawks' game plan against the Jets and their new defensive coordinator was to get the ball out quickly on shorter passes. Washington's loaded defensive line will give the Seahawks another reason to do that Sunday, especially if starting right tackle Brandon Shell is unavailable."
Keim expects a battle between two of the hottest defenses in the league in recent weeks, but ultimately has Seattle winning 24-17: "Washington ranks third in sacks per pass attempt (9.1%) for the season, while the Seahawks rank first in that category since Week 8. Washington likes to play zone, which is wise against Seattle wideout DK Metcalf and quarterback Russell Wilson. Those two have combined for three plays of 50 yards or longer; Washington has allowed an NFL-high seven such receptions."
Will Brinson of CBS Sports also expects a close game, but he think the Seahawks will pull off the win, especially if QB Dwayne Haskins gets the start for Washington in place of the injured Alex Smith. He's picking Seattle to win 24-21: "...I like Washington a lot less with Haskins, though. He's more turnover prone and won't be as conservative in terms of the gameplan, it doesn't feel like. No Antonio Gibson, which appears likely, is concerning as well. I still think Seattle will try and run the ball here and won't be successful. This Washington defensive line is legit and will cause problems for Seattle regardless of how they attempt to let Russ operate in the kitchen. I think Washington can keep it close."
Bill Bender of Sporting News is choosing Seattle to win 24-20: "Washington is in the playoff hunt, and the defense has allowed just 14.3 points per game through a four-game win streak. Alex Smith (calf) will be monitored throughout the week, but the Seahawks have found their rhythm on defense, too. Russell Wilson keeps Seattle's home-field hopes alive."
Condotta likes the Hawks by a score of 23-16: "This game always loomed as somewhat dangerous — a late-season trip east before NFC West showdowns with the Rams and 49ers. It looks no easier now, as Washington is among the NFL's hottest teams and has a rugged defensive front. But Washington has an uncertain quarterback situation with Alex Smith hobbling and Dwayne Haskins unproven. That could open the door for Seattle to escape with a victory."
Stone is choosing Washington to win 21-17: "This presumed easy stretch of four games for the Seahawks, ending Sunday, isn't quite as easy as once imagined (with the exception of the miserable Jets). The Seahawks are coming off a rout of the Jets, but it's hard to read much into that. Washington, on the other hand, is riding a four-game winning streak (including a stunner over Pittsburgh) and has the dominant defense to give Seattle fits. If the Seahawks can't control Washington's imposing pass rush, it could be a frustrating game."
NFL.com's Gregg Rosenthal doesn't think the Washington offense will be able to keep up, especially if RB Antonio Gibson isn't able to suit up. He's picking the Hawks to win 27-20: "Whether it's Dwayne Haskins or Alex Smith getting the start, Washington's QB situation might not be as decisive for the team's offense as Antonio Gibson's status on Sunday. Washington doesn't have the juice to compete against Seattle sans Gibson, no matter how well Jonathan Allen and Chase Young are playing. The Seahawks would agree that running backs matter, based on the boost Chris Carson gives their offense. My score here will move depending on Gibson's status; for now, I'm assuming he's out another week with turf toe."
Homegating Recipe of the Week Presented by Safeway – Roasted Red Pepper Pasta
This Mediterranean-inspired pasta is full of veggies and other savory ingredients, and includes a tasty homemade vinaigrette. And best of all — it's ready in just 15 minutes. Click here for ingredients and instructions.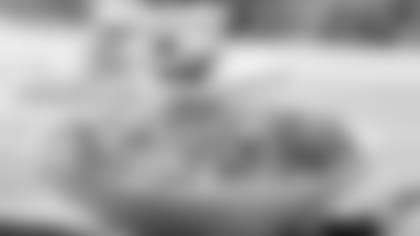 Roasted Red Pepper Pasta
Make this Mediterranean-inspired Roasted Red Pepper Pasta in just 15 minutes. It's a great meal option for a busy Sunday. Dish it up even faster by serving with premade vinaigrette!
In addition to providing detailed instructions, Safeway has also added a "Shop the Recipe" feature to the recipe page, making it easy to add all the ingredients (or just the ones you need) to your cart for a Safeway DriveUp & Go or Delivery order. Click here for other great homegating recipes.
Social Post Of The Day
Russell Wilson and Ciara's daughter Sienna dons some of daddy's gear and gives her own Russ impersonation in this adorable video:
A last-minute shopping guide for 12s of all ages. Grab these great gifts from a Seahawks Pro Shop near you. Read More » https://shwks.com/ksdvg