Here's a look at what's "out there" for today - Tuesday, July 31 - about your Seattle Seahawks:
Seahawks offensive line coach Mike Solari and special teams coordinator Brian Schneider met with the media following Monday's training camp practice at Renton's Virginia Mason Athletic Center. Here's a few highlights from the assistant coaches' sessions with the press:
Solari: "The Best Five Start"
The Seahawks have been running with Duane Brown at left tackle, Ethan Pocic at left guard, Justin Britt at center, D.J. Fluker at right guard, and Germain Ifedi at right tackle as the No. 1 unit through the first few days of camp, but the starting five is hardly set in stone.
"No, it's an open competition," Solari said. "You do have to have a starting point, so those five were there for a reason. No, it's open competition. Everybody's competing. Iron sharpens iron. The best five start and be ready if we have to move some guys to get the best five on the field."
On what he's seen from free-agent addition D.J. Fluker, a former first-round pick who Solari coached with the New York Giants:
"Pure-ass attitude. D.J. has been – he'll pound you. He's a guy that brings the passion to the game. Again, I know you guys got great eyes, (watch) the way he works on the football field. He loves the game. He loves the game. He loves when the pads come on. He's a physical football player and he brings passion and he brings an energy and a physicality that you want on your offensive line. You want that physical-ness, you want that toughness on your offensive line, and he brings it."
Listen to Solari's full press conference right here.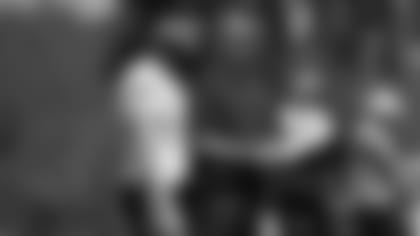 Schneider: "Great Competition" at Kicker & Punter
The Seahawks have competitions at both kicker and punter this training camp, with veteran kicker Sebastian Janikowski and veteran punter Jon Ryan going toe-to-toe with second-year kicker Jason Myers and rookie punter Michael Dickson, who Seattle took in the fifth round of the 2018 draft.
"Just great competition," said Schneider. "All four are battling and they're going to work and they just carried over what they were doing in spring. It's a battle and it's fun to do. ... Jon's been so good for us and I respect him so much, so I actually called him before we drafted (Dickson) and told him we were going to do it. It's exactly what you'd expect. He just said, 'hey, it's going to be hard to beat me out. I'm going to give everything I got and I'm going to compete and let's go.' It was always a good competition. You know, it's hard. You've got to fight through that and he hasn't had a lot of true competition since he's been here. He's really performed as good as he ever has so it's been good for him too."
"Well, you can only have three guys back from the forty-yard line to the goal line, so there's a lot of space to cover," said Schneider. "So instead, we've had two (offensive) linemen and two tight ends back there, and a returner. Now, I think you really have to have some more skill guys to make sure you cover the field because there could be a lot of opportunities for balls being around there and 50/50 balls and opportunities for turnovers. I think you've really got to cover the field first, and it's just going to depend on how people play it. ... We've been working (Chris) Carson and (Rashaad) Penny and (Tyler) Lockett. We've been working a lot of different combinations back there, but also you have to have a guy that can block, too. There are a lot of different things – that's why Carson and Penny are cool. They're big, 220-pound strong guys that can actually block too if they don't have the ball. One thing I've never liked, we've only had one returner back there since we've been here because a lot of times you get an off returner, you're kind of missing a man. You're missing an extra blocker, so we inserted a blocker up front. So it's going to be interesting. There's a lot of things you can do and it's really going to be a lot more one-on-one blocking, which again is more skill guys in space."
Listen to Schneider's full press conference right here.
Single-Game Tickets Available
Next week will be your first chance to see Seahawks rookies in live game action, as Seattle takes on the Indianapolis Colts in the 2018 preseason opener at CenturyLink Field. Tickets are available right here.
Social Post Of The Day
Today's 'Social Post of the Day' comes from DJ Supa Sam, who captured some energetic 12s enjoying his music at training camp. You can keep tabs on the Seahawks' training camp playlists over on Spotify.
Fan photos from the fourth practice of 2018 Seahawks Training Camp, presented by Safeway at Renton's Virginia Mason Athletic Center.