We're officially to the point of training camp where it's getting hard to keep track of what day it is, but pretty sure today was Monday, so here are eight things that stood out from Monday's practice, the Seahawks' fourth of training camp:
1. Another day, another turnover created by Shaquem Griffin.
Rookie linebacker Shaquem Griffin is certainly making a strong impression early in training camp, in part because he is living by Pete Carroll's "it's all about the ball" mantra. On Sunday, Griffin forced a fumble by stripping the ball from tight end Nick Vannett, and a day later the fifth-round pick was at it again, jumping a route to cut in front of Vannett during 7-on-7 drills, resulting in an interception at the goal line. Griffin was then mobbed by defensive teammates who appreciated the rookie getting the best of Russell Wilson and the offense.
2. Maurice Alexander is making a strong early impression.
The Seahawks' signed Maurice Alexander in mid-March, but because the former Rams starter was recovering from a shoulder injury, he did not take part in offseason workouts.
Alexander is back on the field now, though he was on something of a pitch count the first few days, and on the first day of camp, Seahawks coach Pete Carroll said "I'm excited to see what he can do. I was really impressed with what Mo did and what I've seen in years past."
As Alexander increases his work load, it's apparent he will be a serious contender for playing time at safety. Alexander spent much of Monday's practice as the No. 1 strong safety (Bradley McDougald was at free safety) and really made his mark in run defense. During 7-on-9 drills, Alexander made back-to-back stops at or near the line of scrimmage, setting the tone for a strong showing by the defense in that portion of practice.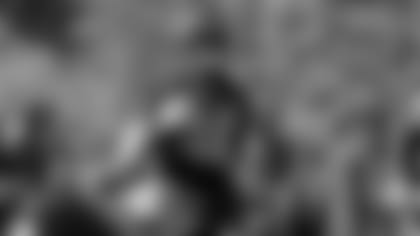 3. Tyrone Swoopes had a nice day.
The ball seemed to find Seattle's tight ends quite a bit on Monday, and Tyrone Swoopes in particular. This training camp represents a big opportunity for Swoopes, who spent most of last season on the practice squad before a December call-up to the 53-man roster, and on Day 4 he looked like a potential weapon in the passing game.
Earlier in camp, Carroll called Swoopes, a quarterback in college, "One of the most exciting guys to see in this camp for us is Tyrone because we know that he has the littlest background at this spot (with) the fewest snaps and all. Hasn't had an offseason lift in as a tight end, really. Been a quarterback his whole life and all that. Last year was kind of a 'Maybe I will, maybe I won't,' so he was totally tuned into it. He's had a great offseason. He's athletic, he's physical, he's not just a run-and-catch guy like you might think because he's a QB. He's got enough physicality to play on the line of scrimmage and block people. I believe that's going to show up in this camp so we're really excited to see what he does. He's right in the middle of the competition."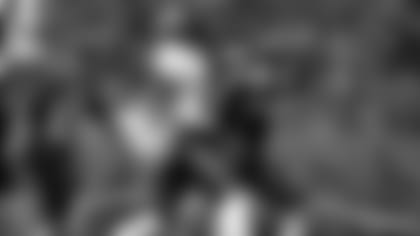 4. Deep touchdowns to Jaron Brown and Keenan Reynolds were two of the plays of the day.
While Wilson did throw the aforementioned interception to Shaquem Griffin, Seattle's veteran quarterback had another very solid day, and on a couple of occasions he showed off perfect touch on the deep ball. First, Wilson lofted a long pass to Jaron Brown, who used his speed to get a step on safety Tedric Thompson before running under the ball for a touchdown. Later in practice, Wilson found Keenan Reynolds, despite good coverage from Neiko Thorpe, and Reynolds showed great footwork and body control to secure the catch and get both feet in.
Most importantly for Reynolds' roster hopes, the former Navy quarterback is also making an impression on special teams coach Brian Schneider.
"Once he got out here, he reminded me of (Doug) Baldwin when Baldwin was first out here," Schneider said. "They have the same type of movements and he's been great. He can return punts, he's playing (personal protector) in our punt team, and we want to see him do a lot of different things because he's a guy that can do a lot of things. We wanted to see him in a bunch of different situations."
5. The competition is on along the offensive line.
While the first-team offensive line has largely gone unchanged, the group of Duane Brown, Ethan Pocic, Justin Britt, D.J. Fluker and Germain Ifedi is hardly set in stone. That was evident Monday when, on a couple of occasions, Ifedi moved inside to guard, the position he played as a rookie, while Isaiah Battle lined up at right tackle.
"We're getting better, we're getting better, we've got to keep building," offensive line coach Mike Solari said. "… Coach Carroll, you guys know better than I do, it's about competition, it's about competing. The best five start, best five starts. So, we wanted to work them in a little bit in a sense of playing some different positions. We wanted to keep the integrity, the unit together so we can build that unity, that camaraderie, but we got to work some guys in a little bit if an injury happens or we have to move some guys. So, we'll do that throughout every day to try make a little adjustment here and there."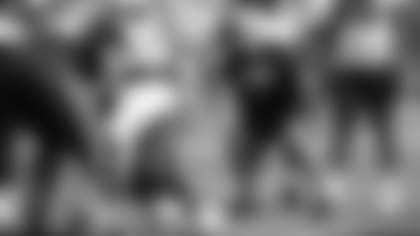 6. That offensive line competition is also getting a little bit deeper.
The Seahawks got a little bit more depth back in their line competition Monday, with tackle George Fant and guard Rees Odhiambo taking part in 11-on-11 drills for the first time in camp.
"We've got to find the spots for them, but the thought process is initially, starting off, starting Rees at guard and George at tackle because of the limited reps initially," Solari said. "We're going to keep George grounded at the left tackle, but again, he's got to be ready to adjust. Again, the best five start. The best five start, so again, we'll adjust accordingly if needed."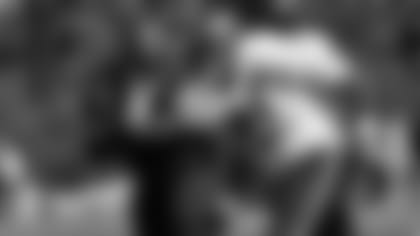 7. The defensive line "is a very competitive group."
Three of Seattle's starting defensive linemen from 2017 are no longer with the team, and while that leaves a lot of roles to fill, it also has Carroll very excited about the competition he is seeing unfold with returning young players like Frank Clark, Jarran Reed, Nazair Jones and Branden Jackson; free-agent additions Tom Johnson and Shamar Stephen; as well as rookie Rasheem Green, to name just some of the contenders for starting jobs and playing time—Dion Jordan is also very much in the mix, but is not yet off the physically unable to perform list.
On Monday it was evident that a number of players are capable of being playmakers, whether it was Johnson getting into the backfield for a tackle for loss on a run play, or Jones splitting a double team in pass-rush drills, or Reed showing an impressive power and quickness combination in one-on-one drills, or Jackson using his speed to get around a tackle and force a rushed, incomplete pass. Yes, some established veterans are gone, but the Seahawks are excited about the players fighting to win those jobs.
Carroll talked about that competition earlier in camp.
"They realize it's their chance to really have to take over, and they have done everything they can to put their best foot forward and make sure that they get that done," he said. "We made a couple really nice acquisitions to add to it with Tom (Johnson) and getting Shamar (Stephen). It's a very competitive group. It looks like a group that's going to be a great rotation for us and they're feeling it. They're feeling the opportunity, really. It's accelerated all of their work throughout the offseason and they feel it in camp, too."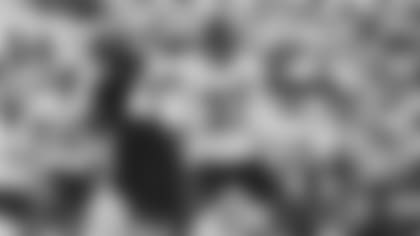 8. Tre Flowers is looooong.
Rookie cornerback Tre Flowers was a safety in college, so there is going to be an adjustment period as he transitions to cornerback, but the fifth-round pick out of Oklahoma State is already showing some of the physical traits that make him such an intriguing prospect. Flowers has looked physical at the line of scrimmage when he gets his hands on receivers, and as one play in particular illustrated Monday, his length will be an asset. Lined up at right corner opposite Amara Darboh, Flowers found himself trailing the second-year receiver on a deep ball down the sideline, but just as it looked like he might be beat for a big gain, Flowers stuck out one of his long arms and knocked the ball away just as it was about to land in Darboh's hands.
Photos from the fourth practice of 2018 Seahawks Training Camp, presented by Safeway at Renton's Virginia Mason Athletic Center.