The Seahawks fell short of a comeback attempt in Munich, falling 21-16 to the Tampa Bay Buccaneers and snapping their four-game win streak. Despite quarterback Geno Smith faring well in a battle with future Hall-of-Fame quarterback Tom Brady, it was the Bucs' run game that made the unexpected difference in the matchup.
Before Sunday's contest, Tampa Bay was the league's worst running attack, averaging just 60.7 yards per game and 3.0 yards per carry. That wasn't the case against Seattle, as the Bucs ran for 161 yards. White rushed 22 times for 105 yards, while Fournette carried the ball 14 times for 57 yards and a score.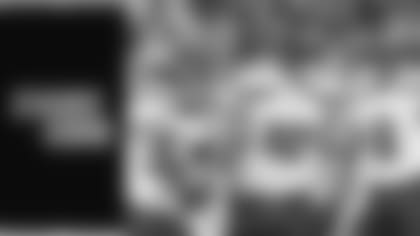 Re-live Each Game With The Seahawks Rewind Podcast
Re-live every Seahawks game this season with game highlights, player and coach postgame interviews, and a whole lot more. Available on Spotify, Apple Podcasts, Stitcher and wherever else you might get your podcasts.
Smith averaged 8.3 yards per attempt against a stifling Tampa defense that sacked him three times. On 33 attempts, Smith completed 23 passes for 275 yards and two touchdowns. Wideout DK Metcalf led all wideouts with 6 receptions for 71 yards, while rookie running back Kenneth Walker III chipped in 6 receptions for 55 yards.
Wideouts Tyler Lockett and Marquise Goodwin caught both touchdowns on the day, as the Buccaneers neutralized Seattle's run game. Smith led the Seahawks with 22 yards on the ground on four carries, as Walker was held without a touchdown for the first time in five weeks. The rookie sensation was held to just 17 yards on 10 carries by Tampa's stout front-seven.
Seattle's third down woes (1-9) were a big difference-maker, as Seattle failed to take advantage of a Ryan Succup missed field goal and two interceptions.
Rookie corner sensation Tariq Woolen recorded his fifth interception on a gimme from running back Leonard Fournette, who attempted to hit Brady on a trick play. Unfortunately for the Bucs, Brady tripped with the ball mid-air, sailing to Woolen who now joins former Seahawk Legend Earl Thomas as one of three players in the NFL since 2010 to record five picks in their first 10 games.
Linebacker Jordyn Brooks led the team in tackles with 14 while defensive lineman Shelby Harris recorded the only hit on Brady.
Seahawks Coach Pete Carroll reflected on his team's performance in front of 69,811 in a groundbreaking game for the NFL.
"This feels like a real opportunity missed," said Carroll. "Coming here in this beautiful setting, all the buildup, and everything that the game could have been it was in hype. The fans were extraordinary, and everything about this whole trip has been great. So the opportunity to win a game here would have been one to really cherish, and I'm sure that they will. They played a really good football game. Tampa Bay did what they wanted to do, particularly early in the game they were able to keep us off balance. We have not been like that for a while. So we had to regroup, particularly I don't think we converted a third down in the first half and didn't run the ball at all. So we came back to mixing things and doing things right and getting some momentum kind of a feel that was different. So you could feel the comeback was happening. That's exactly what we would expect from our guys and this team and the leadership of this team, that we would get back in it. We took it all the way till there was a couple plays that happened there, I think early in the fourth quarter, that changed it. They converted on -- we had Tom [Brady] in the backfield. He gets out and throws the ball, and they make a big third down win. There were a couple plays like that that really changed the rhythm of the comeback that we were in. Like I said, it's unfortunate. The team, we talked about how important it is to realize that we were right back in this game and that we weren't out of it, and we never thought that, and we didn't show that. That is the same kind of mentality that's going to help us finish this season and do something special with this year. We don't think anything changes in that regard. Just on this night, they did a better job than we did."
Seattle gets a chance to recuperate as Week 11 brings the bye. Seattle gets time to prepare for Week 12's home matchup against the Las Vegas Raiders, while remaining atop the NFC West.
Here's what Pacific Northwest and national media had to say following the game:
Social Post Of The Day
Seahawks rookie cornerback Tariq Woolen becomes the third defensive back since 2010 to record five interceptions in their first 10 games.
Check out some of the best action shots from Seahawks vs. Buccaneers at Allianz Arena in Munich on November 13, 2022. Game action photos are presented by Washington's Lottery.