MUNICH—Perhaps with the game kicking off at 6:30 a.m. Pacific Time, the nine-hour time difference was a factor, or maybe it just wasn't the Seahawks' day early, but whatever the reason, the Seahawks were outplayed by the Buccaneers in most facets of the game early Sunday, leading to a 21-16 loss that snapped Seattle's four-game winning streak. 
As is their nature, the Seahawks fought the entire way and made things very interesting with a pair of Geno Smith touchdown passes, one to Tyler Lockett and one to Marquise Goodwin, the latter of which was set up by Cody Barton's first career interception. But on a day when Tom Brady turned in a vintage performance—other than that pick—the Seahawks weren't able to get the defensive stop they needed to give Smith and company a shot at a game-winning drive. 
The Seahawks will still head into their bye with a 6-4 record and in first place in the NFC West, but they will also fly home knowing they didn't play up their standards in what was the first NFL regular-season game in Germany. 
Here are six rapids reactions to Sunday's loss at Allianz Arena: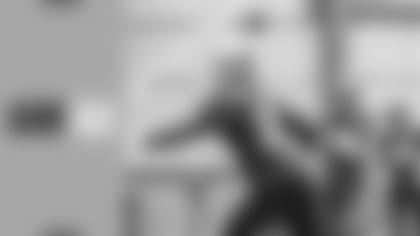 Listen To The Hawk Talk Podcast
Every week, Michael Bumpus and Nasser Kyobe release two podcasts analyzing the Seahawks previous game and previewing the next Seahawks opponent. Available on Spotify, Apple Podcasts, and wherever else you get your podcasts.
1. The atmosphere was fantastic.
Before we get into the football, a hat tip to the 69,811 fans who had Allianz Arena rocking all day long. The scene was set early by Germans loudly singing along to their national anthem, and fans of both teams were loud throughout, many of them standing throughout the entire game.
There was also a ton of singing, ranging from "Seven Nation Army" to "Country Road, Take Me Home" to, after the game ended, loud editions of "Sweet Caroline" and "Don't Stop Believing."
It's a good thing the NFL is committed to more games in Germany moving forward, because clearly there is a big appetite for the sport here. That was evident all week around Munich, and even more so on gameday.
2. Third down made all the difference.
There are plenty of stats that can explain why it was a tough day for the Seahawks, but none paint a clearer picture than the third-down discrepancy between the two teams. The Seahawks were shut out in the first half after going 0 for 5 on third down, a streak that extended to 0 for 7 before they finally got a conversion, and they finished the game just 1 for 9.
Tampa Bay, meanwhile, was 5 for 7 early on their way to a 14-0 lead including a Brady touchdown pass to Julio Jones, and finished 10 for 14.
As is always the case, previous downs are a big factor, and the Seahawks had a lot of third-and-long situations while the Bucs converted on a lot of third-and-shorts, but overall, Seattle's inability to win on that down was a killer, as the Seahawks managed just three first downs in first half to Tampa's 13.
3. The running game didn't go as expected for either team.
Coming into the game the Buccaneers ranked last in the NFL in rushing, averaging just 60.7 yards per game and 3.0 yards per carry, while the Seahawks have run the ball well for most the season, especially of late.
But against a tough Bucs defense, Kenneth Walker had a hard time getting going, and finished with just 17 yards on 10 carries, with Geno Smith adding another 22 on four rushes. Walker was a factor in the passing game, catching six passes for 55 yards, but the ground game never got on track.
And on the flip side of that, the Buccaneers had a huge game on the ground, rushing for 161 yards, 100 more than their average.
4. Tariq Woolen tied a Seahawks rookie record.
In one of the more curious decisions of the game, the Bucs called a play that had running back Leonard Fournette throw a pass to Brady, and when Woolen realized what was coming, he dropped back, leapt and picked off the pass.
It was his fifth of the season, matching Earl Thomas and Michael Boulware for most by a rookie in franchise history.
5. Geno Smith and the offense finishes strong.
It's a shame that Seattle's offense didn't get the ball back with a chance for a go-ahead drive, because Smith and the offense really got going in the fourth quarter. Smith had 107 of his 275 yards in the final quarter leading two touchdown drives, both of which ended on great throws, one to Lockett and one to Goodwin. It was another really strong performance for Smith, who threw two more touchdowns, giving him 17 this season, and posted a 115.1 passer rating.
6. Michael Dickson was phenomenal.
Obviously the Seahawks would prefer to not be punting as often as they did early in Sunday's game, but the positive that came out of it was some great punts from Michael Dickson, who pinned Tampa Bay inside its own 20 four times in the first half, likely limiting the damage from getting even worse early.
Dickson's day included a 61-yarder that was downed at the 2-yard line by Dareke Young, and a 68-yarder that went out of bounds at the 4-yard line.
And while we're calling out special teams play, Jason Myers nailed a 55-yard field goal, making him 5 for 5 from 50-plus this season.
Check out some of the best action shots from Seahawks vs. Buccaneers at Allianz Arena in Munich on November 13, 2022. Game action photos are presented by Washington's Lottery.