Merry Christmas, 12s. Here's a look at what's out there today — Friday, December 25 — about your Seattle Seahawks.
Picks And Predictions For Week 16 Matchup Against LA Rams
The Seahawks (10-4) and Rams (9-5) will square off for the second time this season with a chance for Seattle to secure the NFC West and guarantee a home playoff game. The Rams defeated the Seahawks 23-16 at SoFi Stadium back in Week 10.
Kickoff for this Sunday's game is set for 1:25 p.m PT at Lumen Field in Seattle. FOX will carry the game live on TV, with KIRO Radio 97.3 covering the game on radio. Here's what national and local media members are predicting:
ESPN's Brady Henderson and Lindsey Thiry are both expecting close wins by the Seahawks. Henderson picked the Hawks to win 24-23, and has his eyes on the matchup between DK Metcalf and Jalen Ramsey: "Round 3 of DK Metcalf vs. Jalen Ramsey. Metcalf had some success in their first matchup last December as he caught five passes for 69 yards when Ramsey was the nearest defender in coverage, according to NFL Next Gen Stats. Ramsey and the Rams shut down Metcalf in Week 10, which was one of his least productive games of the season."
Thiry has Seattle winning 20-17, but expects Aaron Donald to put his imprint on the game, unsurprisingly: "Aaron Donald has sacked Russell Wilson 12 times, more than any other QB in his career. But Donald finished their Week 10 meeting with zeroes across the stat sheet, even as his teammates took down Wilson six times. Watch for Donald to turn in a monster multisack performance."
The Seattle Times sports staff are all going with the Seahawks this week after being split in Week 15. All four are expecting a close matchup as well, with the largest margin of victory for the Hawks being four points. Here's what Matt Calkins had to say in choosing the Seahawks 28-24: "It would be foolish to look at the Rams' loss to the Jets and dismiss them as an unworthy foe, and the Seahawks won't do that. With a chance to clinch the division crown, they'll be as focused as they've been all year and will come out with a close victory."
Adam Jude is taking the Hawks by a one-point margin, 24-23: "Sean McVay has gotten the better of Pete Carroll, but there's obviously something — many things — wrong with the Rams after losing to the Jets. Count on Seattle to rely on its rejuvenated run game to lead the Seahawks to their first division title since 2016."
Homegating Recipe of the Week Presented by Safeway – Easy Grill Chicken Wing Trio
Chicken wings and football always make for a great combo. With Lemon Spice, Sriracha, and BBQ Vinaigrette wings (these ones are wrapped with bacon!), this trio of powerful flavors will be great for your gameday snack. Click here for ingredients and instructions.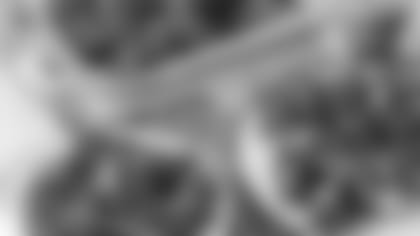 Easy Grilled Chicken Wing Trio
Three is better than one when it comes to serving chicken wings! Whip up these three tasty and easy grilled chicken wing flavors for a variety of tastes while homegating.
In addition to providing detailed instructions, Safeway has also added a "Shop the Recipe" feature to the recipe page, making it easy to add all the ingredients (or just the ones you need) to your cart for a Safeway DriveUp & Go or Delivery order. Click here for other great homegating recipes.
Social Post Of The Day
Duane Brown crashes Russell Wilson Thursday press conference on the electric scooter Wilson gifted Brown and the rest of the offensive line for Christmas.
View photos of Seahawks Dancer Errin