Good morning, 12s. Here's a look at what's out there today — Wednesday, January 11 — about your Seattle Seahawks
Tariq Woolen & Abraham Lucas Named To PFF All-Rookie Team
Last April, Seattle selected Woolen in the fifth round out of the University of Texas-San Antonio. Just a few years back, Woolen made the switch from wideout in college. Now, he finishes his first season in a tie for the league's interception lead (6) and tied for No. 4 in passes defensed (16). Both local and national media have praised the 6-foot-4 ballhawk who's been taken under the wing by Seahawks Legend Richard Sherman. But he proved to be more than just a "cover corner," notching 46 solo tackles and recovering two fumbles. Along with setting a franchise-record for rookie interceptions, Woolen earned Pro Bowl honors. Michael Renner of PFF breaks down Woolen's nomination on the list.
A fifth-round former receiver-turned-corner playing at a high level as a rookie? Where have we seen that before? Woolen picked off six passes and broke up nine more in quite the playmaking rookie season. While he still needs to clean up some penalties (8) and tackling issues (18.7% missed rate), Woolen looks like a defensive cornerstone.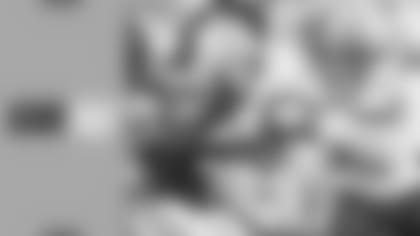 Listen To The Hawk Talk Podcast
Every week, Michael Bumpus and Nasser Kyobe release two podcasts analyzing the Seahawks previous game and previewing the next Seahawks opponent. Available on Spotify, Apple Podcasts, and wherever else you get your podcasts.
Washington State alum Abraham Lucas was selected by Seattle in the third round of last year's draft, and quickly earned his keep.
_The Seahawks' 2022 draft class was so loaded that it's easy to forget about the stellar job Lucas did as a Day 1 starter at tackle. The third-rounder finished the regular season with a 68.5 overall grade and allowed only 28 pressures.
There is, however, one glaring omission from PFF's team - Seahawks running back Kenneth Walker III. Walker led all rookies in rushing with 1,050 yards (T-12th), and he had had three-more 100-yard games (5 to 2) and six more rushing touchdowns (9 to 3) than PFF's selection, Atlanta's Tyler Allgeier instead. The Michigan State alum will fortunately have the opportunity to propel his team to a playoff win, capping off a spectacular rookie campaign.
Social Post Of The Day
The only quarterback league-wide to take every snap of the season. #StillAintWroteBack
The Seahawks practiced on Tuesday, January 10 at the Virginia Mason Athletic Center in preparation for Saturday's Wild Card game vs. the 49ers in San Francisco. Seahawks practice photos are presented by Gatorade.