One year to the day after he broke his leg and dislocated his ankle, Quandre Diggs spent his Monday getting ready for an upcoming playoff game.
And while a lot of people deserve credit for the Seahawks reaching the playoffs, from head coach Pete Carroll and general manager John Schneider, to numerous players who made big contributions in all three phases of the game, it's safe to say that if not for a single play made by Diggs, the Seahawks might have been clearing out their lockers on Monday instead of prepping for the 49ers in the Wild Card round.
In overtime of a must-win Week 18 game against the Rams, Diggs intercepted a Baker Mayfield deep ball that, had Diggs not intervened, would have resulted in a long catch for receiver Van Jefferson, who very well could have scored on the play, or at the very least put the Rams in range for a game-winning field goal. Instead, Diggs recognized the threat as the play unfolded and Jefferson ran open, he broke on the ball, and then he undercut Jefferson just in time to snag the ball and give the Seahawks possession for what ended up being the game-winning drive.
And for that play, as well as another strong overall performance by the three-time Pro-Bowler, Diggs was named NFC Defensive Player of the Week.
"Diggs made a heck of a play," defensive coordinator Clint Hurtt said. "It was incredible to see him come out of centerfield like that. It was a good scheme by (the Rams)… "It was phenomenal. Ball skills is a unique trait that I think doesn't get talked about enough on the back end, and Quandre's ball skills are through the roof. He's unbelievable with that. That's a lot of space. It's like playing center field in baseball. The ball is up in the air and everybody in the world is looking at you to see if you are going to catch the gosh darn thing and that was a heck of a grab. It's impressive."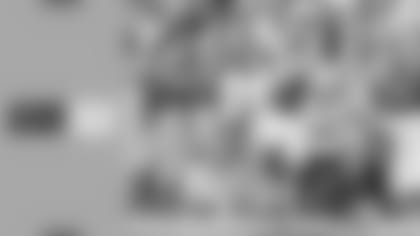 Listen To The Hawk Talk Podcast
Every week, Michael Bumpus and Nasser Kyobe release two podcasts analyzing the Seahawks previous game and previewing the next Seahawks opponent. Available on Spotify, Apple Podcasts, and wherever else you might get your podcasts.
Diggs joked after Sunday's game that he may have said a few bad words when he saw how open Jefferson was, but then he went into action and ended up making the biggest play of his career.
"Oh man, I felt like I was 25 again running and jumping in the air," Diggs said. "For me it was just one of those plays, they drew it up perfect, they got us in the coverage that they wanted us in, and I was able to just go out and make a play. That's probably my favorite interception ever, because just the atmosphere, everything that went along with this game, this interception, it was dope. All I saw was the ball, and I was like, 'I'm going to go get it,' and I was able to go get it and I caught it."
It was the second straight game with an interception for Diggs, who in Seattle's Week 17 game against the Jets became the only player in the league with three or more interceptions in each of the past six seasons, and the first safety since Hall of Famer Ed Reed to have such a streak.
Diggs also helped lead what was a strong overall pass defense, which held the Rams to just 123 passing yards, with Baker Mayfield completing only 13 of 26 attempts with no touchdowns and a 51.3 passer rating.
This is Diggs' first Player of the Week selection, and he is the third Seahawks player to earn Defensive Player of the Week honors along with Uchenna Nwosu in Week 1 and Tariq Woolen in Week 6, and the fifth player to earn Player of the Week honors along with Geno Smith on offense in Week 4 and Will Dissly on special teams in Week 8.
Smith also earned NFC Offensive Player of the Month honors for October, while Woolen and Kenneth Walker III earned NFL Defensive and Offensive Rookies of the Month honors in October.
Additionally, Walker III is one of three running backs up for FedEx Ground Player of the Week, an award he won in Week 7.
Go behind the scenes with team photographer Rod Mar as he shares moments from the Seahawks' Week 18 overtime win over the Los Angeles Rams on January 8, 2023 at Lumen Field. Eye On The Hawks is presented by Western Washington Toyota Dealers.