Good morning, 12s. Here's a look at what's out there today — Thursday, December 23 — about your Seattle Seahawks.
Pete Carroll And Matt Hasselbeck Discuss Week 15 Loss On 'The Matt Hasselbeck Show'
The Seahawks suffered a tough loss on Tuesday night, falling to the Rams 20-10 in a game that all but shut the door on the team's playoff chances. At 5-9, the Seahawks will finish with their first losing record since 2011, and first in the Russell Wilson-Pete Carroll era.
But for all that went wrong on Tuesday night, in a game that had already been postponed due to a host of COVID-19 cases on both teams, there were some positive takeaways as well.
The Seahawks' defense controlled the Rams' offensive attack early on, allowing the Hawks to go into halftime tied 3-3 before taking a 10-3 lead early in the third quarter. It wasn't explosive, but DeeJay Dallas and Rashaad Penny quietly and competently combined for 80 yards and a touchdown on more than four yards per carry. Throughout the game the Seahawks put themselves in a position to win, all the way up until the controversial no-call on a 4th down pass intended for Dallas late in the fourth with the Seahawks down 17-10.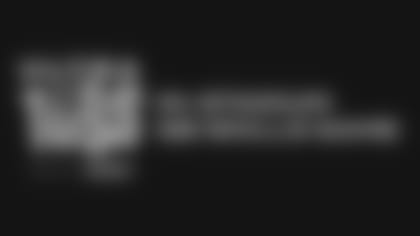 Play The New Ultra Toss Game At Sunday's Game
Put your QB skills to the test from your seat! Ultra Toss is an all-new, in-game feature available exclusively in the Seahawks Mobile App during games at Lumen Field.
On Wednesday, Carroll joined The Matt Hasselbeck Show with the Seahawks Legend and 710 ESPN's Mike Salk to discuss some of the bright spots from Tuesday's game, as well as some of the big plays that turned the tide for the Rams. Click here to listen to the whole conversation and podcast episode, and read some of the highlights below:
Hasselbeck: "What do you guys do at halftime that is so good? Especially in this game, it seems like the plan was a really, really good plan."
Carroll: It was really clear the couple of things that we needed to go to. They were laying off of us, so we were able to go right back to the run. We were effective running the ball throughout the night. We ran it 19 times, which, in a game like that you want to run it 30 times. It was a tight game, we didn't get to the numbers. So they were laying off us. Bang bang, we went to Freddie on a great hitch that he breaks, DK gets 10, we go back to DK and miss it but it was still there. But that gave us the rhythm, that sequence. I don't even know if we got to third down, we just went first-second, first-second, first-second and went right down the field."
Hasselbeck: If you had to point to one play in the game, like, 'Man, I wish we would've made this play,' offensively or defensively, what play would you point to?"
Carroll: "I've got about four of them. There isn't one play, unfortunately. But the defensive holding call was really a bad call. We were just in two coverage with corners just re-routing the wide receivers, knocked Cooper [Kupp] really good and he kind of stumbled a little bit, and the official thought he knocked him down and said it was just a terrible play by the DB and called the penalty. That was a big one, that was 3rd and 12, gave them life and they scored on that drive … Missed DK on the bomb, [Russell Wilson] just smoked it down the sideline, underthrew the ball and [Jalen] Ramsey gets back and makes a play on it. That's a touchdown play … There's a couple more, man, it wasn't just one."
Salk: Why hasn't the Russell Wilson-DK Metcalf connection been able to establish the same kind of chemistry as Russell Wilson-Tyler Lockett?
Carroll: They're working at it. We went to [DK] a bunch of times last night, and we missed a little bit here, the throw wasn't there on the deep ball, there's a couple times the ball got tipped away, great defender made a couple nice plays on the football when the ball was right on the money. They're working it at. There's a difference between the players. Tyler has this remarkable sense of feel and spatial awareness that rarely happens. Maybe that was what Steve Largent was, I would assume he understood all that kind of stuff. The great players have this different level of awareness, and you can develop it, but a lot of it just kind of comes from growing up and being that kind that could just figure it out."
Social Post Of The Day
Quandre Diggs and Bobby Wagner celebrate being named to the NFC Pro Bowl roster.
Go behind the scenes with team photographer Rod Mar as he shares moments from the Seattle Seahawks' 20-10 loss to the Los Angeles Rams on December 21, 2021 at SoFi Stadium. Eye On The Hawks is presented by Western Washington Toyota Dealers.