The Seattle Seahawks return home to Lumen Field for a Week 14 matchup against the Carolina Panthers this Sunday. In collaboration with local artists with from the Seattle area, the Seahawks Gameday Poster Series showcases the area's great passion for at art as well as supports a great cause. This week's poster was created by Seattle based artist Sasha Barr.
This is the fourth season in which the Seahawks have partnered up with the Ames Bros, an art duo from Seattle. Each of the poster's proceeds go on to benefit a local organization each week, with this week's proceeds going to Seattle Humane. The local organization provides not only an animal shelter, but also serves as a pet resource center, a pet food bank, an education center, and much more. Seattle Humane has been serving pets and animals for over 125 years and continues to be a staple for pet care in the Seattle area.
The Artist, Sasha Barr
Sasha Barr is this week's artist for the Gameday Poster Series and has been one of the cities brightest artists for nearly two decades. Barr, a Memphis native, grew up with art playing a major role in his life. Both of his parents were art graduate students with his father studying ceramics and his mother studying print making. Eventually, his father would go on to become an art professor at Middle Tennessee State University, teaching ceramics and digital animation. Barr has always been surrounded by art and his passion for it developed over his childhood. "I come from artsy folks, so art is very much part of my life." Since art was a big part of his childhood, Barr went on to study art at the University of Memphis, acquiring a Bachelor of Fine Arts with a concentration in print making.
During his time in Memphis, he became interested in creating posters for bands. Through his interest in that, he started to develop relationships with local bands and would use his skills and creativity to create posters for them. His work in the Memphis music scene in the early 2000's would be the first steppingstone to his career in working with musical artists throughout the world. His interest in poster making led him to traveling to poster shows across the country where artists like him would go to sell their work and network with other artists. While attending one of these tradeshows, Barr would go on to meet the Ames Bros as well as Jeff Kleinsmith and Dusty Summers of Sub Pop Records. When he graduated from the University of Memphis in 2006, Dusty Summers told Barr to move to Seattle, offering his basement as a place to stay while he was out there. With no hesitation, Barr moved out to Seattle to pursue his dream of making art in the music industry. After a couple of months in Seattle, he took on a part time job in the art department at Sub Pop Records and has been there ever since.
Since working with Sub Pop Records, Sasha has developed connections with bands across the world through working on posters, packaging, and merchandise. Over the years, he has worked with groups such as 'Lucero' and 'Father John Misty', which includes a Grammy award for his work on the cover of their LP, 'Pure Comedy' in 2018. Through his music connections he has also been able to create art in other areas that he is passionate about like skating as he has created art designs for skateboards, merchandise, and other skate equipment. Music and skating have always been a major part of his life since an early age and continues to be as he has on many projects in those fields. "Skateboarding and music have been a big part of my life since I was a teenager, and they are both industries that I've sort of made my way into and have done a lot of work in. I've always been inspired by other stuff that I see in those industries."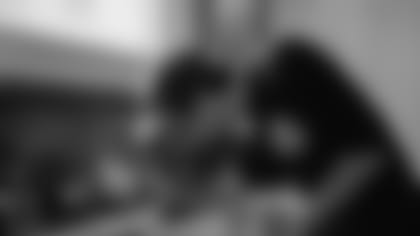 Barr had been familiar with the Seahawks Gameday Poster Series for a couple of years now as he has worked closely with the Ames Bros before, so getting the opportunity to work on this project was a no brainer. Barr likes to use a cartoon style in his art, so a cartoon style poster was exactly the style that he wanted to create this week's poster with. "I would say that over the years, my illustration style has become a little more cartoony, based around characters, so I thought it was a no brainer to do something mascot related." With Barr's cartoon style, Seahawks' mascot, Blitz, seemed like the perfect subject for this week's poster. Blitz is front and center for this iteration of the Gameday Poster as he is presented as a character larger than life, popping off of the poster. It was also important for Barr to encapsulate the Pacific Northwest in this poster that is done by including the snowy mountains and lush forests in the background of Lumen Field. "I thought it would be cool to somehow incorporate Lumen Field and do something with that, that gave us a sense of place. We are in Seattle, and we are also in the Northwest." 
Getting a chance to create a poster for the Seahawks Gameday Poster Series was an exciting opportunity for Barr as he knows how important the Seahawks are to the city of Seattle. "As far as being a Seattleite, the Seahawks' colors, imagery, branding, and logos are ubiquitous in and around the Seattle area." Since moving to Seattle 16 years ago, the Seattle has become his home has provided him with many great career opportunities that he will forever be grateful for.
Seahawks linebacker Uchenna Nwosu visited the Boys and Girls Club where he talked about how reading is important, gave each student books, and unveiled the NWOSU reading corner on December 5, 2022.