NEW ORLEANS—Every loss in the NFL hurts. After all, there are only 17 games over the course of an entire season, and players put countless hours into being ready for them.
But what might hurt the most are losses like Seattle's 39-32 loss to the Saints on Sunday, not just because it was a close game, but also because the Seahawks felt like they made it too easy on their opponent.
"This game hurts all of us, because we know that we had a chance to win the football game," Seahawks coach Pete Carroll said. "I'll never take anything away from Saints, they did a great job and did a lot of cool things in this game to win it, but we had our chances and we had all kinds of opportunities to get this done. There were too many things that went wrong that gave them another opportunity here and there, and we made it too easy on them. These games are so hard, they're so difficult to win, and if you screw it up and give them something, then you're fighting against it the whole time."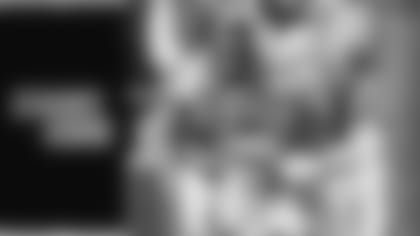 Re-live Each Game With The Seahawks Rewind Podcast
Re-live every Seahawks game this season with game highlights, player and coach postgame interviews, and a whole lot more. Available on Spotify, Apple Podcasts, and wherever else you get your podcasts.
One of Seattle's biggest miscues came on special teams, a punt on which Michael Dickson was supposed to roll out before kicking the ball, but things got muddled and he ended up keeping the ball and getting tackled for a loss, setting up a short field that the Saints turned into a touchdown. There was also a turnover on offense that set up another Saints score—though it did look like DK Metcalf's elbow was down before the ball came loose, even if there wasn't enough evidence to overturn the call on the field. But what stood out the most in Sunday's loss was the Seahawks' continued struggles on defense, a reoccurring theme that has hurt them, particularly in losses against Atlanta and New Orleans in which the offense played well enough to win.
"No more excuses, we've got to go to practice, we've got to get this (stuff) right and we've got to fix it, because we can't go a season doing that," said safety Ryan Neal, who made his first start of the season.
As was the case in last week's win in Detroit, Seattle's defense got off to a solid start and showed signs of improvement, but as was also the case last week, the opposing offense got going in the second half, particularly with big plays.
"At the end of the day, it's our job, we've got to be better," said safety and defensive co-captain Quandre Diggs.
What might have been most frustrating, both for players and for fans watching at home, was the way the Saints had success running the ball when Taysom Hill lined up at quarterback. The Seahawks knew Hill coming into the game likely meant a Hill run, yet he was still able to run for 112 yards on nine carries, converting on several key situations, picking up first downs on third-and-short, scoring twice in the red zone, and most notably breaking off a 60-yard touchdown run in the fourth quarter for what ended up being the game-winning score.
"We know what the hell we've got to do," said linebacker Uchenna Nwosu. "When he comes into the game, they only do one thing, they run the ball, and we didn't get that done today. We knew what play they were going to run, we didn't fit it up correctly and he gashed us for a touchdown… Everybody's got to do a better job collectively, myself included. We've just got to fit up things better."
Carroll agreed with his players that letting Hill put up big numbers was one of the biggest problems in the game.
"Taysom Hill had a great football game against us, we did not stop him," he said. "Our plan for the wildcat did not work, obviously. He ran for over 100 yards, and that was really the difference for them in a lot of crucial situations. He came through in a big way for them. It wasn't new, they had done it, but the things we tried to do didn't get us off the field."
Players and coaches see some hope in the fact that the Seahawks have improved on defense each of the past two seasons, but they also know they can't wait for those fixes to happen on their own. Neal also noted that he finds it particularly frustrating to see the defense play like this because of the standard set by past Seahawks defenses.
"We've had examples in the past with the LOB and the OGs and all those guys, we know what it takes, we know how to play this game, guys just got to execute," Neal said. "From my end, it's just disappointing, because I feel like I'm letting down the group of dudes who really set the standard. Being here with guys before like K.J. (Wright) and Bobby (Wagner), there's a standard you've got to live up to, and that's just something we have to do. For me, this is a call to the defense, 'What are you going to do now? What are you going to do?' Because it's on us. In my mind, it's on us, period."
The Seahawks face the Saints in New Orleans for Week 5 of the season at Caesars Superdome on October 9, 2022. Game action photos are presented by Washington's Lottery.