Happy Blue Friday, 12s. Here's a look at what's out there today, October 2, about your Seattle Seahawks.
Picks And Predictions For Week Four Matchup With Miami Dolphins
The Seahawks will look to improve to 4-0 for just the second time in team history Sunday when they take on the Miami Dolphins (1-2) at Hard Rock Stadium. Kickoff is set for 10:00 a.m. PT with the game airing on Fox.
"They're facing a Miami secondary whose top cornerback, Byron Jones, is banged up," Henderson said. "Seattle's defense has been gashed through the air and is dealing with all sorts of injuries of its own. That means the Seahawks might need another huge day from Wilson and their passing game, especially if Chris Carson's injured knee makes their running game less viable." Henderson has the Seahawks winning 30-24.
Fowler likes the Hawks by a score of 23-16: "The way Russell Wilson is connecting with DK Metcalf and Tyler Lockett downfield is forcing opposing teams into tough decisions. If Miami allocates more resources downfield -- either by mixing deep-zone looks or adding a defensive back to the mix -- the Seahawks could try to counter with a run-heavy attack. Coach Brian Flores will need decisive play from his secondary to knock off Seattle."
"Already a Hall of Famer in talent and production, Wilson's mastery of his position has caught up with his physical traits," Rosenthal said. "He's never been calmer in the pocket, seeing two moves ahead. Ryan Fitzpatrick is another quarterback who got better with age, allowing him to make this lackluster Dolphins group around him look feisty. I don't envision Miami's defense forcing many long-yardage situations, and that's the only way coach Brian Flores is able to generate a pass rush with this group."
"The Seahawks (3-0) are undefeated despite their defense allowing almost 500 yards a game. That's part oddity and part testament to Seattle's offense, with Russell Wilson outplaying even Patrick Mahomes and Lamar Jackson so far this season … Ryan Fitzpatrick is unpredictable and prone to mistakes, but he is also likely excited for a shot at the current version of Seattle's defense. A shootout would still favor the Seahawks, but the score could be fairly close. Pick: Dolphins +6.5."
Bill Bender of Sporting News likes the Hawks by a score of 30-20: "Russell Wilson is playing at a MVP level, and that will need to continue if the Seahawks shuffle their rushing attack without Chris Carson (knee). Tua watch continues in Miami, but Ryan Fitzpatrick has managed to hold that by not throwing a pick in his last two starts. The Seahawks should cover on the road and improve to 4-0."
"FitzMagic mode is in full effect, but the Dolphins don't have the firepower to match the #LetRussCook menu," Florio said. "Seahawks 31, Dolphins 20."
The Seattle Times sports staff all like the Seahawks to win in a high-scoring affair. The average of the four writers' score predictions has the Hawks winning 38-31. Here's what Larry Stone had to say about the matchup: "Seattle is going to have to solve its defensive woes eventually, but I'm not sure this is the week with all the injuries. Nevertheless, the Seahawks offense is such a well-oiled machine right now that they will continue to overcome the defensive deficiencies. Russell Wilson should have another field day, and that will be enough to keep the Seahawks undefeated."
The South Florida Sun-Sentinel sports staff also likes the Seahawks to win. Dolphins columnist Omar Kelly has the Hawks winning in a close one, 30-27: "Russell Wilson is without question one of the NFL's top five quarterbacks. Seattle has been leaning on him even more this season because its pass rush and secondary has struggled. However, injuries and the travelling across the country to play in the South Florida Heat could be a factor. But I'm expecting Miami's defense to get shredded by the MVP frontrunner."
Homegating Recipe of the Week Presented by Safeway – BBQ Chicken & Corn Nachos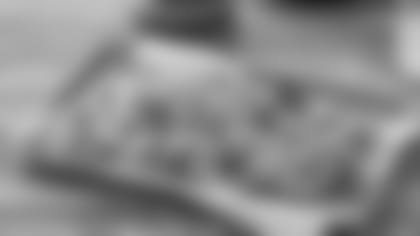 BBQ Chicken & Corn Nachos
The littlest Seahawk fans will love gamedays even more with this healthy take on loaded nachos. Shredded chicken, corn and salsa are combined to make this popular appetizer. This BBQ Chicken & Corn Nachos recipe will become a fast favorite for family dinners and tailgates!
This flavorful dish uses shredded chicken, corn, salsa and more for an easy meal that works perfectly for gameday or a weeknight family dinner. Click here for the recipe. In addition to providing detailed instructions, Safeway has also added a "Shop the Recipe" feature to each recipe page, making it easy to add all the ingredients (or just the ones you need) to your cart for a Safeway DriveUp & Go or Delivery order.
Social Post Of The Day
DK Metcalf shows some love to fellow receiver Tyler Lockett.
Practice photos from the Seahawks' Thursday workout at Virginia Mason Athletic Center in preparation for Week 4 vs. the Miami Dolphins at Hard Rock Stadium.