Good afternoon, 12s. Here's a look at what's out there for today – Friday, February 26 – about your Seattle Seahawks.
Tyler Lockett Appears Three Times, David Moore Takes Top Seahawks Catch
In the fall of 2019, Tyler Lockett published his first book, a collection of 25 poems titled Reflection. It makes perfect sense, then, that his penchant for poetry would manifest on the field as some physical variation of the art.
During the 2020 season, Lockett continued his campaign of making every sort of sideline, one-handed, toe-tapping, diving catch seem, well, normal. It was clear that his favorite opponent this year was the Arizona Cardinals, and all three of his appearances in the NFL's list came against them.
At #49 and #43, he recorded both incredible catches in Week 7 in Arizona on his way to single game career bests in receptions, reception yards, and touchdowns. Lockett set the tone early, hauling in a one-handed catch on the first play from scrimmage. The clinic continued as he came up big on a fourth down touchdown which, according to Next Gen Stats, occurred when "Lockett's shoulder pads were -0.1 yards out of bounds at the moment of pass arrival".
Lockett's highlight reel goes far beyond the three shown in the NFL's list. Luckily you can watch every single catch from the season right here:
The top catch for the Seahawks goes to David Moore for his inch-perfect catch against the New England Patriots in Week 2. All the way up at #12, Moore's catch, moving backwards and squeezing his toes in with just a few blades of turf to spare, was one of the most improbable of the season at just a 6.3% completion probability.
Celebrating Resilience
For the final week of Black History Month, the Seahawks are celebrating stories of resilience from players, Legends, and employees alike.
Tyler Lockett discussed resilience in his own life, as well as examples from throughout Black history. "You never know how many opportunities you are going to get. The chances might be limited, but you have to figure out how to play the cards right."
Watch all the videos in the series, including appearances from Seahawks Legend and current Director of Youth Football Programs Paul Johns and Vice President of Player Engagement Maurice Kelly.
Black Military Member Recognition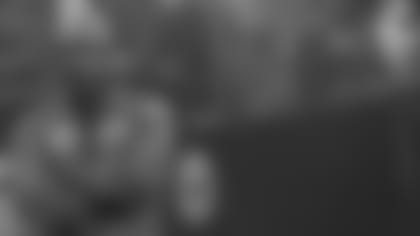 The Seattle Seahawks salute Rear Admiral Stephen Barnett. After earning his commission out of Officer Candidate School in 1991, Rear Admiral Barnett began his career as a Naval Flight Officer. While stationed in Hawaii as a Commanding officer, Barnett led his squadron on a simultaneous deployment to Japan and Iraq, executing more than 250 missions and 5,000 hours in support of Operation Iraqi Freedom. Once back ashore Rear Admiral Barnett carried duties as a detailer for the Navy where he directed over a thousand Aviation officers for assignment. Barnett also held the position of deputy executive assistant to the Vice Chief of Naval Operations where Barnett would carry a role in overseeing the Navy's $137 billion aviation budget. Rear Admiral Barnett assumed duties as Commander of Navy Region Northwest in March of 2020. You may see Rear Admiral Barnett at a game, the Navy Region Northwest is scheduled to be the Seattle Seahawks Honorary Military Branch for the 2021 season.
Social Post Of The Day
In a tweet, ESPN asked its audience to share a sports photo they'll remember forever. Travis Homer responded with an iconic photo from pregame introductions when he ran out of the tunnel with Marshawn Lynch and Robert Turbin.
"Lynch made a point of having the Seahawks' other backs, Homer and Robert Turbin (another former Seattle runner who'd been re-signed following the injuries to [Chris] Carson and [C.J.] Prosise), be introduced along with him before the game, and the trio ran out of the tunnel together."
Quite the unforgettable memory for a rookie.
Throughout the 2020 season, Seahawks players chose to represent social justice initiatives and honor victims of racism and police brutality with helmet decals to show their support.