Good morning 12s, and Happy New Year's Eve! Here's a look at what's out there today — Friday, December 31 — about your Seattle Seahawks.
Lee: Precedent Exists For Seahawks To Pull Off One-Year Reload
The 2021 season clearly hasn't gone how many within the Seahawks organization had hoped. At 5-10, the team finds itself in last place in the NFC West, set for its first losing season since 2011 and to miss the playoffs for just the second time during that same span.
This season may represent a blemish, but there's reason to believe that the Seahawks' run of success over the past decade can continue into the 2022 season and beyond. On Thursday, Nick Lee of Sports Illustrated wrote about some teams in recent NFL history who had a down season or were mired in a stretch of down seasons only to turn it around quickly and get back on the path of contention.
The first example Lee used was the Green Bay Packers, who had a couple of disappointing seasons in 2017 and 2018 before going 13-3 and making a trip to the NFC Championship game in 2019.
Lee says that the Packers' draft acumen was a key factor to their turnaround. "Green Bay's defense went from 22nd in scoring in 2018 to ninth the following season," he said. "How did the Packers do it? They traded up in the draft to select safety Darnell Savage Jr. in the 2019 draft and signed two elite pass-rushing 'Smiths' in Za'Darius and Preston, who combined for 25.5 sacks that year."
Another example Lee used was the 2015-16 Atlanta Falcons. In 2015, the Falcons finished 8-8 and missed the playoffs for the third straight year with Matt Ryan throwing for just 21 touchdowns against 16 interceptions. The following year, Atlanta went 11-5 and Ryan took home league MVP honors.
"So what changed? First, they hit on several draft picks, starting in 2015 with No. 8 draft pick Vic Beasley," Lee said. "In the Falcons' run to the NFC title during his second season, Beasley earned first-team All-Pro honors, leading the NFL with 15.5 sacks and six forced fumbles. Atlanta also found two-time Pro Bowl nose tackle Grady Jarrett in the fifth round. In the 2016 draft, it selected two future Pro Bowlers on defense in safety Keanu Neal and linebacker Deion Jones, and it found a productive tight end in Austin Hooper in the third round.
"Half of the battle is getting lucky enough to find players who will fit the mold you need in your organization, which is easier said than done, of course," Lee writes. "However, as we can see from the Packers and Falcons, it can be done."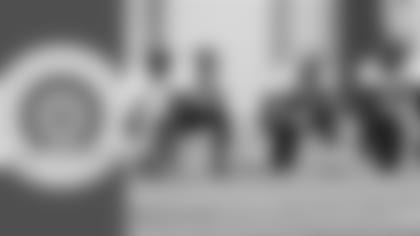 Listen To The Huddle Podcast
Hosted by Seattle Sports 710AM's Michael Bumpus, Stacy Rost, and Dave Wyman, The Huddle features player interviews, Seahawks play-by-play man Steve Raible, conversations with the opposing team's media and more to get you ready for gameday. Available on Spotify, Apple Podcasts, and wherever else you get your podcasts.
Social Post Of The Day
Bobby Wagner wasn't even slightly fazed by the cold weather and snow during last week's game against the Bears.
Photos from Seahawks practice on Thursday, December 30 at the Virginia Mason Athletic Center in Renton.