Good morning 12s, and happy Blue Friday. Here's a look at what's out there today, November 27, about your Seattle Seahawks.
710 ESPN's Dave Wyman Breaks Down Seattle's Defensive Improvements In 'Football 101 Video'
The Seahawks' defense has struggled at points this season, and the team still ranks last in the league in yards allowed per game (434.9). However, the unit has taken some clear steps forward over the past two weeks. The Seahawks gave up a season-low 16 points in the loss to the Los Angeles Rams in Week 10, including just six in the second half, and then followed that up on a short week by only allowing 21 to Kyler Murray and the Arizona Cardinals in a win last Thursday.
Some of the improvement can be attributed to the arrival of Carlos Dunlap II, who's posted 3.5 sacks in three games for the Seahawks, and the health of Jamal Adams, who has been a disruptive presence since returning from his injury. Some of the improvement can also be attributed to an accountability meeting the defense held before the Cardinals game in Week 11, in which all players stepped up and showed that they know how to play Seattle's defensive scheme.
In his latest 'Football 101' video, 710 ESPN analyst and former Seahawks linebacker Dave Wyman looks at some of the improvements the team has made on defense, particularly with attacking blockers and turning perimeter plays back inside to limit their effectiveness. Wyman begins the segment by breaking down some plays made by the Minnesota Vikings in their win over the Bears earlier this month and applying that to what the Seahawks have done in their most recent games against the Rams and Cardinals.
From the Cardinals game, Wyman breaks down a play made by Ugo Amadi and D.J. Reed. Murray had made a short pass to Kenyan Drake out of the backfield, and Amadi engages with Larry Fitzgerald, who was blocking on the play, taking him out of the action and affording Reed and others the opportunity to close in and make the tackle.
"So here's Ugo right here, he's making contact with Larry Fitzgerald, you'll see as the play goes on that he continues to push him back," Wyman explains. "Look at the pursuers; look at Dunlap, look at Bobby Wagner, and then D.J. Reed doing his job out here … You've got all this pursuit, and you just know there's no way [Drake] is going to go anywhere."
Homegating Recipe of the Week Presented by Safeway – Muffin Tin Meatloaves
Whether you're planning to homegate for all of Sunday's games or planning for Monday night, or both, here's a great recipe to get you started. Ground beef mixed with salsa and quick cooking oats, topped with cheese, are baked in a muffin tin to make these mini meatloaves. Click here for ingredients and instructions.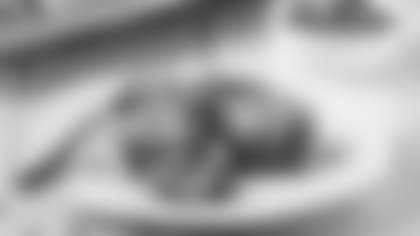 Muffin Tin Meatloaves
Ground beef mixed with salsa and quick cooking oats, topped with cheese, are baked in a muffin tin to make these mini meatloaves.
In addition to providing detailed instructions, Safeway has also added a "Shop the Recipe" feature to the recipe page, making it easy to add all the ingredients (or just the ones you need) to your cart for a Safeway DriveUp & Go or Delivery order. Click here for more great homegating recipes.
Social Post Of The Day
After making plays in the Thursday night win against the Cardinals, Ugo Amadi teamed up with OSL (formerly known as Operation Sack Lunch) in Seattle this week to help give out 8,000 meals (and 450 pumpkin pies!) for the Thanksgiving holiday.
View photos of Seahawks Dancer Phi