Seahawks safety Marquise Blair suffered what Pete Carroll called "a significant" knee injury in Monday's game against the Saints, and two days later, Carroll confirmed that Blair will undergo surgery to repair a fractured patella and miss the remainder of the season.
"He's getting operated on today, I believe, today or tomorrow," Carroll said. "It's a good surgery to get his knee fixed, he's got a fractured patella."
Carroll said the injury was to Blair's patella, or kneecap, and not his patellar tendon. This is the second straight year Blair has had his season cut short by a knee injury, having torn his ACL in Week 2 of the 2020 season. With Blair out, Ugo Amadi will take over the nickel role full time after the two had split playing time there through the first seven games this season.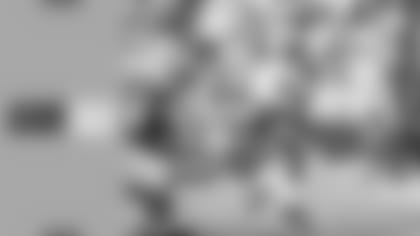 Listen To The Hawk Talk Podcast
Every week, Michael Bumpus and Nasser Kyobe release two podcasts analyzing the Seahawks previous game and previewing the next Seahawks opponent. Available on Spotify, Apple Podcasts, and wherever else you might get your podcasts.
Carroll also gave an update on rookie receiver Dee Eskridge, who has been out since suffering a concussion in the season opener. Eskridge has been away from the team recently in Florida to participate in what Carroll called a visual training program to address some issues that have come up since the concussion. Eskridge will be back in Seattle tonight and could return to practice soon.
"He's flying in tonight," Carroll said. "He had a big training in rehab program that he went through in Florida that we thought was necessary. The reports coming out are that he's in great shape and ready to go; I don't know what that means until we get on the field. If he's cleared tomorrow, then we'll start to get some work from him. And I can't tell you what that means."
Asked about the specific issues, Carroll said, "He did have some issues from the concussion that he had, some visual things that he was working on and that's what he's been focusing on." Carroll later explained, "it's a visual training program that was really specialized for his situation that we wanted to take full advantage of."
The Seahawks are hoping to get a couple of players back from injury this week with defensive end Darrell Taylor and left guard Damien Lewis both trending in the right direction after missing Monday's game.
"The early indications is Darrell is really ready to get back in," Carroll said. "Damien, that's the way they're talking, they're really counting on him making it back to play, which is a nice boost for us."
Less clear is the status of right tackle Brandon Shell, who left Monday's game with an ankle injury in the fourth quarter.
"He's a little sore," Carroll said. "His ankle is a little sore. Both ankles were a little off, so we just need to see what the next couple of days means. He's getting around fine and all that, he's not hobbled by it, but we've just got to give him a chance to recover."
Go behind the scenes with team photographer Rod Mar as he shares moments from the Seattle Seahawks' 13-10 loss to the New Orleans Saints on Monday Night Football on October 25, 2021 at Lumen Field. Eye On The Hawks is presented by Western Washington Toyota Dealers.