Walter Jones Gives Advice To Students Through 'Heart Of A Hall Of Famer' Series
The Pro Football Hall of Fame's 'Heart of a Hall of Famer' series gives students across America the chance to learn first-hand from some of the game's best players what it took for them to reach the highest heights on the field, while maintaining success off of it as well. Dozens of players have shared their stories over the years, teaching students life skills through the lens of the Pro Football Hall of Fame's core values of commitment, integrity, courage, respect and excellence.
On Tuesday, another Seahawks Legend returned to Canton as 2014 Hall of Fame inductee Walter Jones spoke to a group of students. Jones talked about his NFL journey and how the Hall's values applied on and off the field, what it was like to play in Super Bowl XL in Detroit, and mentions some of the things he could've done differently throughout his career.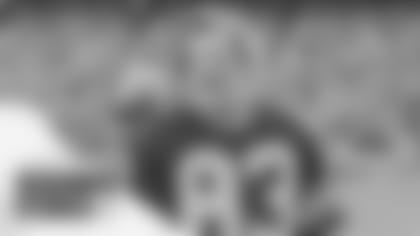 Listen To The Seahawks Stories Podcast
Each week, former Seahawks running back Robert Turbin will sit down with a current player or Seahawks Legend to share stories from the locker room to the playing field, and discuss their career both on and off the field. Available on Spotify, Apple Podcasts, Stitcher and wherever else you might get your podcasts.
On which Hall of Fame core value he feels is most important:
"Integrity. I think that's the number one thing it's all about. Kind of like being accountable. I think a lot of times we forget how to be accountable. As an offensive lineman it's all about being accountable, you have to make sure you do your job. It's kind of like, I tell my kids all the time at home, if your mom or dad says, 'Hey, you've got to take the trash out,' that's your job to take the trash out. So me personally, if it's my job to protect the backside of the quarterback, that's my job throughout the whole game or throughout life. If you say, 'I got it,' or, 'I'm going to do it,' you have to be accountable for that."
On how the Hall's values apply to his everyday life:
"I think it's all about having a purpose in life. Once you retire from this game — you play this game for so long, I think I started playing football when I was a freshman in high school, so I played a lot of football — so when that day comes that you make a decision to say, 'I'm done playing ball,' now you have to find your purpose in life. And for me, I think that was a transition … I try to lead by example everywhere I go, wherever I talk to people I try to lead by example. I want someone in this room to take something I said and take it with them for the rest of their life."
One thing he wishes he had done differently during his career:
"I tell people all the time, in '05 with the Seattle Seahawks we had a chance to get to the Super Bowl. And during the Super Bowl a lot of guys go out for the pregame, because it's a show. But for me personally, as a player, I never did that. I was always preparing. So the coach was saying, 'Stick to your routine, stick to your routine.' But at the Super Bowl, I didn't get a chance to see all the lights and all the things that go on at the Super Bowl. So I said to myself, if I ever get back there again, I'm going to enjoy it and take it all in. Because you work so hard to get to that point and now you try to stay in your same mode, but you didn't realize what was going on … I didn't get back, but I said to myself if I ever got back, I would go out and take it all in."
Social Post Of The Day
He may be new in town, but he's already making a huge difference off the field: Adrian Peterson's All Day Holiday Meals drive donated 25,000 meals in the Seattle area after Sunday's win, with 10,000 meals donated for each touchdown by Peterson himself (a 1-yard run) and 5,000 more meals for every other Seahawks touchdown (two Russell Wilson passes and 73-yard Travis Homer run).
Thanks to a technology assist from Microsoft, organizations from various non-profits being recognized during the Seahawks' My Cause My Cleats game were able to chat with players in the tunnel before warming up at Lumen Field on December 5, 2021.