Every year, NFL teams have the chance to nominate a player for the Walter Payton Man of The Year award, and this year the Seattle Seahawks have nominated receiver Tyler Lockett. Highlighted as one of the league's highest honors, the Walter Payton Award recognizes a special NFL player for their work in the community and service activities off the field.
Lockett is hoping to become the second consecutive Seahawk to win the award after quarterback Russell Wilson took home one of the NFL's most prestigious honors as last year's Walter Payton Man of the Year.
Lockett, a Tulsa, Oklahoma native, is the son of Nicole Edwards and retired NFL receiver Kevin Lockett. And it isn't only football talent that passed down from one generation of Lockett to the next, but also an understanding of the importance of serving the community, as his father, Kevin, also has his own nonprofit called the Lockett-Up Foundation. Mirroring his father's charitable efforts, Tyler has helped serve the Tulsa community in various ways, establishing college scholarship programs, holiday dinners for the homeless, and even supporting Black-owned business such as Tulsa's Fulton Street Books & Coffee.
When looking at Tulsa, Oklahoma, the history is rich and important to those who grew up there. However, the city that was once known as "The Black Wall Street" to many African Americans has now had to rebuild and shed light on all the great history of Tulsa. Lockett, who is passionate about his city's history, continues to educate more people about what Tulsa was like in the early 1900s.
"Tulsa was that place where Black people came, because they had an opportunity to be able to be successful. People moved from Arkansas and all these other places when segregation was going on, and they went to Tulsa. And they built up their own community," Lockett reflected. "And to hear about how we had so many businesses—we had 36 blocks of successful Black businesses, our own grocery stores, our own parks, our own theaters, our own everything. And for it to be burnt down and for people to be lynched and people to be put under graves things like that."
With a new generation of gamechangers picking up the ashes of what was once such a successful place for African Americans to thrive in their own community, Lockett continues to emphasize Black history and Tulsa's potential.
"For me growing up, I used to say there was nothing in Tulsa. We were always a step behind when you go to Dallas and all these other places. And then when you start to really recognize the full significance of why we were one step behind, because we once had everything, and we lost everything. I really love my city, and I love what it represents. And I love that we are trying to build it back. People are finally starting to learn about what happened, that there was a massacre, and it wasn't taught in school."
In 2019, Tyler and his Light It Up Foundation hosted their first "job shadow" where the foundation awarded four young women from Tulsa to come to visit Seattle and job shadow members of the Seahawks organization. Much of what Tyler aims to build for the youth from his foundation is exposure.
"People from my hometown, they don't really see what life is like outside of where we grow up, so unless you play sports, nobody is going out of town," Lockett said "And so once you finally get out of your own city and you're able to see what life is like outside of it, then you get a new perspective. It allows you a vision and have an imagination."
And even when COVID-19 struck the country and limited how much people could interact with one another due to social distancing, Lockett still found a way to help encourage and support the youth of his community; donating scholarships to students because they were not able to participate in job shadowing. The Light It Up Foundation gave $10,000 to 12 students in the community.
"The biggest thing is the Light It Up Foundation just trying to be able to give people a chance to shine, because a lot of time in the world we think that we have to shine through sports or we think that we have to shine in the eyes of the public, that if they don't know about us then we are nobodies," Lockett said. "So we think that we have to be able to be entertainers, that we have to be out there within the media and the public eye. The truth is you don't. The whole point of the Light It Up Foundation is being able to tell people that you have a chance to shine whether the world knows it or not. You can shine within that house of your family. You can shine within your own community."
If you've had the opportunity to watch Lockett play you know what he's capable of. While you hold your breath when Russell Wilson throws a deep ball 60-plus yards to Lockett, you can't help but cheer as you see him run into the end zone with the infamous "toe drag" or a fan favorite the over-the-shoulder catch. One can say it is truly a joy to watch Lockett play.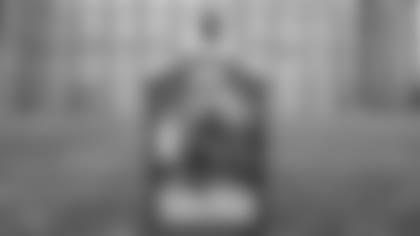 When it comes to making plays off the field and being a leader in the locker room, Lockett continues to channel his best self. He not only pushes himself to be the best that he can be, but also his teammates. Safety Quandre Diggs, who has known Lockett for more than seven years, now recalls just how tremendous of a person Lockett is.
"He's just a unique person. He has a big heart, and you see that just being around him," Diggs said. "I know the type of person he is, he cares about everybody, he never wants to disappoint anyone. A humble guy, the same person you see on the field is the same humble guy you see off the field."
In Week 13, as the Seahawks prepared to take on the 49ers and end their three-game losing streak. Lockett took it upon himself to speak in the team's Saturday meeting prior to the game. Lockett had a talk with all of his teammates about "what is your why," wanting teammates to talk and have those "hard conversations," as teammate Carlos Dunlap II explained. Seahawks coach Pete Carroll reflected on the team meeting during his press conference after the Week 13 win.
"He did a great job with our guys about hanging together and about why we are connected in the way that we are," Carroll explained. "I think it has something to do with today."
The Seahawks went on to defeat the 49ers, 30-23, with Lockett catching seven passes for 68 yards, including the go-ahead touchdown in the third quarter that put the Seahawks ahead for good.
Tyler Lockett's love for the Tulsa, Oklahoma community runs deep and his drive to help bring change to his city is inspirational. Every day Lockett reminds himself: "Today is just another day to become the best version of me."
As simple as the saying is, it is quite profound, and is something each of us can learn from Lockett. The catches he makes are unbelievable, the commercials we see him in are entertaining, however, the man who chooses to be the best version of himself every day is respected. And because of the man he is off the field, as well as the player he is on the field as one of the league's most prolific pass-catchers, Lockett is this year's Seahawks nominee for the Walter Payton NFL Man of the Year Award.
Take a look at wide receiver Tyler Lockett in the community, both in the Seattle area and beyond, throughout his eight years in the NFL. Lockett is the Seahawks' 2022 nominee for the Walter Payton NFL Man of the Year Award, given to a player for his excellence on and off the field.