Good morning, 12s. Here's a look at what's happening today – Wednesday, May 5 – for your Seattle Seahawks.
D'Wayne Eskridge Joins 710 ESPN Seattle's 'Danny And Gallant'
As the Seahawks' first selection in the 2021 NFL Draft, D'Wayne Eskridge is looking to come in and compete right away. It's a mentality that head coach Pete Carroll will love, and one that should earn him some acclaim with the 12s.
Eskridge, who was drafted No. 56 overall last Friday, joins a loaded wide receiver room with DK Metcalf and Tyler Lockett leading the way. The Central Michigan product had a career-high eight touchdowns in 2020 despite only playing six games. He also impressed at his pro day, running a blazing 4.38 40-yard dash.
On Tuesday, Eskridge joined 710 ESPN Seattle's "Danny and Gallant" to discuss how much confidence it takes to be a wide receiver, what it felt like when he was drafted and if he wants to race Metcalf some day. He also talked about when he knew he was an NFL player, how excited he is to join Seattle's wide receiver room and more.
On when he knew he would make it to the NFL:
"I probably knew I had a shot coming into my sophomore year (at Western Michigan). Just seeing some other athletes and seeing how natural I was at some things more so than other people were. So I always knew, I just didn't know how my shot was going to come -- if I was going to get drafted or if I wasn't going to get drafted. But I always knew that one day I was going to be in the NFL."
On how he got this far in his career coming from a small school:
"I would say just being persistent, perseverance and just being the competitor that I am. Just always competing. Even when I had my injuries in 2019, I always thought some way I would keep my competitive nature, competing in little things that weren't so much physical. I was always just doing something and I always stuck to it."
On his initial impressions of DK Metcalf and Tyler Lockett:
"I just feel like I'm coming into a great group. With Tyler Lockett, he's the OG, you know, who has a lot of wisdom for everything. I'm looking to learn a lot from him. Then DK, he's the superstar of the league right now. That full room, I'm really excited to come there and learn and compete with those guys and turn our room up."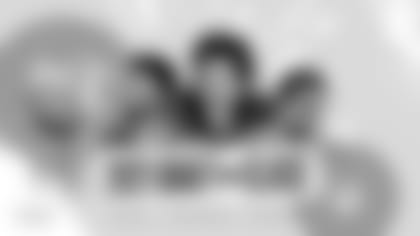 Meet The Seahawks 2021 NFL Draft Class
Everything you need to know about the three newest members of the Seattle Seahawks
NFL Media Draft Expert Praises Seahawks' Pick Of Stone Forsythe
The Seahawks only made three selections in last week's draft, but they made the most of them. Seattle's final pick came in the sixth round, when it grabbed offensive lineman Stone Forsythe at No. 208 overall.
The Florida product appeared in 40 games for the Gators over his career. His father Ray Forsythe was also an NFL player with the Cincinnati Bengals after going undrafted in 1995.
"This could be a steal that haunts tackle-needy teams in the future. Forsythe isn't much of a run blocker, and I don't know how well he will fit into a stretch-play scheme. But he has great size (6-8, 307) and elite length (34 3/8-inch arms), and is a fully capable pass protector, having been tested against SEC-level competition. He is a future NFL starter at left tackle."
Social Post Of The Day
Former NBA player and Seattle legend Jamal Crawford and Bobby Wagner paid their respects to each other in a fun social media interaction:
Take a look at the Seahawks 2021 Draft Class in the Seahawks blue and green. Uniform numbers are unofficial and subject to change.