Good morning, 12s. Here's a look at what's out there today — Tuesday, December 14 — about your Seattle Seahawks.
Tyler Lockett Talks Financial Literacy With Rapper Lecrae
Tyler Lockett has spent the past seven seasons becoming one of the greatest wide receivers to ever put on a Seahawks jersey, which was further evidenced on Sunday when he became the first Seahawks wideout since Steve Largent to record three consecutive 1,000 yard seasons. He's also made close to $50 million dollars in salary over that time, and entered this season with security after signing a four-year contract extension worth more than $69 million.
Recently, Lockett sat down with rapper Lecrae for episode five of Lecrae's "Protect The Bag Series" about financial literacy. In it, Lockett talks about how he managed his finances as a young player in the league, and how he was able to balance helping out his loved ones and not going into debt.
"When it comes to being able to help friends and when it comes to helping family, I'm okay with being able to help them as long as I know that I'm still good," Lockett said. "I love seeing the best in people, I love being able to invest and help people, but if it's going to be able to take me to a place where I lose out on my mission and my goal and what I love, then I can't do it. At least not until I get to that place where I can help."
Lockett says that one of his strategies early on was to only allow himself to use 10 percent of what he earned. "So if I was making, like, $20K because I did an appearance for marketing or something, I'd be like, 'I've got $2,000 to do whatever I want,'" he said. "So if I give somebody a thousand, I'm like, 'Now you've only got a thousand until you get that next payment.'"
You can watch the full Protect The Bag episode below.
Symetra Game Changers Event
Members of the Boys & Girls Club of King County were at the Verizon Lounge at Lumen Field on Monday evening for a panel with stadium teammates on career paths in sports beyond the field. Attendees also got to meet with Seahawks staff and receive a tour of the stadium. The 2021 Seahawks Game Changers, presented by Symetra, is a program that engages youth and teens through interactive leadership programming and opportunities to empower their peers and communities.
Social Post Of The Day
Kerry Hyder Jr. and his wife Jasmine celebrate the birth of their second daughter, Zoya Zen Hyder.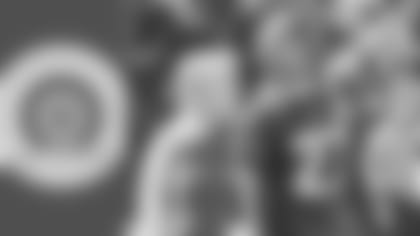 Listen To The Huddle Podcast
Hosted by Seattle Sports 710AM's Michael Bumpus, Stacy Rost, and Dave Wyman, The Huddle features player interviews, Seahawks play-by-play man Steve Raible, conversations with the opposing team's media and more to get you ready for gameday. Available on Spotify, Apple Podcasts, Stitcher and wherever else you might get your podcasts.