Good morning, 12s. Here's a look at what's happening today – Tuesday, Oct. 19 – for your Seattle Seahawks.
Michael Bumpus Talks Seahawks On 710 ESPN Seattle
After six weeks, the Seahawks are faced with a different reality than they expected entering the season. Untimely injuries and a few close losses have the Seahawks sitting at 2-4 ahead of a Week 7 date with the New Orleans Saints on Monday Night Football.
Even as Seattle rides a two-game losing streak, there are some bright spots to take from Sunday's loss in Pittsburgh. The running game was at its best against the Steelers, rushing for a season-high 144 yards. Defensively, the Seahawks allowed the fewest points in a game since Week 1. There are no moral victories, but it's worth noting areas where the Seahawks succeeded.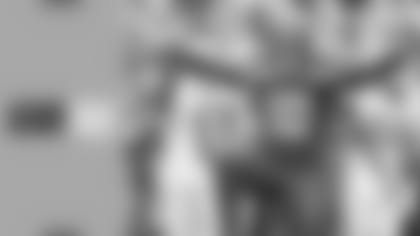 Listen To The Hawk Talk Podcast
Every week, Michael Bumpus and Nasser Kyobe release two podcasts analyzing the Seahawks previous game and previewing the next Seahawks opponent. Available on Spotify, Apple Podcasts, and wherever else you get your podcasts.
On Monday, Seahawks studio host Michael Bumpus joined 710 ESPN Seattle's "Wyman and Bob" for his weekly show appearance. While there was plenty of real discussion about areas where the Seahawks need to improve, Bumpus did see some good things on Sunday.
"I was encouraged by the play in the secondary, other than that football smacking Jamal Adams right in the helmet," Bumpus said. "I felt like they covered well. There weren't too many big plays. … They were keeping things underneath. It was just a grinder (of a game), it was two teams struggling to try and figure out who they were, and one team had a backup quarterback."
Rookie cornerback Tre Brown, making his NFL debut, was a big part of the secondary's turnaround. The Steelers' 229 passing yards was the fewest Seattle allowed all season.
Bumpus later discussed Geno Smith's performance in what was his first start since 2017. Smith had 209 passing yards and a touchdown before a fumble in overtime set up the Steelers' game-winning field goal.
"I think he's doing OK for the position that he's in. We can focus on the two turnovers. … I think TJ (Watt) just made a heck of a play. He was going after the ball all night. Could Geno have had a stronger grip on the ball? Most definitely. But the decision that he made was right. Now it's about the execution, the decision's that he's made are right, now he just has to execute."
Later, Bumpus discussed who was the biggest surprise on the team so far. While he didn't see many options, one name stood out above the rest.
"I thought (Travis Homer) was a longshot to make the team, just because he wasn't out there getting reps. And when you think of Travis Homer, you think of just a pass pro guy. But then he has a big run on third and 7. He has a big catch for 27 yards. I think (mostly) everyone is who I thought they were honestly at this point. Homer would be one of the big surprises. If there's anyone who produced this year that I wasn't expecting to produce, so far it's Travis Homer."
Social Post Of The Day
D.J. Reed is still motivated after Sunday's tough loss:
Go behind the scenes with team photographer Rod Mar as he shares moments from the Seattle Seahawks' 23-20 overtime loss to the Pittsburgh Steelers on Sunday Night Football on October 17, 2021 at Heinz Field. Eye On The Hawks is presented by Western Washington Toyota Dealers.