Good morning 12s. Here's a look at what's out there today — Thursday, October 29 — about your Seattle Seahawks.
Joe Montana Discusses Wilson-Metcalf and Montana-Rice Connections on 'DangerTalk' Podcast
Joe Montana and Jerry Rice are widely regarded as one of the greatest quarterback-wide receiver tandems in NFL history. The pair connected for 67 touchdowns during their years together with the San Francisco 49ers, winning a pair of Super Bowls in the process of decorating their Hall of Fame résumés.
That hype train continued Wednesday when Montana joined Wilson's 'DangerTalk' podcast. The Hall of Famer and future Hall of Famer discussed thoughts on their legacies, succeeding after being third-round draft picks, and how the Wilson-Metcalf connection can become like that of Montana and Rice.
"DK being only 22 years old, he came in as a rookie last year — absolute freak of nature," Wilson told Montana. "One of the things that DK and I have definitely talked about a bunch is, how do you build that relationship like Montana and Rice? Wilson to Metcalf? I think that's such an important thing that we've been harping on, me and him, just so you know. We've been talking about that."
"I think one of the things we did a lot of was, when you sit down and watch film, it's not just watching the film," Montana explained. "So you're running a hook against man-to-man … If he's inside of you, if you're on top of him, what are you going to do? If he's on top of you, what are you going to do? You have to see that on film and you have to talk it through, so that when that happens, I'm going to trust you coming under."
Russell Wilson And Ciara Fund Charter School In Seattle Area
Scott Canfield and Garth Reeves, the founders of Cascade Midway Academy in Des Moines, Wash., were set to debut their new high school program this year but were forced to delay those plans due to COVID-19. They reached out to the Why Not You Foundation for funding, and though they won't be involved in the school's day-to-day operations, Wilson and Ciara were more than happy to help.
The new charter school "focuses on academics, personalized student plans and internships and mentorships for underserved Black and brown students," according to the Associated Press. It's expected to open in fall of 2021.
Ben's Fund Annual Prime Time Auction Continues Through Friday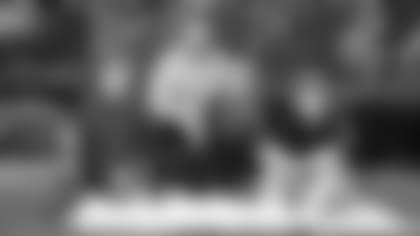 Because of the COVID-19 pandemic, the annual auction was forced to go virtual this year, launching last Friday. There are several unique, authentic items to bid on, and 100% of the proceeds from items auctioned off go to Ben's Fund. The virtual auction for Ben's Fund ends at 8 p.m. PT tomorrow, Friday, October 30. Place your bids here.
Social Post Of The Day
Continuing his participation in the #CoachTheVote campaign, Pete Carroll tweeted this video of Takiyah Ward and the custom shoes that she designed for Carroll to wear during Sunday's game against the 49ers.