Good morning, 12s. Here's a look at what's out there today — Thursday, October 28 — about your Seattle Seahawks.
Robert Nkemdiche Joins 710 ESPN's "Wyman & Bob"
Nkemdiche's career has been marred by injuries since being a first-round draft pick for the Cardinals in 2016, but the Ole Miss product had a career year in Arizona in 2018, recording 4.5 sacks in 10 games, six of which he started. So far this season, Nkemdiche has tallied 11 total tackles in five games, and tied his career high with seven tackles in the Week 2 loss against the Titans.
On Wednesday, Nkemdiche talked with Dave Wyman and Bob Stelton of 710 ESPN's "Wyman & Bob" show about the mood around the team and how they're staying positive, his enthusiasm as a football player, and more. Click here to listen to the full podcast episode, and read some highlights below:
On the mood among the team following three consecutive losses.
"For the most part, we're all enthusiastic about going back to work and having the opportunity to right our wrongs. So just for that simple opportunity, everybody's excited. That's the energy of the team, everybody's in high spirits and we want to, of course, get out of the rut of losing. But we will. And we have faith that we will. Everybody's excited about attacking the week."
On if he's always been an enthusiastic football player:
"This is really the energy I always have. Just because, in my situation, I'm really grateful [for] the opportunity and for what life is. I got to come to Seattle and get back on track and get back to chasing my dream, and being in my dream of playing in the NFL. So I'm always ecstatic and I always have the utmost appreciation of being in the position I am. I try to approach it like that everyday, regardless of the focus and the drive … I'm just excited to be back in this position, and be on a great team like the Seahawks. I can't wait to get it right for the fans."
On how the season has gone for him personally:
"It's been okay. I always have high regards for myself, and I always want to be better and keep striving to be better. I've just got to take it play by play, and one game at a time. I think I have a lot to prove, and I just want to keep practicing and keep staying focused so I can have the opportunity to go out there and prove myself. As a teammate, and us as a defense in general. I think we would like to be in a different position, but all we can do is focus on the next game and just keep elevating our game and elevating our approach."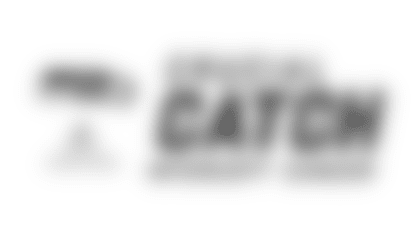 Crucial Catch
Let's intercept cancer together. Make a Crucial Catch with Virginia Mason Franciscan Health by getting screened.
Seahawks Support NFL's Crucial Catch Campaign In Collaboration With Virginia Mason Franciscan Health
Crucial Catch is the NFL's mission to fight cancer through early detection and risk reduction. Earlier this month, the Seahawks — in partnership with Virginia Mason Franciscan Health — launched a month of cancer awareness activities to promote early detection through the NFL's Crucial Catch: Intercept Cancer initiative. Representatives from the Seahawks and Virginia Mason Franciscan Health participated in a ceremonial raising of the Crucial Catch flag at Lumen Field, and the Seahawks are hosting the team's annual Crucial Catch game this Sunday vs. the Jacksonville Jaguars.
One Virginia Mason patient, Marilyn, will be in attendance on Sunday. When Marilyn went in for her annual physical at Virginia Mason Medical Center last December, some unusual lab results prompted further testing. Since Marilyn is a former smoker, a lung screening was done, which revealed three small spots on her lung. While one was determined to be scar tissue, surgery was required to remove the other two, and Marilyn later underwent chemotherapy.
Social Post Of The Day
Mike Sando of the Athletic shared this anecdote about Marshawn Lynch giving some fans from out of state a once in a lifetime experience at the team facility.