Good morning, 12s. Here's a look at what's out there today — Thursday, November 12 — about your Seattle Seahawks.
Rookie RB DeeJay Dallas Joins 710 ESPN's 'Bob, Dave & Moore'
With injuries to the Seahawks' top three running backs in Chris Carson, Carlos Hyde and Travis Homer, 2020 fourth-round draft pick DeeJay Dallas has been thrust into a much bigger role than expected for the league's highest scoring offense over the past two games.
This week, the University of Miami product talked with 'Bob, Dave and Moore' on 710 ESPN Radio about his performance against the Bills, playing in an offense led by Wilson, and more. Here are some highlights:
On the league's highest-scoring offense:
"We have a great, great leader at the helm — in coach Carroll, in coach Schotty and Russ. I attribute the points scored to the playcalling and just Russ being who he is, and our players making plays."
On the differences — or similarities — between himself and fellow Miami Hurricane Travis Homer:
"Travis is probably a little bit faster than I am. But I don't know — I come from playing receiver and Travis has played running back, so that's really our big difference. Just me being able to split out a little bit more than he does. But we're really [one] in the same, I feel like."
On how long it takes him to find his rhythm in a game:
"With my first start being the 49ers game, I was just kind of trying to find my way. But I learned a lot from that game, I learned a lot about myself from that game. Come this past Sunday, I really just tried to hone in on getting that first carry and setting the tone and setting the pace of the game, versus taking the blows and letting the defense set the pace … That first carry I told myself and I told my fianceé, 'Listen, the first carry I get, I'm going to try to punish whoever the defender is in front of me,' and that's how I tried to start the game.
"So I feel like I don't need too many carries, I just need that one to set the tone and from there, well, whatever happens, happens."
"I used to play fantasy football. My uncle is big on fantasy football. I mean, he told me I had a good score two weeks in a row, so I don't know. I hope I can make some fans happy with my fantasy score but other than that, I really don't play fantasy."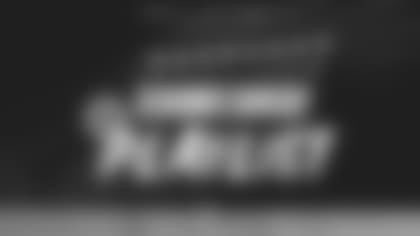 Follow the Seahawks Gameday Playlist on Spotify
Follow this playlist to hear what the Seattle Seahawks will be listening to all season long, curated by DJ Supa Sam, the official DJ of the Seahawks. Now playing: Week 1 at Colts
Social Post Of The Day
As if it were ever a question, Mike Tyson takes his shirt off and lets us know that he's still got it on Wednesday's episode of DangerTalk with Russell Wilson.