Good morning 12s. Here's a look at what's out there today — Thursday, October 22 — about your Seattle Seahawks.
Bryan Mone Joins 710 ESPN's Bob, Dave & Moore Show
On Wednesday, 710 ESPN's Bob Stelton, Dave Wyman and Jim Moore welcomed defensive tackle Bryan Mone in the latest edition of their Player Spotlight interviews.
Mone, a second-year player who went undrafted out of Michigan in 2019, has played in all five games this season after spending time on the practice squad and playing in four regular season games as a rookie last year. He's helped bolster a defensive unit that currently ranks fourth in total rushing yards surrendered, and has shown the ability to be effective in pass rush as well. Mone also recorded the safety of running back Ezekiel Elliott in the Hawks' week 3 victory against the Cowboys, and was credited with half a sack (alongside fellow second-year man Anthony Rush) in the week 4 win at the Dolphins.
In the interview, Mone discusses his college experience, the differences between his rookie year and this year, and talks about what he's learned from newly-signed veteran tackle Damon 'Snacks' Harrison.
On what it was like to play at Michigan:
"One of the crazy experiences of my life, I'd say. Just playing in the Big House with 100+ thousand people screaming, cheering you on, it can't get better than that. Other than CenturyLink. CenturyLink is really loud, too, it's really nice. Can't wait to have fans in there, too."
On the biggest changes from his rookie season to now:
"Last offseason I was just working on my confidence. That was the main thing was just boosting up my confidence, feeling comfortable, knowing where I need to play on defense. So year two, it's a step forward, but still working on it, still got a long way to go, still a lot of room for improvement. It's exciting."
On what it's like playing defensive tackle:
"It's the trenches. It's where all the hard work and the dirty work [happens]. You've just got to do what you've got to do, and I enjoy it. It's fun. I love it. I love double teams, love going against base blocks. It's fun."
On what he's learned from being around 'Snacks' Harrison:
"He's strong, really strong dude. He gave me some pointers. He's a good veteran, he's helping me out on a lot of techniques, on the field and off the field … 'Save, save, save your money. Take care of your money, take care of your family.' Football's not for long, and he was just saying, 'Have fun with this, have fun with every opportunity they give you. Take advantage of everything they give you.'
Shop And Score With Safeway — Week 4 Winner
With the Seahawks scoring four touchdowns in the Week 4 win against the Dolphins, Raelyn Bean of Everett has scored free groceries for a year. Congratulations, Raelyn!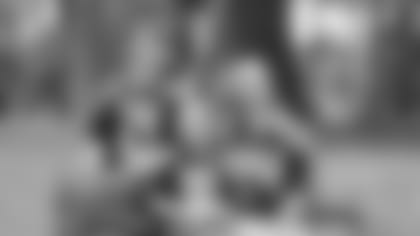 The more we score, the more prizes you could win this year thanks to Shop and Score by Safeway. Prizes are awarded daily for every Seahawks touchdown and field goal throughout the season, and each time we score four touchdowns in a game, one fan will win free groceries for a year from Safeway. Five touchdowns means free groceries for a decade, and six touchdowns gets the winner groceries for life. Learn how to enter, and more, here.
Social Post Of The Day
Ryan Neal tells us about his favorite sports movie and the song he's been listening to on repeat as of late: