Good morning, 12s. Here's a look at what's out there today — Thursday, October 8 — about your Seattle Seahawks.
Brady Quinn Compares 2020 Seahawks to 2013 Super Bowl Team On 710 ESPN's Brock & Salk Show
NFL announcer and former quarterback Brady Quinn got to see this year's undefeated Seahawks team up close when he called Sunday's game against the Dolphins for FOX alongside Dick Stockton and Sara Walsh. And through four weeks of the season, Quinn, a member of the Super Bowl-winning 2013 Seahawks during the preseason, thinks that this year's squad could have what it takes to reach the same heights that the 2013 team did.
This week, Quinn joined 710 ESPN's Brock & Salk show to compare the two teams. He also discusses Russell Wilson's evolution from 2013 to now, the strides that have been made in the passing game this season, and why he thinks it's taken until 2020 for Wilson to garner real MVP buzz.
On how this year's team compares to the 2013 Super Bowl team:
"I think just in the demeanor when you talk with them, about just their mindset, how they approach things. You know, Pete's Pete. It's similar in the sense of how they go about competing, how they go about challenging each other. And Russ is different but still the same in some ways, he's that kind of positive figure who is always thinking 'How can I win? How can I get better? How can I help this guy improve? Just talking about what he did to prepare for the season — I mean, he was by himself doing full padded workouts."
On whether he expected Russell Wilson's trajectory to reach this level back in 2013:
"100 percent. There's no doubt about it. Again, just his approach, I think [about] the process of how he would go about preparing every single day when I was with him in the offseason. The competition, the way he always wanted to better himself. Little things, it was who was going to win getting to the facility first? Who was going to be in there first, get their workout done? Those sorts of things. He was just an ultimate competitor."
On who is responsible for the uptick in passing offense to start the season:
"I think it's in some parts Russ taking charge, because some of the stuff they're doing within the offense, he has kind of free rein to do. Bringing the back back in the backfield to get to a certain play or certain look depending on the coverage when they're in an empty formation. He's got some free rein in that regard. Ultimately in my mind, though, Brian Schottenheimer is still calling the plays, and so I think you've got to give him a lot of credit for ultimately making that decision."
K.J. Wright To Appear On 'Family Feud' Thursday On ABC
Tonight, Seahawks linebacker K.J. Wright will appear on the iconic 'Family Feud' show as a group of current NFL Pro Bowlers take on a team of NFL legends for charity.
Wright will be teamed up with star players such as Cameron Jordan, Marcus Peters, Tyron Smith and Joe Haden. They'll be playing for Silence the Shame, a nonprofit organization aimed at building education and awareness around mental health through community engagement, training, and outreach programs.
The Legends team consists of Donovan McNabb, Adrian Peterson, Eddie George, Torry Holt and Hines Ward. They'll be playing for the Fisher House Foundation, which builds comfort homes at military and VA centers for veteran families to stay at while a loved one is in the hospital.
Rapper and Seattle native Macklemore will also appear on the show. He'll be representing Art Corps, an organization that works to address race and income-based opportunity gaps in arts education, as he takes on rapper Lil Yachty and his 'Sailing Team,' who are playing for the National MS Society. 'Family Feud' airs tonight at 5:00 p.m. PT on ABC, and episodes can be viewed on demand and on Hulu the next day.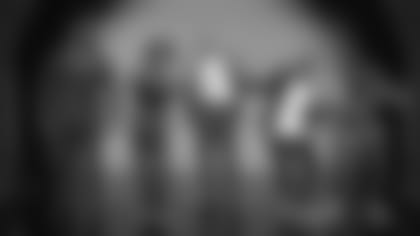 Social Post Of The Day
ESPN NFL analyst and former Pro Bowl safety Ryan Clark reflected on our week 4 matchup with the Miami Dolphins on Twitter Wednesday evening, and while doing so he sung the praises of Jamal Adams while also making sure Quandre Diggs' efforts didn't go unnoticed: