DeeJay Dallas' son, also named DeeJay, has not yet reached his first birthday—he turns 1 at the end of this month—but already if his dad yells "touchdown," the younger DeeJay knows to raise his arms over his head. 
Dallas, a fourth-round pick out of the University of Miami in this year's draft, is one of several Seahawks players who on Sunday will enjoy their first Father's Day as dads. For Dallas, this month caps a very eventful year that saw him and his fiancé, Yasmin Dugans, welcome a son into the world as he was getting ready for his final season of college football, which was eventually followed by Dallas getting selected by the Seahawks in the fourth round of the 2020 draft. 
"I had my son back in camp of my final year of college, so it was rough in the beginning, but we got through it," Dallas said in a phone interview. "With him coming up on his first year, it's a blessing just to watch him grow up. It's a blessing to be a part of all of his milestones. I count him as my greatest gift from God. As athletes, we all count our abilities as gifts, but now I count my son as my greatest gift I've received from God. It's a blessing.
"Just witnessing all of his milestones, watching him grow up. That's really been the best part for me. All those milestones really encompass the whole experience of being a father."
While Dallas said his decision to leave Miami early for the NFL wasn't entirely due to the arrival of his son, that was a factor, and now he works every day to make sure he can be the best version of himself he can be—both as a dad and as an athlete—to take care of his son. 
"Nowadays it's like, what can I do to better myself for him?," he said. "I'm trying to make money to save up for his future. I go out and train every day, go hard with him on my mind. I've got to be my best me for him. That's how he's impacted me, just making me more urgent. He pushes me to be the best me."
"It's the best thing in the world."
Quandre Diggs missed out on some of his daughter's earliest moments. Ariya Marie was born in July just days before the start of training camp, and knowing that he would be busy and stuck in a hotel during camp, Diggs and his girlfriend Abby Evans decided she and Ariya would stay home in Austin, Texas, where they have family to help. Then in October Diggs was traded from Detroit to Seattle—even farther from Texas—but as Ariya got older and was able to fly, she and Evans made several trips to Seattle, including for Thanksgiving and Christmas.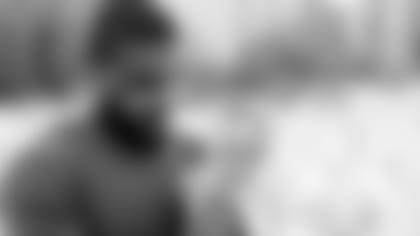 Now, with most of the world stuck at home due to a pandemic, Diggs has been making up for lost time. 
"It's kind of been up and down," Diggs said of his past 11 months since Ariya was born. "It was definitely up when she was born, definitely one of the highs of my life when she was born, and one of the lows was leaving for training camp a few days later, having to leave her and my girlfriend at home. My girlfriend had to do a lot of stuff on her own and I wasn't able to help…And now, you hate to put it like this, but the pandemic has done some good for me just because I've gotten to spend so much quality time with her and my girlfriend. It has been really fun, man. I've learned a lot. Once I got home, it was like, I'm a brand new father because I was doing stuff my girlfriend had to do every day. It's definitely cool, it's definitely challenging, but I enjoy the challenge. I'm definitely looking to having more sometime in the next year or two."
Being home almost all of every day since the Seahawks' season ended in January means Diggs has been able to see just about every milestone over the past five months, including Ariya starting to walk at an early age. 
"My favorite part is just being able to see her grow each and every day," he said. "Just to look at her in the morning, no matter if it's 6 o'clock or whatever, just the excitement of, 'Hey, that's my child.' I get to wake up and see her every day, see her growth every day… She started crawling about a month after I got back, then she started walking at eight months, so I've seen the whole deal… It's definitely exciting for me to spend this time with her. 
"It's been dope. I wouldn't change it for the world."
While Diggs is new to being a parent, he isn't new to being around children thanks to his five nieces and nephews, including three nephews—the sons of his brother, former NFL defensive back Quentin Jammer—who are staying with Diggs and Evans this summer. 
"I expected (parenting) to be tough, obviously, but I have five nieces and nephews, and my three oldest nephews are basically living with me this summer," he said. "I've seen them grow up, I've been around changing their diapers when they were younger, so for me it was just about having the patience to deal with it consistently every day. That's what worried me, and it actually hasn't been as tough as I thought it would be. My girlfriend has been phenomenal. Her mom and her sister are right down the street, they're five minutes away. My mom is back in Florida, and this is the most my mom has ever visited me in an offseason. We've had a lot of help."
Watching Jammer juggle the life of an NFL player with being a dad set a high standard that Diggs is trying to live up to after seeing his big brother handle those two roles so well. 
"Growing up, my brother was my role model, he and my mom are the people I've been closest to my whole life," he said. "My brother, he's a great dad, he's a phenomenal dad. I'm telling you this guy has the most patience I've ever seen with kids, it's crazy. So it wasn't any advice he gave me, it was more just watching him. I remember him coming home from OTAs, coming home from practice, playing with the kids, putting them to sleep, reading them books, giving them baths. I watched how he was as a dad, and I was like, 'that's how I want to be as a dad.'… My goal was always to be the best father I could be, and he definitely helped put me on the right track to be that."
Asked what advice he might pass on to any new dads, Diggs said, "I would tell them it's the best thing in the world, it's the best feeling to be able to look at your child and know that she's yours, no matter if she's crying all night or what. She's your child, you might be frustrated, but at the end of the day, a parent's love is unconditional. Just enjoy those moments, they're not going to be baby's forever."
"It melts your heart."
Offensive lineman B.J. Finney signed with the Seahawks as a free agent this offseason, but that wasn't his biggest life change over the past year, not with him and his wife, Amanda, welcoming Zoey Lynn to the world seven months ago. 
"It's kind of hard to remember a time before her," Finney said from his home in Manhattan, Kansas. "Walking in the door from meetings or being gone, and she looks at you with a big smile because dad's home, it's the like the world stops in that moment. It melts your heart."
While Finney was pretty busy when Zoey was born in October, he is making the most of his time at home now until whenever he and his teammates will report to camp. 
 "The good thing is a lot of those early days, she was sleeping, so I didn't feel like I was missing out on too much," he said with a laugh. "Being home at this time, I wouldn't trade it for anything. I get to spend so much time with her that I wouldn't otherwise. I get to make so many memories that I'll be able to treasure forever." 
Like most new parents, Finney is trying to take the best advice any first-time parent can hear. 
"Patience is key," he said. "They might be throwing a fit or something, but it'll pass. Just slow things down and enjoy the time with them. They're only this little once. 
Oh, and one other all-important tip: "Have plenty of diapers and wipes."