The Seahawks are 12 games into the 2022 season, which means they're three-quarters of the way through the regular season… well, sort of anyway. With a 17-game season, there are no clean quarterly breaks, but with a Thursday night game coming up next week, it's a lot easier to take some time this week to reflect back on the third quarter of the season now rather than during a short week, so that's how we're going to do it.
And with that in mind, it's time to look back and the players, plays and trends that stood out over the past four games and hand out some third quarter honors for the 7-5 Seahawks.
Offensive MVP: QB Geno Smith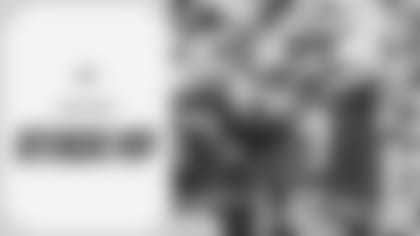 The first quarter and first half MVP is also the third quarter MVP, because Smith has not only been having a great season, but also a really consistent one, as is evident in the fact that he has more games with a 100-plus passer rating (nine), and more games with multiple touchdown passes (10), than any other NFL quarterback.
Smith leads the NFL with a 72.7-percent completion percentage, a mark that, should he be able to keep it up for five more games, would rank among the most accurate seasons in NFL history, trailing only Drew Brees' 2018 and 2019 seasons in which he completed 74.4 and 74.3 percent of his passes.
Over the last four games, Smith has kept up his high level of play, throwing nine touchdown passes with three interceptions, posting a passer rating of 106.6 or better in each game, including a 116.1 mark last week when he threw for a career-best 367 yards and three touchdowns, finishing his day with a game-winning drive in the final minutes of the game.
A good case could also be made for receivers DK Metcalf and Tyler Lockett in this category, as both have had huge roles in the offense's success. Lockett, who last week tied a franchise record with a touchdown reception in five consecutive games, has 20 catches for 305 yards and four touchdowns over the past four game, while Metcalf has 29 catches for 325 yards and two touchdowns, including the game winner on Sunday, over that span.
Defensive MVP: LB Jordyn Brooks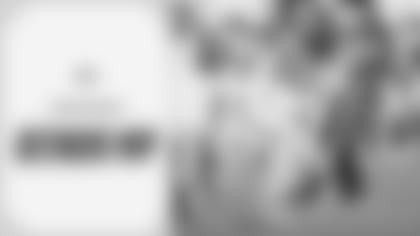 This one could easily be a repeat as well, as first-quarter and first-half defensive MVP Uchenna Nwosu has continued to excel, recording four sacks over the past four games, including two last week. Rookie corner Tariq Woolen, who added two more picks over the past three games, is another worthy candidate, but focusing on just the past four games, it's hard to top the work done by Jordyn Brooks.
Taking over the on-field play-calling duties this year, Brooks has more on his plate than ever, and he has been drawing rave reviews from Pete Carroll and defensive coordinator Clint Hurtt for the way he has handled those extra duties. And Brooks, who set a franchise record for single season tackles last season with 183, has also been incredibly productive for a second straight season, recording 131 tackles through 12 games, the second most in the league. Over the past four games, Brooks has 53 tackles, two tackles for loss, three passes defensed and a sack.
Special Teams MVP: P Michael Dickson & K Jason Myers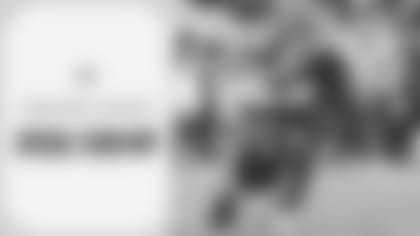 Dickson has been particularly good of late, averaging 51.2 yards per punt over last four games, and even more impressive, a 49.4 net average, with seven punts downed inside the 20. Four of those seven came in an impressive performance in Munich in which Dickson had a 61-yard punt downed at the 2-yard line by Dareke Young, and a 68-yarder that went out of bounds at the 4-yard line.
Myers, meanwhile, has made every kick he has attempted over the past four games, going 6 for 6 on field goals and 12 for 12 on extra points, and he ranks third in the NFL and first in the NFC in points scored with 102.
Best Rookie(s), Offense: Tackles Charles Cross & Abraham Lucas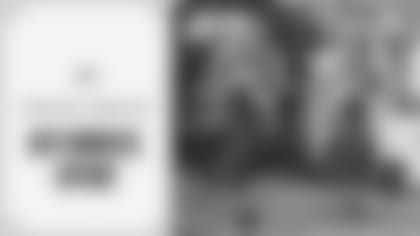 Kenneth Walker III's game against the Cardinals in which he rushed for 109 yards and two scores got him off to a great start in the third quarter, but due to several factors, ranging from tough opposing defenses to the Seahawks playing from behind against Tampa Bay to a Week 13 injury, his production tapered off the last few weeks—though he did still add two more touchdowns against the Giants. So instead, we'll split this one between the two rookie tackles who have been so important to Seattle's success all season long. Both have started all 12 games, with Lucas playing every offensive snap, and Cross missing only two plays all season.
Best Rookie, Defense: CB Tariq Woolen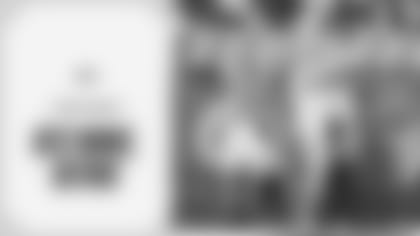 Nickel corner Coby Bryant and outside linebacker Boye Mafe have both made big contributions, but there's no doubting that Woolen has not only been the Seahawks' top defensive rookie, but quite possibly the league's best as well.
With two more interceptions in the past four games, Woolen is up to six this season, a total that is tied for the most in the NFL and is the most among cornerbacks. That's also a franchise rookie record, with Woolen passing Earl Thomas and Michael Boulware for that honor.
Best Non-Rookie Newcomer: OLB Uchenna Nwosu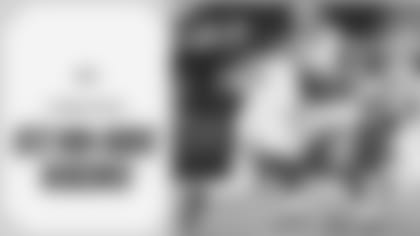 As mentioned earlier, Nwosu could easily have been named defensive MVP once again, as he continues to be one of the league's most productive pass rushers. With two sacks against the Cardinals in Week 9 and two more last week, Nwosu upped his total to 9.0, a career high and a total that's tied for 10th most league wide. Nwosu also has three forced fumbles, including one last weekend, 19 quarterback hits, which is tied for ninth most in the league.
Defensive end Shelby Harris and tight end Noah Fant, both of whom came to Seattle as part of the trade that sent Russell Wilson to Denver, have also both been big factors all season, and have had several standout moments of late.
Best Play, Offense: Geno Smith to DK Metcalf for the win vs. the Rams.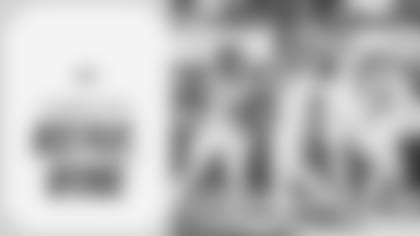 There have been more spectacular throws and catches, and dynamic Walker runs, over the past four weeks, but when you factor in the importance of the play, there's no topping Smith's 8-yard touchdown pass to Metcalf in the final minute of Sunday's win over the Rams. The throw, a pin-point laser in traffic, which Metcalf secured with Jalen Ramsey hanging off his back, capped a 10-play, 75-yard drive to give the Seahawks a comeback win and end a two-game losing streak.
Best Play, Defense: Quandre Diggs' diving interception vs. Raiders.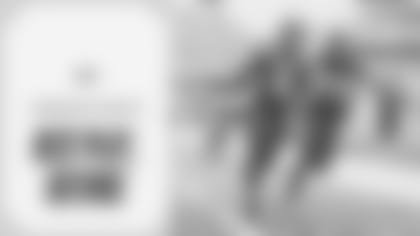 The Seahawks defense has seven takeaways in the past four games, so there are plenty of good options here, but it's hard to top Diggs' interception on the first play from scrimmage against the Raiders. Diggs, who didn't have an interception coming to that Week 12 game, was running just behind Las Vegas receiver Davante Adams as Derek Carr's pass sailed past Adams and to a diving Diggs, who, despite having to track the ball with Adams in front of him, was able to secure the grab. Diggs would go on to add his second interception later in the half, with the two turnovers leading to 10 points for the Seahawks.
Best Play, Special Teams: Michael Dickson's 68-yard punt in Munich.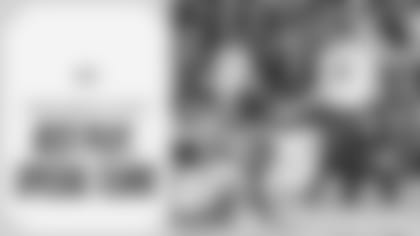 Can a punt qualify as a best play? You bet it can when it's Michael Dickson booming a punt in the cool, damp Munich air that bounced, danced along the sideline, and went out of bounds at the 4-yard line, 68 yards from the original line of scrimmage. It was one of two punts in that game for Dickson that went 60-plus yards to pin Tampa Bay inside the 5-yard line, and an example of the kind of weapon Dickson can be when he's on top of his game, which he has been for pretty much all of this season.
Trend To Continue: Passing Game Efficiency
We covered a lot of this already in the offensive MVP section above, but the most consistent part of Seattle's play throughout the season has been the way Smith and company are able to move the ball through the air. There's plenty of credit to go around, from Shane Waldron's play-calling to the line's pass protection to the play of the pass-catching weapons, led by Lockett and Metcalf, as well as a talented trio of tight ends. But there's no denying that Smith has had a huge hand in the team's and the offense's success, putting together one of the best seasons of any quarterback in the NFL this season.
Trend To Clean Up: Run Defense
The Seahawks played very good run defense over their four-game winning streak, but starting with a Week 10 loss to Tampa Bay, opponents have found a lot of success running the ball on Seattle. The Buccaneers, who came into that game ranked last in the league in rushing, caught the Seahawks a bit off guard by deploying a run-heavy offense, and finished with 161 yards on the ground, 100 yards better than their per-game average heading into that game. A week later, the Raiders ran for 283 yards, led by Josh Jacobs 229 yards, the most by an opposing rusher in Seahawks history. Last week the Rams rushed for 171 yards in a loss, but the Seahawks defense did make some significant in-game improvements, with most of the damage coming on the type of perimeter runs that the Rams in particular excel at. That's not to say those plays are excusable, but the Seahawks do feel like they got better last week, particularly when it comes to stopping the more traditional rushing attacks. If the Seahawks are going to finish strong over the final five games, they know they'll have to continue to improve on defense, and in the running game in particular.
Seahawks linebacker Uchenna Nwosu visited the Boys and Girls Club where he talked about how reading is important, gave each student books, and unveiled the NWOSU reading corner on December 5, 2022.