Standing in front of his locker after Thursday's practice, Seahawks safety Ryan Neal couldn't contain his excitement. 
Neal, who has missed the last three games with a knee injury, was back at practice this week, and wasn't listed on the final injury report, meaning he is ready to play when the Seahawks face the 49ers Saturday at Levi's Stadium in the Wild Card round of the playoffs. 
"I am (expletive) exciting to get back on the field," Neal said. "I've been waiting forever. It has been (expletive) painful watching my boys go out there and have fun without me. I'm glad to be back here, man, just trying to make my way back."
Asked how he was feeling, Neal added, "(Shoot), I'm ready to rock and roll man. Hell yeah, I'm ready to rock and roll, ready to give it whatever I've got. We made it in, so it's all hands on deck from here on out."
Said Seahawks coach Pete Carroll, "He's back and ready to go. He's been a real active part of what we do, a great spirit in what we do, and I'm really happy he'll get back. We'll have a nice little rotation there at that spot if he makes it all the way."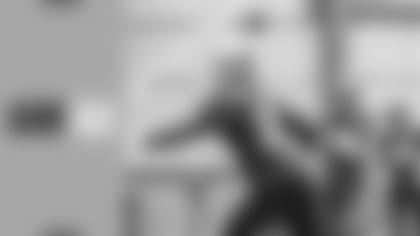 Listen To The Hawk Talk Podcast
Every week, Michael Bumpus and Nasser Kyobe release two podcasts analyzing the Seahawks previous game and previewing the next Seahawks opponent. Available on Spotify, Apple Podcasts, and wherever else you get your podcasts.
Neal initially injured his knee in Seattle's Week 13 win over the Rams and was able to play through it for two games, but the short turnaround before Seattle's Week 15 game against the 49ers caused the injury, which Carroll described as bursitis, to worsen to the point that Neal reluctantly had to take some time off.  
"I beat it up pretty bad in the Thursday night game, it filled up with fluid twice over the weekend, and after that it was just locked up, I couldn't bend it anymore," Neal said.
Said Carroll, "He's been frustrated. He's a high-energy guy, and he wants to be part of this game as much as anybody we've got. So he's really grateful right now that he gets a chance to probably play in this game."
The Seahawks have four players listed as questionable, though two of them, defensive end Shelby Harris (knee) and running back DeeJay Dallas (ankle/quadricep), did practice Friday, and Carroll sounded optimistic about both.
On Harris, Carroll said, "He got back out there today, looked good. We got a good look at him… I do think he'll play, yeah."
On Dallas, Carroll said, "He worked really hard today, was full-go."
Also questionable are guard Phil Haynes (ankle) and cornerback Xavier Crawford (hamstring), neither of whom practiced Friday.
Running back Kenneth Walker III is ready to go despite again being limited in practice during the week, taking Wednesday off and being limited on Thursday. The Seahawks have limited Walker's practice load ever since he returned from an ankle injury that kept him out of their Week 14 game against Carolina. 
"He has looked fast this week," Carroll said. "He bounced back again. Being resilient and the recovery part is really what's so darn important. He looks good, he has handled it well."
Local schools in Seattle surprised the team with good luck posters for the playoffs, featuring creative artwork and special notes to the players.