Good afternoon, 12s. Here's a look at what's out there today – Monday, August 1 – about your Seattle Seahawks.
Remembering NBA Icon Bill Russell
On Sunday, the basketball world lost 11-time NBA Champion and Hall of Famer William "Bill" Russell to undisclosed causes. While Russell will forever be remembered for his time on-and-off the court as a Boston Celtics player and coach; the impact he's left on the Seattle area over the last 50 years is eternal.
Bill Russell was headed to the Hall of Fame long before he arrived in Seattle in 1973. The Oakland native bywayof Monroe, LA starred at San Francisco University. In the 1956 NBA Draft, the Boston Celtics acquired the rights to the St. Louis Hawks' No.2 pick Bill Russell via trade. It would go down as one of the most-historic trades in NBA history. Over the course of the next 12 years, the Celtics would win 11 NBA titles, with Russell serving as a player-coach for his last two seasons. In that span, he captured five Most Valuable Player awards, along with an All Star Game MVP in 1963. The Pro Basketball and College Basketball Hall of Fame member was a champion of civil rights, and was not only vocal about the prejudice African-Americans were facing across the globe - but also what faced in his own arena.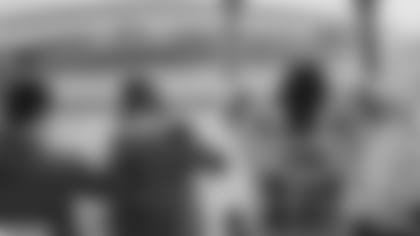 Group Tickets
Looking to bring a group of 15+ to the game? A limited number of group ticket packages are available to host your friends, family, clients, or co-workers on Seahawks gameday.
After retiring in 1969 as a champion, Russell took time to himself to figure out what was next. It didn't take long for inquiring NBA franchises to question if he'd return to the league as a coach. Seattle Supersonics owner Sam Schulman came knocking persistently, and at first Russell declined. Eventually the two came to terms, with Russell having a heavy-involvementin front-office affairs for the then-suffering franchise. 
In his second season as coach, Russell would take the Supersonics to their first playoff appearance, defeating the Detroit Pistons before losing in the western conference semifinals. In 1976, Seattle would return to the semifinals, losing in six games to the Phoenix Suns. The 1977 Sonics would finish just under .500, missing the playoffs before Russell retiredfor a second time.
"Sam Schulman has a dream which I know he will fulfill to bring the N.B.A. championship to the wonderful people of Seattle," the 43‐year‐old Russell said in the statement.
In 1978, the Supersonics brought in head coach and former Sonics legend Lenny Wilkens, who would take the team to the NBA Finals in year one, losing in seven games to the Washington Bullets. But in 1979, Seattle returned to the finals for a rematch with the Bullets, winning the first and only team championship in five games.
After more than four decades living on Mercer Island, Russell listed his home for sale last August. Over the years, he's made plenty of drives down to the Seahawks facility for a visit to chat with players or catch up with old friends like head coach Pete Carroll. 
As many across the globe continue to pour in sentiments of how Russell impacted them or their town, we remember what Russell meant to Emerald City. 
Seattle Icon Bill Russell with Seahawks head coach Pete Carroll at team facilities. A frequent visitor from Mercer Island.
Social Post Of The Day
Seahawks legend K.J. Wright sits down with Seahawks gameday host Gee Scott Sr. to discuss overcoming a torn labrum in his first preseason game. #Forever50
The Seahawks take the field on day 4 of Training Camp on Saturday afternoon and some familiar faces returned to the field.