Two years into his tenure as the head coach and general manager of the Seahawks, Mike Holmgren made a trade with his former team, the Green Bay Packers, to acquire what he hoped would be Seattle's long-term solution at quarterback.
A sixth-round pick who had spent his rookie season on the practice squad and the next two years backing up Brett Favre, Matt Hasselbeck was hardly a household name, but Holmgren was the coach who helped mentor Favre and Steve Young, and who was the offensive coordinator in San Francisco when Joe Montana won a pair of MVP awards, so if Hasselbeck was Holmgren's hand-picked choice for the Seahawks, then surely it would be smooth sailing once Hasselbeck got to the Pacific Northwest and took over the starting job.
"It didn't start out so hot for me there," Hasselbeck recalled.
"When we traded for Matt, I would say the first couple of years were kind of bumpy," said Holmgren. "It was kind of tough love."
Hasselbeck struggled at times in his first two seasons in Seattle, and Holmgren even benched him on a couple of occasions in favor of veteran Trent Dilfer. The two strong-willed competitors also clashed at times when they didn't see eye to eye on things. It was, in the early days at least, anything but a perfect marriage of coach and quarterback.
Once things started clicking, however, Hasselbeck became the type of Pro-Bowl quarterback Holmgren envisioned, and was a leader of the teams that helped put the Seahawks on the map with a run of success that to that point was unrivaled in franchise history.
"He had come from Green Bay, and he's very, very bright, and he said, 'We didn't do that in Green Bay,' but we had changed some things," Holmgren said. "But then all of a sudden we had a moment, he came into my office one day the second year, and he said, 'Mike, I get it.' So we kind of had that moment, and he did a remarkable job, he was great for us, really great for us. I've been fortunate to be around some really fine quarterbacks, and he was one of them."
With Hasselbeck leading one of the league's best offenses, the Seahawks reached the playoffs five straight years from 2003-2007, won four straight NFC West titles, and most notably, reached the Super Bowl for the first time in franchise history.
And during halftime of Monday night's game against the Saints, Hasselbeck's status as an all-time great Seahawk will be cemented as he is enshrined in the Ring of Honor. Fittingly, Holmgren, the man who brought Hasselbeck to Seattle and who led the Seahawks to new heights, will also go into the Ring of Honor next week when the Seahawks host the Jacksonville Jaguars on October 31.
Hasselbeck becomes the 13th member of the Ring of Honor, and first addition since the late Paul Allen was inducted in 2019, joining Steve Largent, Jim Zorn, Dave Brown, Pete Gross, Curt Warner, Jacob Green, Kenny Easley, Dave Krieg, Chuck Knox, Cortez Kennedy, Walter Jones and Allen.
Hasselbeck was a three-time Pro Bowler with the Seahawks who started 11 playoff games, and was team captain for nine seasons. Hasselbeck also won the team's Steve Largent Award in 2009, was the team's Man of the Year in 2003, and finished his Seahawks career as the team's all-time leader in pass attempts (4,250), completions (2,559), yards (29,434) and career wins (74), and was second in touchdowns (174), numbers all since surpassed by Russell Wilson.
This latest honor is one Hasselbeck could only dream about when he arrived in Seattle as an inexperienced player who was trying to hang onto a starting job.
"I remember being in the stadium and looking up at those names—some of the names I knew, and some of the names I had to go do some research—but that was definitely something that was there in my mind, like, 'Wow, can you imagine having such an impact that someday your name is up in the stadium?'" Hasselbeck said. "That would be a miracle, basically."
So when Seahawks president Chuck Arnold called Hasselbeck with the news that he was going into the Ring of Honor, Hasselbeck was at a loss for words.
"I didn't really know what to say," Hasselbeck said. "I knew it was a huge deal, but I was a little bit at a loss for words."
Hasselbeck going into the Ring of Honor during a game against the Saints is a nice touch, as it was a game against New Orleans that went down as one of the best moments of Hasselbeck's career. When the Seahawks won the NFC West with 7-9 record in Pete Carroll's first season in Seattle, nobody outside of Seattle's locker room thought they stood a chance when they hosted the defending champs in the Wild Card round of the playoffs. But Hasselbeck, who was playing with a broken wrist on his non-throwing arm, and who had missed Seattle's Week 17 game with a pulled glute muscle that wasn't completely healed, had one of the best games of his career, going toe-to-toe with Drew Brees while throwing for 272 yards and four touchdowns. Yes, Marshawn Lynch's "Beast Quake" run will always be what gets remembered most from that game, but the Seahawks wouldn't have been in position to be trying to protect a late lead if not for a brilliant performance from Hasselbeck in his final home game as a Seahawk.
"For whatever reason, I don't usually remember the good games," Hasselbeck said, "I remember the games like 'Oh man, I wish we would have, I wish I would have…' I remember the other things, but for whatever season, I remember that game. It was a special game."
After that game, Hasselbeck enjoyed one final, albeit unplanned, moment on the field with his kids. While Hasselbeck did not yet know it would be his last home game as a Seahawk, he was heading into free agency, meaning his future was uncertain, so some of the other players' wives arranged for Hasselbeck's three children, Annabelle, Mallory and Henry, to get onto the field. After doing an interview with NBC, Hasselbeck walked off the field with Henry on his shoulders, and with Annabelle and Mallory—who happened to be carrying the ball from the famous "Beast Quake" run—by his side.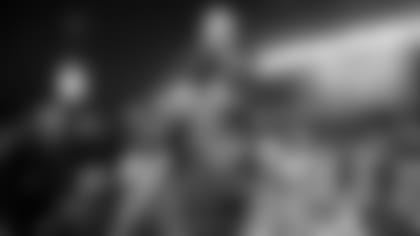 "We win the game, and never, ever had my kids been on the field after a game, but someone, one of the other wives I think, must have known what I did not know—that it was my last home game—and she handed my kids to a police officer who then got my kids on the field," Hasselbeck said. "I had a broken wrist, so I couldn't hold Henry's hand, so I put him on my shoulders. I gave my daughter the ball that I had taken the final knee with, which I found out later was probably the ball from the Beast Mode run. For whatever reason—I think I did some interviews on the field—I was one of the last guys coming off the field with my kids there, and it's a picture that I'm proud of. It was an emotional moment. My kids love the photo, my family loves the photo. I remember looking up at that tunnel, my family was sitting right there. It was a very, very cool thing."
And for all that Hasselbeck accomplished while he was in Seattle, from the early days at Husky Stadium to leading the Seahawks to the Super Bowl, to his final home game in Seattle, that shocking playoff win over the Saints, to all the records he set, the legacy of Hasselbeck, as well as Holmgren and everyone involved with those teams from the 2000s, goes far beyond what they did during their coaching and playing careers in Seattle.
By turning the Seahawks into perennial contenders, those teams helped make the Seahawks relevant on the national stage, they helped make blue and green cool, and they helped erase the stigma of Seattle's remote location—South Alaska as Hasselbeck jokingly used to call it. For Hasselbeck, that all came full circle when he was in New York during the buildup to Super Bowl XLVIII.
"One of the coolest moments for me really was—and I wasn't even on the Seahawks—but I was in New York for that New York Super Bowl, and everywhere I went, there was Seahawks gear," he said. "And when we were playing with the Seahawks, we had some great players, we had some guys with great years, but you couldn't buy Seahawks gear around the country. It was hard to buy Seahawks gear in Seattle. So that just mattered a lot to me when I was in New York. I found myself stopping people, being like, 'Hey, love your hat! Nice shirt! Go Seahawks!' It was really cool. And so when they got it done in New York, that was just a really, really proud moment.
"Now Seattle is a powerhouse. And they're one of the star teams, and Russell Wilson is a big reason for that, and Pete Carroll is a big reason for that. And there's a cool factor with the Seahawks, and the swagger and an attitude and a reputation and a toughness and a grit. And they've earned it, they've definitely earned it, but I think I would speak for all my teammates in saying that I think we're all really, really proud of that, of them."
On March 2, 2001, the Seattle Seahawks acquired quarterback Matt Hasselbeck from the Green Bay Packers, beginning a 10-season span in Seattle, including the team's first Super Bowl appearance.