Good afternoon, 12s, and Happy Blue Friday!
Here's a look at what's 'out there' for today – Friday, April 24 – about your Seattle Seahawks.
Changing Things Up
It was certainly a unique first day of the draft. For starters, the Seahawks did NOT trade their first round pick, instead using their original pick for the first time since 2011. Oh, and the whole quarantine thing was a little different, too.
Immediate comparisons have been made to Seahawks All-Decade linebacker Bobby Wagner, and it's not just because they now wear the same uniform. In fact, NFL Network's Brian Baldinger featured Brooks in one of his #BaldyBreakdowns videos earlier this month, and Wagner's name was mentioned more than once.
It's no coincidence, either. Jordyn has apparently spent plenty of time watching the Seahawks linebackers over the years. "Bobby Wagner is somebody I've looked up to since he entered the league, just the guy I put on my pinnacle as the best linebacker in the league," Brooks said. "So to get a chance to learn from him, play beside from him, feed off of him, pick his brain, it's an incredible opportunity for me. And also K.J. Wright, two great linebackers, I'm just excited to play next to those guys and learn and truly develop to be a great linebacker in this league."
Party Time
With 12s not able to join us for an in-person draft party this year, we decided to throw a virtual draft party instead. The show kicked off with some star power as Seahawks fans Rainn Wilson and Joel McHale joined hosts Gee Scott (KIRO 97.3 FM) and Stacy Rost (710 ESPN Seattle), and it never looked back. From Lofa Tatupu showing off the "guns" on his picturesque Zoom background to K.J. Wright talking homeschooling during the quarantine, it was a lot of fun.
If you missed it, watch the show in its entirety here.
Previewing Day Two
The Seahawks are set to make three picks on day two, with two picks (No. 59 and 64 overall) in the second round and a compensatory pick in the third round (No. 101 overall). Get things started by joining us for another Seahawks Virtual Party beginning at 3 p.m. on Seahawks.com, the Seahawks app, Facebook, Twitter and YouTube.
Round two of the NFL Draft will begin at 4 p.m. on NFL Network, ESPN and ABC.
Seahawks Drop In On Draft-A-Thon Live
Speaking of star-studded livestreams, the NFL hosted the first of three Draft-A-Thon Live shows last night. The show, intended to shine a spotlight on the league's fundraising efforts throughout the Draft for COVID-19 relief efforts (more on that here), was five hours of non-stop entertainment.
Rich Eisen and Deion Sanders served as hosts along with special guest Kevin Hart. Stars from the music industry like Lil Wayne, Quavo and Blake Shelton were mixing it up with football legends like Barry Sanders, Brett Favre, and LaDainian Tomlinson throughout the show.
Plenty of Seahawks stopped by as well, starting with quarterback Russell Wilson about 26 minutes in. At one point, Russell found himself as the center square of a Brady Bunch-esque grid of sports and pop culture royalty.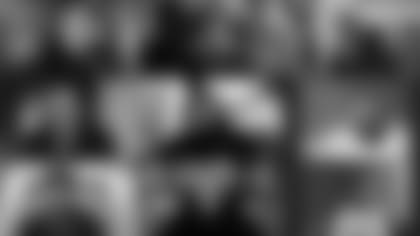 [Screen grab featuring Eisen, Sanders, Hart, Brady, Wilson, Strahan, Kelce, Joe Buck and DJ Kahled]
We were treated to a good back-and-forth exchange between Brady and Wilson about their video backdrops.
Social Post Of The Day
Pete Carroll was back at it with some #SeahawksDraftClues, and it appears, yet again, nobody was able to crack the code.
Greg Olsen dropped in to chat about how he's been staying busy during the quarantine, the length of his beard, and his relationship with Nationwide and how they are working together to help the community during these difficult times.
The Griffin brothers, as well as noted Seahawks fan Joel McHale (who appeared to have a wardrobe change after stopping by the Seahawks Virtual Draft Party), also appeared.
You can watch the full show below.
Fans can watch Draft-A-Thon Live on NFL digital properties across devices (phone, PC, tablet and connected TVs) and on Twitter, Twitch, Facebook, YouTube, Yahoo Sports.