Good morning 12s, and Happy Blue Friday… the 13th! Here's a look at what's out there today, November 13, about your Seattle Seahawks.
Picks and Predictions for Week 10 Matchup With Los Angeles Rams
The Seahawks (6-2) will look to retain their position atop the NFC West when they visit the Los Angeles Rams (5-3) for a Week 10 divisional matchup this Sunday. The Hawks come in off a disappointing 44-34 loss to the Buffalo Bills a week ago, while the Rams return from their bye after having lost to the Miami Dolphins on November 1.
Kickoff is set for 1:25 p.m. on Sunday, with the Seahawks making their debut at the Rams' brand new home, SoFi Stadium. The game will air live on FOX.
"The Seahawks' offense ranks among the best in the league and leads the NFL in scoring, averaging 34.3 points per game," she said. "However, the Rams' defense is stout under first-year coordinator Brandon Staley and is allowing an average of 19 points per game, second best in the league. The Seahawks' offense will be the Rams' greatest test since they fell in Week 3 to the Bills, who also defeated the Seahawks, in Week 9. Watch for defensive tackle Aaron Donald to try to disrupt QB Russell Wilson, whom he has sacked 12 times in his career, more than any other quarterback."
"Heeeee-yuge matchup in the NFC West here. And it will come down to how Sean McVay plays this one. If he's smart, he won't bother running too much and just let Jared Goff hit crosser after crosser against the Seahawks defense. Surely they won't blitz like crazy again this week? It didn't work well against Josh Allen. Pressure makes Goff crater, but if McVay preps him well they can carve up Seattle in the pass game … Russell Wilson passing aggressively and the other team knowing it has to keep scoring? Makes for a ton of points a la last week."
Seahawks Wide Receiving Corps Ranked Best In The League
It included some impressive groups like Julio Jones and Calvin Ridley for the Falcons, and DeAndre Hopkins, Christian Kirk and Larry Fitzgerald for the Cardinals, but coming in at number one — the Seahawks.
It's hard to argue with the numbers that Tyler Lockett, DK Metcalf and David Moore have produced this season. Metcalf (8) and Lockett (7) are tied for second and third in receiving touchdowns, respectively, while Moore has 20 catches and four touchdown grabs on the season himself.
Homegating Recipe of the Week Presented by Safeway – Easy Baked Taquitos
These easy to make taquitos serve as a perfect quick snack on game day. Simple ingredients make for a surprisingly flavorful recipe, and you can easily make a big batch and then freeze them to have them ready when you want. Click here for ingredients and instructions.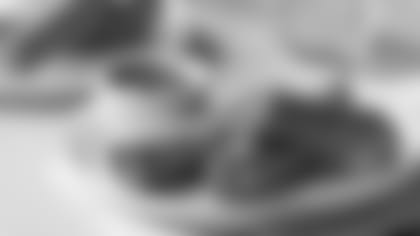 Easy Baked Taquitos
"Easy" and "value" are two of our favorite words when it comes to recipes. Our Easy Baked Taquitos recipe ticks both boxes! These tasty roll-ups will become a fast favorite in your socially-distanced household. We recommend making a large batch and freezing them to have on hand for multiple gamedays.
In addition to providing detailed instructions, Safeway has also added a "Shop the Recipe" feature to the recipe page, making it easy to add all the ingredients (or just the ones you need) to your cart for a Safeway DriveUp & Go or Delivery order.
Social Post Of The Day
Rookie RB DeeJay Dallas shows that he isn't afraid to make mistakes on the path to success.