Russell Wilson will look to bounce back from a tough loss in Buffalo last Sunday when he and the Seahawks take on the division rival Los Angeles Rams this weekend.
"The first thing I think in terms of neutral thinking and neutrality is your language," Wilson said in his press conference Thursday. "What are you saying to yourself, how do you speak, what does that look like? How do you speak to your teammates, how do you speak to others in the midst of good times and also tough times?"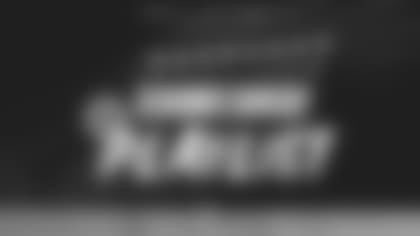 Follow the Seahawks Gameday Playlist on Spotify
Follow this playlist to hear what the Seattle Seahawks will be listening to all season long, curated by DJ Supa Sam, the official DJ of the Seahawks. Now playing: Week 1 at Colts
Times were tough for Wilson & Co. last Sunday, as the quarterback was sacked five times — losing two fumbles in the process — and knocked down 16 times by a Buffalo Bills pass rush that had its way with the Seahawks' front line.
But even after a rough game like the one last Sunday, Wilson still believes in the unit going into this Sunday's matchup with a Rams squad that features arguably the league's best defensive lineman in Aaron Donald.
"You have to be able to move on," Wilson said. "You have to be able to understand that there's other great teams and great players, too. You just move on, you stay focused on the next task ahead of you."
With center Ethan Pocic being placed on the injury report with a concussion, Wilson showed full confidence in backup Kyle Fuller.
"I know Kyle is ready," Wilson said. "He's been prepared, he's had an unbelievable training camp, he's done great ever since he's gotten here. He's extremely smart, played a lot of ball in college. I feel extremely confident about him."
Wilson also raved about the "great presence" of fourth-year guard Jordan Simmons.
"I think he's extremely talented," Wilson said. "Another smart guy. He's stepped into that role, he has no fear when he plays. He's a guy who wants to always step up and always play great, so I'm looking forward to Simmons stepping in there and hopefully having a great game."
At 6-2, the Seahawks are entering a tougher part of the schedule that pits them against two division rivals in the Rams and Cardinals — both of whom are in playoff contention — in a span of five days.
"Anytime you want to be great at anything, there's always going to be a little bit of rain," Wilson said. "And I think that sometimes the rain is okay because it allows the harvest, it allows great things to happen."
Practice photos from the Seahawks' Thursday workout at Virginia Mason Athletic Center in preparation for Week 10 vs. the Los Angeles Rams at SoFi Stadium.