Good morning, 12s. Here's a look at what's happening today – Friday, May 14 – for your Seattle Seahawks.
Doug Baldwin Helps Raise Awareness For AAPI Heritage Month
Seahawks Legend Doug Baldwin continues to give back to the Seattle community in his retirement. Baldwin, who last suited up for the Seahawks in 2018, is participating in the "Our Stories Are Your Stories" campaign as part of Asain American and Pacific Islanders (AAPI) Heritage Month.
The purpose of the campaign is to bring awareness to the experiences of the Asain American and Pacific Islanders community to help increase cultural empathy and connection.
Baldwin, other public figures and local AAPI leaders will be featured in a video series to highlight their stories. The eight-year NFL veteran shared memories of cooking with his Filipina grandmother.
Peter Schrager Ready For "Sneaky Awesome" Seahawks-Packers Game
The Seahawks' 2021 schedule was released on Wednesday, and it's full of intriguing matchups. There's five primetime games, the usual six divisional rivalry games and a trip to Indianapolis to kick off the season.
Good Morning Football's Peter Schrager is circling a different date for the Seahawks, though. On Thursday's show, Schrager unveiled his list of five games that will be "sneaky awesome" this season. As he described it, these are under-the-radar games that will turn out to be among the best we see all year.
The Seahawks' Week 10 matchup with the Packers in Green Bay ranked second on Schrager's list. Here's what he had to say about the game:
"It's Russell (Wilson) vs. (Aaron) Rodgers, this is like the rivalry of our generation," Schrager explained. "There was (Tom) Brady and (Peyton) Manning for so many years. These guys play in big games year after year after year. A couple years ago it was the playoffs where Rodgers got the best of Russell. But right now, they're tied four to four (in head-to-head matchups), and the numbers are really strong from both of them."
The Seahawks and Packers have played some wild games with Wilson and Rodgers under center. It started in 2012, when referees gave opposite signals on a late pass to the end zone and eventually ruled a Seahawks victory. In January 2015, the teams met in the NFC Championship Game and the Seahawks walked away with an overtime victory.
If 2021 is anything like some of these recent games, Week 10 won't be "sneaky awesome" -- it'll just be awesome.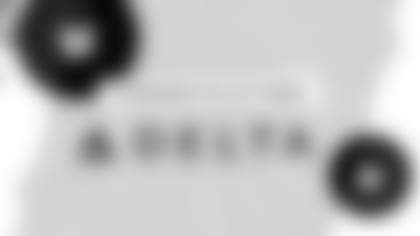 Delta Air Lines has officially won the J.D. Power Award for the No. 1 airline in customer satisfaction for 2021.
As the official airline partner of the Seattle Seahawks, Delta is pleased to have won the distinguished award in such a difficult year for travel.
"We are honored and humbled to be recognized by travelers as J.D. Power's No. 1 airline for 2021," said Ed Bastian, Delta Air Lines CEO. "It's particularly meaningful that this recognition came during the most challenging year in our history, when the warm hospitality provided by our people every day made the difference for our customers. As we move into the recovery, our people-first actions will continue to drive our decisions and build on the trust earned during the pandemic."
Social Post Of The Day
Seahawks fourth round pick Tre Brown is already looking comfortable on Lake Washington as rookie minicamp begins Friday in Seattle:
Seattle Seahawks draft picks and signed undrafted free agents arrived at VMAC for three days of workouts beginning Friday.