Good morning, 12s. Here's a look at what's out there today — Friday, April 1 — about your Seattle Seahawks.
DK Metcalf Discusses His Football Upbringing, Crazy Candy Diet On KG Certified Podcast
When you think of what it takes to become one of the best track and field athletes in Mississippi high school history, one of the fastest and most talented players in the National Football League, and one of said NFL players who sports a crop top on the regular because of their other-worldly physique — eating a ton of sugar-laden candy is probably not at the top of that list.
But DK Metcalf is not like most people.
Last week, Metcalf was a featured guest on NBA legend Kevin Garnett's KG Certified podcast where he spoke about coming up as a football player in the ever-competitive southeastern United States, having an NFL player for a dad in Terrence Metcalf, the insane amount of candy he eats every day, and more. Read some of the highlights below, and check out the full podcast episode here.
On the competition growing up in Mississippi:
"With me, my pops went to Ole Miss, I grew up 10 minutes down the street from there. So we would go up there and work out all the time. When I got to high school that's when the competition started really picking up. I had played A.J. [Brown] in high school, Jeffrey Simmons — both of them are on the Titans. I started going to camps, like in Atlanta, and just would see a lot of people who are in the league today, so we all know each other. From like Jacob Eason, he's the quarterback, Rashan Gary, all of us grew up together at the Nike football camps."
On when his dad — 7-year NFL vet Terrence Metcalf — knew he was outclassed as an athlete:
"He really hasn't said it yet, but I used to try him when I was younger. We used to wrestle all the time. He's six-four, 320. I'm five-eight, five-nine, 180. So it's a big difference — he used to fold me up, I used to get hot, get mad. I wait a few more years, and one day I tried to try him, and it was like a mutual respect, to where it was like, 'Okay, we're good now.'"
Garnett: "What would be something you could compete in right now where he would have a chance?"
"Right now? Monopoly. Anything physical, ain't nobody taking me down. You've got to play Monopoly or Scrabble with me, or something."
On his extreme candy diet:
"I eat one meal a day, drink one coffee, and eat like three, four bags of candy."
Garnett: "Define bags of candy, man."
"See, I'm a gummy type of guy … I'm gonna take you through yesterday. Yesterday I woke up, worked out, worked out again, came home, showered. I'm hungry. Run to Starbucks, get a quick coffee. That's going to hold me until four, five o'clock. It's 12, so that's going to hold me for like four hours. Around 4:30, I order some candy and a water. So I got the Skittles gummies, then I got the Lifesavers Creations — same size bag, so I just mix them … Get the candy, get the water, eat that, that's going to hold me until like eight o'clock. I'm having dinner at eight, nine. And then I eat dinner, go to sleep."
You can watch the full conversation below:
Seahawks' Karen Wilkins-Mickey Joins Character Playbook Speaker Series For Women's History Month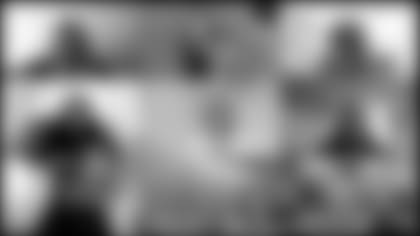 Middle school students from across the country were invited to attend a virtual event featuring talented women from throughout the NFL as part of Women's History Month in March. Participants included Seattle Seahawks Vice President of Diversity, Equity & Inclusion, Karen Wilkins-Mickey, along with several others from around the league:
Host: Hayley Elwood - Los Angeles Chargers, Team Reporter
Jane Skinner Goodell - Earnin' It: The NFL's Forward Progress, Executive Producer
Nicole Bidwill - Arizona Cardinals, Vice President
Lori Locust - Tampa Bay Buccaneers, Assistant Defensive Line Coach
Jennifer King - Washington Commanders, Assistant Running Back Coach
In addition to hearing of the journey each panelist took to get where they are today, students also had the opportunity to participate in poll questions throughout the event, as well as a Q&A at the end.
Social Post Of The Day
With draft day soon approaching, we look back to when Rashaad Penny got the call back in 2018:
The four architects (founders) of the Black Future Co-op Fund were honored as this quarter's Delta Community Captain. Seahawks Legend Neiko Thorpe was on hand to present a $10,000 donation to architect Andrea Caupain Sanderson, to be used towards their grants to women-focused non-profits as part of our celebration of Women's History Month. Read more about the Delta Community Captain program: https://shwks.com/ss9e2w