The Seahawks kicked off their week of practice on Thursday, a day later than usual due to the upcoming Monday night game, and while Darrell Taylor wasn't expected to do much in practice to start the week, the second-year defensive end fully expects to play only a week after he was carted off the field with a scary neck injury in Sunday's loss in Pittsburgh.
"Darrell Taylor won't get much action today, but he feels really good," Seahawks coach Pete Carroll said. "He's got a stiff neck is what he came out with. After all of that that we went through to protect him and all, it's like he slept bad on his neck and he's got a stiff neck. He really feels like he's playing, he doesn't have any doubt that he can play, so we'll hold out hope that that's the case."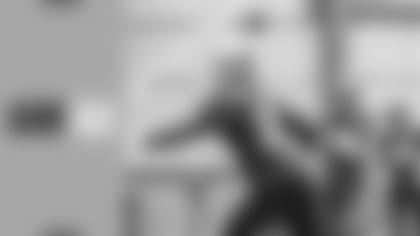 Listen To The Hawk Talk Podcast
Every week, Michael Bumpus and Nasser Kyobe release two podcasts analyzing the Seahawks previous game and previewing the next Seahawks opponent. Available on Spotify, Apple Podcasts, and wherever else you get your podcasts.
The news was also positive on running back Alex Collins, who was unable to finish Sunday's game with hip and glute injuries.
"He's going to practice today, so that's a good sign," Carroll said. "He went through walkthrough today and looked OK."
Carroll then added, "Really a number of guys that got banged a little bit in the game were able to go through walkthrough and we'll see what we can get in a limited fashion from them in practice today, but really encouraging in that regard."
Carroll said that group of players making good progress included left guard Damien Lewis, who left Sunday's game with a shoulder injury.
Cornerback Sidney Jones IV, who left the game with chest injury, is also expected to practice this week, albeit on a limited basis, and it remains to be seen if he'll return to the starting lineup or if rookie Tre Brown, who played well after taking over for Jones, will step into that role.
"He's going to get a little bit of work today," Carroll said of Jones. "He's bouncing back a little bit ahead of schedule from where they thought, so he'll get some snaps today in practice, and we'll see what that means."
On Brown, Carroll said, "Tre's going to get a lot of reps with Sidney slowed down, and I feel very comfortable with him playing. He's going to play in the game for sure."
The Seahawks are also expecting to get running back Rashaad Penny back from injured reserve to help bolster the rushing attack.
"I'm really excited to get Rashaad on the field and playing for us," Carroll said. "He's gunning to go, he's ready, this is the right time for him to come roaring back. I'm hoping he'll have a chance to be a big factor in the game. Alex is playing great football, Alex was able to practice today—competition's a beautiful thing—so you'll see how we do it."
As for quarterback Russell Wilson, who is on injured reserve and will have to miss at least two more games, Carroll said, "Russ is making progress, he's definitely making progress. He's very positive in all of that. I know it's hard on him, he wants to be out there so bad. he's going to continue to really condition hard and push himself physically and mentally so he's not losing anything other than the ability to throw it. It's really admirable the way he's going about it. He's doing it exactly the best way you can possibly do it, and we'll keep our fingers crossed for good results."
After the "fingers crossed" line, Carroll admonished himself, saying under his breath, "That was really bad."
Go behind the scenes with team photographer Rod Mar as he shares moments from the Seattle Seahawks' 23-20 overtime loss to the Pittsburgh Steelers on Sunday Night Football on October 17, 2021 at Heinz Field. Eye On The Hawks is presented by Western Washington Toyota Dealers.