Connor Wedington was 8 years old or so—it was long enough ago that the exact details are fuzzy—when he sat on the berm at the Virginia Mason Athletic Center watching Seahawks training camp, just another young fan watching his favorite team prepare for the upcoming season.
More than a decade later, Wedington found himself back at the VMAC, though not as a fan, but rather as a member of the Seahawks who was taking part in rookie minicamp.
"I remember being over here right on this hill, coming out to practice and watching training camp," he said. "And 13 years later, now I'm out here."
Wedington, who went to Sumner High School before playing at Stanford, didn't hear his name called in the 2021 draft, but had plenty of suitors as an undrafted free agent, and he jumped at the opportunity to begin his professional career at home.
"Going undrafted, obviously it's not preferred, but to end up here, I think everything happens for a reason," Wedington said after Saturday's practice. "This is the hometown team, the Seahawks, I've been a fan since I was about three years old, and actually I remember coming to the training camp and I was about eight years old as well. So coming back here playing for this team, it's amazing. I can't wait to continue to grow with this team and learn under the players ahead of me."
A versatile receiver with a running back background, who was also a standout kick returner, Wedington thought he had a chance to get picked anywhere from Rounds 5-7, but he isn't focused on what didn't happen, but rather on the opportunity in front of him.
"At the end of the day, everything happens for a reason," he said. "I'm here, I've got a chip on my shoulder and I'm ready to compete."
The lure of playing at home—not to mention the chance to compete for a team known for giving undrafted rookies a real shot to earn a job—led to Wedington turning town UDFA offers from other teams that were offering more money.
"There were other teams that offered more in terms of signing bonus and guaranteed, but at the end of the day, this is home and I feel like this is a great opportunity, and this is the team that I want to be a part of," Wedington said.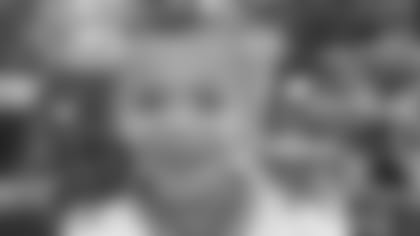 In addition to being from the area and growing up a fan, Wedington has a couple of other connections with current and former Seahawks players. When he was 16, Wedington began training at Ford Sports Performance, a gym where several other NFL players in the area work out in the offseason, including Bobby Wagner and K.J. Wright.
"I was fortunate to grow a relationship with them before I was a Seahawk, and now they're my teammates," Wedington said. "It's pretty surreal."
Wedington also got to know fellow undrafted Stanford receiver Doug Baldwin a bit while at Sumner due to a friendship between one of his teachers and Baldwin. Baldwin would occasionally visit Sumner, and Wedington talked to him a few times about his decision to go to Stanford. Now he'll try to follow in Baldwin's footsteps as an undrafted receiver out of Stanford who made it in the NFL.
"When I was choosing Stanford, I actually talked to him about his career at Stanford," he said. "Now a very similar situation, going undrafted, ending up at the Seahawks, it's pretty crazy."
While making the team is a challenge for every undrafted player, Wedington will get every opportunity to compete. Tyler Lockett, DK Metcalf and 2021 second-round pick D'Wayne Eskridge are all but locks to make the team, and 2020 rookie Freddie Swain seems like a pretty safe bet as well, but beyond those four the competition for roster spots looks to be wide open. Baldwin and Jermain Kearse are just two examples of undrafted receivers finding success with the Seahawks, and while Wedington has a long ways to go before joining that type of company, he's an intriguing UDFA prospect who Seahawks coach Pete Carroll was excited to land following the draft.
"Connor was a guy I was really excited about as we got into the free agency thing, because of his background being from the area and all of that," Carroll said. "He's a versatile athlete—I think he went to Stanford as a running back, then went to receiver and was going to go back, he had that flexibility. He's built well, strong kid, really bright kid. He was really excited to have the chance to play here and play in front of people that he knows and the team that he loves and all of that. So I was excited to help make that happen. So we look forward to it you know to the versatility he brings. He looks like a good strong kid, did a nice out here in the first couple of days."