Offseason workouts began last month, but the Seahawks will ramp up the competition starting on Monday with organized team activities kicking off. No, it still won't be real football in pads, and no, not everyone will be present at these voluntary workouts, but OTAs will still be the closest thing to football we've seen so far this offseason, as well as the first look at how the team looks with rookies mixing with the veterans.
With that in mind, here are five things to watch when OTAs get started on Monday:
1. A first-look at a revamped defensive line.
No position group underwent more change this offseason than the defensive line, and while, again, not everyone will necessarily be present, OTAs will begin to provide a look at what Seattle's new-look defensive front could look like.
When it comes to outside linebackers on the edge of the line, the Seahawks will have continuity with Uchenna Nwosu, Darrell Taylor and Boye Mafe all back, though second-round pick Derick is a significant addition to that group.
The defensive line, however, is almost entirely different. Gone are 2022 starters Al Woods, Shelby Harris and Poona Ford, as well as Quinton Jefferson, who played a significant role in the rotation.
The Seahawks have five new defensive ends—veterans Dre'Mont Jones, Jarran Reed, Mario Edwards Jr., and rookies Mike Morris, a fifth-round pick, and M.J. Anderson, an undrafted free agent. Jones, who agreed to a deal at the start of free agency, and Reed, who spent his first five seasons in Seattle, figure to have the early lead on starting jobs, though Seahawks coach Pete Carroll noted Edwards, a former second-round pick, will be right in the competition as well.
"I'm really pumped about this because I thought I saw something in Mario a couple months ago when we started free agency, where he could help us," Carroll said. "He's got versatility, he's played end. He stood up. He's had his hand on the ground. He's been inside as a 3-technique. He's played everywhere along the line that I really like. He's really quick and he plays really hard. He's got a real good attitude about him. He fit in a lot of ways. So I see him adding to the pass rush for sure. And he'll be competing to be in that first group, the first four guys out there. I've seen him play enough. He can play football. He'll be a big factor for us."
At nose tackle, the Seahawks selected Cameron Young in the fourth round of the draft, signed Jonah Tavai and Robert Cooper as undrafted free agents, then recently added two more free agents in Forrest Merrill and Austin Faoliu. The Seahawks also return Myles Adams and Bryan Mone, though Mone is coming off a torn ACL and it isn't yet known when he will be back.
"We're putting together kind of a real competition there," Carroll said at last week's rookie minicamp. "Tavai's got a big background of play-making. He's done so much, he made so many plays in the backfield and been so hard to deal with and all. We have come to appreciate his style. He's not a big guy. He's just a real instinctive football player, great leverage and all that because of his size. Coop's (Robert Cooper) a big kid too now, and you see how he does. So, the position already looks way better than it did a week ago. We were concerned too. We wanted to make sure we had guys in here to battle and to push Cam too, so that he's got that fire burning under him too. And we're not done yet. We've still got work to do there."
2. How does a big rookie class fit in with the veterans?
The Seahawks had only 53 players out of a possible 90 on their roster heading into the draft, which paved the way for them to sign 25 undrafted free agents after adding 10 in the draft. Those rookies got a chance to compete against each other during rookie minicamp, but in OTAs they'll be mixing it up with experienced NFL veterans.
Jobs aren't won or lost in May, but what this week can do for rookies is provide an early opportunity to prove, against top competition, that they belong.
3. The early stages of competition on the interior offensive line.
While just about any player can end up winning a starting job in Carroll's "always compete" world, there are some spots where the competition will be more obvious. And not long after the draft, Seattle's head coach stated that the two offensive linemen Seattle selected in the draft, guard Anthony Bradford and center Olu Oluwatimi, will both be in the competition for starting jobs.
The Seahawks return three-year starter Damien Lewis, re-signed guard Phil Haynes, who has starting experience, and signed center Evan Brown in the offseason, so there definitely won't be any sense that they have to rush a rookie into action. But Carroll's words, as well as Seattle's history of letting competitions play out, mean that a couple of rookies will have a legitimate shot at pushing veterans for jobs. Oluwatimi and Bradford can only show so much in OTAs without pads, but more than anything, the goal this time of year will be to show that they know what they're doing in Seattle's offensive scheme. That's especially true of Oluwatimi given the position he plays, and already he has made a good early impression on coaches with his smarts.
"We've always cherished the guy that can kind of be the play-caller up front in the middle, and Olu's got that background," Carroll said. "He jumped into the Michigan thing and took over, overwhelmed the country a little bit with his play at center and got all those awards and acclaim and all of that. And you can see why. He's a really bright kid. He's got all the physicals. He weighed in at 319 (pounds). He looked terrific. And then watching (Oluwatimi and Bradford) fit together, and I've already talked to them about getting the special communication line open so that they can learn and grow together."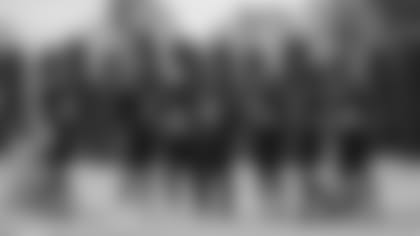 4. The much-improved running back depth.
Heading into the draft, the Seahawks had only two running backs on the roster, and while they really liked what they had in Kenneth Walker III and DeeJay Dallas, they also knew more talent and depth was necessary, especially given the physical demands of that position.
So it didn't come as much of a surprise that the Seahawks added a couple of running backs in the draft, selecting Zach Charbonnet in the second round and Kenny McIntosh in the seventh round.
From Walker's home-run ability to Charbonnet's physicality and all-around skillset, to Dallas' do-it-all ability, to McIntosh's pass-catching ability, each back brings something different to the group. This week we'll at least start to get a look at the different ways the Seahawks might use those backs in what promises to be an explosive and balanced offense.
5. Any injury updates of note?
As is often the case with veterans rehabbing from injuries, players like Jamal Adams and Jordyn Brooks very likely will not be in attendance this week, instead focusing on their rehab at home, but with Pete Carroll talking to the media this week, there could perhaps be more updates for those players, who Carroll said are "making good progress," and for Mone, all of whom are big parts of the defense when healthy.
On a far less serious injury, note, the Seahawks limited first-round picks Devon Witherspoon and Jaxon Smith-Njigba in rookie minicamp to ease them back into action after both deal with hamstring injuries this offseason. So it's possible both are again limited this week, but if they are cleared to do more work, it will provide the first extended look at those two with their new team.
With Rookie Minicamp complete, the newest Seahawks joined the veterans on the field for Phase 2 of the offseason program.